An additional 88 people have tested positive for coronavirus on the Diamond Princess cruise ship, Japan's health ministry said.
The new cases came from a total of 681 fresh results, the ministry said, taking the total number of positive cases on the ship to 542.
Princess Cruises President Jan Swartz said the firm has worked with authorities to send more doctors and nurses on board the ship and has helped fulfil 2,000 prescription requests.
Around 500 passengers will leave the cruise ship tomorrow after testing negative for coronavirus, known as Covid-19.
"The number is changing, largely because it is up to passengers (if they get off)," the health ministry official told reporters.
"But it will be around 500 people."
Authorities around the world are also trying to track down passengers from the Holland America Line cruiser Westerdam, which was turned away from ports across southeast Asia before docking in Cambodia on Thursday.
One US passenger who disembarked in Cambodia tested positive for the virus in Malaysia on Saturday.
Holland America Line said the woman is in a "stable condition", and that at this time, no other guests or crew have reported any symptoms of the illness. 
In a statement on its website, Holland America Line said the cruise ship remains in Sihanoukville, Cambodia, where officials from the Cambodian Health Ministry are completing testing for 255 passengers and 747 crew who are awaiting clearance.
The first batch of 406 tests have returned negative and a number of passengers who have completed screening are staying in hotels in Phnom Penh.
---
Read More:
Two Irish people on cruise ship test positive for coronavirus
Chinese study says most coronavirus cases 'mild'
Eurogroup chief says coronavirus 'temporary' drag on economy
Singapore lowers growth forecast as virus hits economy
---
Meanwhile, two British passengers on board the Diamond Princess appear to have tested positive for coronavirus.
David Abel, who is on board the ship moored near Tokyo with his wife Sally, said on Facebook: "There is going to be a time of quiet. We have been proved positive and leaving for hospital soon. Blessings all xxx."
In a subsequent post, Mr Abel appeared to question the positive findings, saying: "Frankly i think this is a setup! We are NOT being taken to a hospital but a hostel. That's where partners are sent waiting out there quarantine.
"No phone, no wi-fi and no medical facilities. I really am smelling a very big rat here!"
The couple's son Steve Abel has appealed to the British government to help his parents, who he fears may become separated in Japan.
When asked about the government's treatment of his parents, Mr Abel described it as "appalling".
"They haven't done anything," he said.
"They aren't communicating with us, the Foreign Office have my number, my wife's number, my brother's number, my sister's number and they haven't got back to us on anything and we have been calling them every day for four or five days." 
He added: "There are cracks in the armour and they are getting down."
Britain's Foreign and Commonwealth Office said it is "working to organise" a flight back to the UK for British nationals on board the ship.
The department has faced pressure to fly home the 74 Britons on the Diamond Princess after the US chartered two planes and repatriated 340 of its citizens.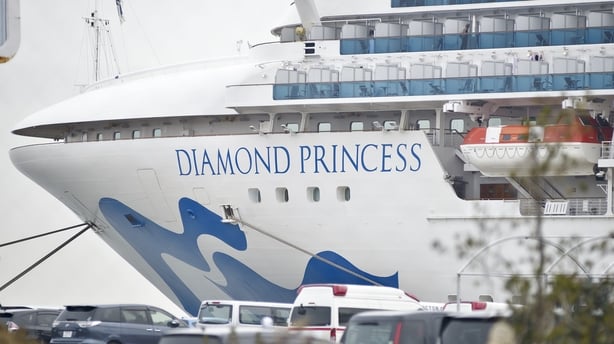 Meanwhile, the head of a leading hospital in China's central city of Wuhan, the centre of the coronavirus outbreak, has died of the disease, while South Korea announced an economic emergency and Singapore Airlines cut flights.
Chinese state television said Liu Zhiming, the director of Wuhan Wuchang Hospital, died this morning, the seventh health worker to fall victim. The hospital was designated to solely treat virus-infected patients.
The number of new coronavirus cases in mainland China fell below 2,000 for the first time since January but the virus remains far from contained.
The total death toll has climbed to 1,873, the National Health Commission said. There were 1,886 new confirmed infections, for a total of 72,436.
There have been 45 confirmed cases of the infection in Europe.
China's lockdown of cities and tough curbs on travel and movement have limited the spread of the virus outside Wuhan, but at great cost to the economy and global business.
More than two dozen trade fairs and industry conferences have been postponed because of travel curbs and concerns about the spread of the virus, potentially disrupting deals worth billions of dollars.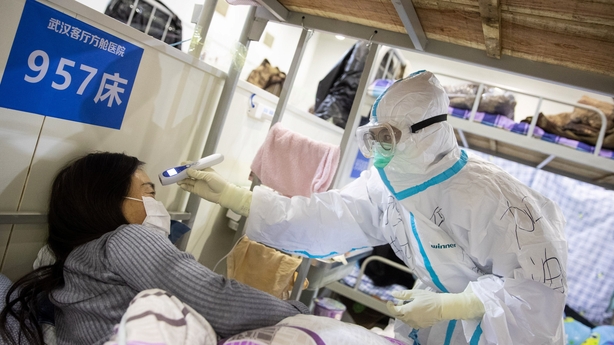 Apple became the latest company to warn of trouble, saying it would not meet its guidance for March-quarter revenue because of slower iPhone production and weaker demand in China.
South Korean President Moon Jae-in said the economy was in an emergency situation and required stimulus as the epidemic had disrupted demand for South Korean goods.
As global businesses sought to limit exposure to the virus, health authorities around the world searched for medical weapons.
The president of the European Union Chamber of Commerce in China, Joerg Wuttke, said the world's pharmacies may face a shortage of antibiotics and other drugs if the outbreak cannot be resolved soon, and accused Beijing of making supply-chain problems worse.
Japan announced plans to use HIV drugs to combat the virus as a growing number of cases posed an increasing threat to the world's third-largest economy, as well as public health.
The number of new daily infections in mainland China had not been below 2,000 since 20 January, while the daily death toll had not fallen below 100 since 11 February.
Outside China, there are 827 cases in 26 countries and regions and five deaths, according to a Reuters count based on official statements.
Chinese authorities say the stabilisation in the number of new cases is a sign that measures they have taken to halt the spread of the disease are having an effect.
World Health Organization Director-General Tedros Adhanom Ghebreyesus said Chinese data "appear to show a decline in new cases" but any apparent trend "must be interpreted very cautiously".