Two Irish citizens, who were on board the Diamond Princess cruise ship, have tested positive for coronavirus, known as Covid-19, according to the Department of Foreign Affairs.
In a statement, the department said that the two people, who were among six Irish citizens on board the ship, were being treated in hospital in Japan.
The department said that the two people share dual citizenship with another EU member state and are not normally resident in Ireland.
It also said that six Irish citizens were repatriated from Wuhan city in China, three of whom were evacuated on 31 January and the other three on 9 February.
According to the department, nine other Irish citzens were passengers on the Westerdam Cruise Ship, which is currently docked off the Cambodian coast.
Seven are being screened for coronavirus, along with other passengers and crew. The department said that only two of these seven people are normally resident in Ireland.
Two of those who were quarantined on the Westerdam returned to Ireland over the weekend.
The Department of Foreign Affairs said the Health Service Executive has been informed of their return.
The Department of Health has said that 78 suspected cases of the virus have been tested in Ireland, but there have been no confirmed cases in the country.
Tánaiste and Minister for Foreign Affairs Simon Coveney said the two Irish citizens who returned home from Cambodia have been contacted by the HSE and that "all the appropriate action has been taken".
He said that a number of European Union states have people on the two cruise ships at the centre of the outbreak.
"We're talking to other EU states, including the UK, to ensure that if Irish citizens want to come home, we'll work with other EU states to get them home," he said.
Mr Coveney added that this might involve going into quarantine facilities in another EU country for up to 14 days before coming back to Ireland.
We need your consent to load this rte-player contentWe use rte-player to manage extra content that can set cookies on your device and collect data about your activity. Please review their details and accept them to load the content.Manage Preferences
---
Read More:
542 cases of coronavirus on cruise ship docked in Japan
Chinese study says most coronavirus cases 'mild'
---
The Diamond Princess, which carried almost 4,000 passengers and crew when it began its voyage, has been under quarantine since earlier this month.
The Holland America Line cruise ship Westerdam is currently docked off Sihanoukville in Cambodia.
The company said that the Cambodian Health Ministry is completing testing for the remaining 255 guests and 747 crew on board, but that apart from one case, there are no other confirmed cases of coronavirus detected on board.
Chief Medical Officer Dr Tony Holohan said the Department of Health was "continuing to monitor the situation globally".
He said: "While the overwhelming majority of cases to date have been reported in China, we continue to advance preparedness plans here in Ireland.
"We remain in a Containment Phase, and our actions are in line with guidance from European Centre for Disease Prevention and Control and the World Health Organisation."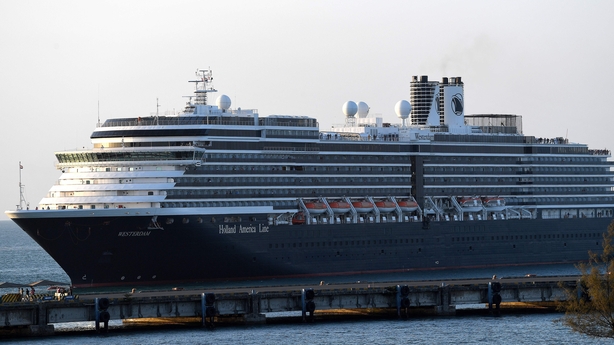 Meanwhile, Professor Sam McConkey, head of the Department of International Health and Tropical Medicine at the Royal College of Surgeons, has said he was confident that Ireland could cope if cases of coronavirus were to be confirmed here.
Speaking on RTÉ's Drivetime, Prof McConkey said that this is based on the effectiveness of authorities in the UK, France and Germany to contain the virus.
He said the number of cases in these countries has reached a plateau, because health authorities have successfully stopped onward circulation.
Prof McConkey said this gives him confidence that similar measures undertaken in Ireland "would also work very well if we were to have a handful of 10-20 cases here".
Earlier, the CEO of the Irish Exporters Association has said a number of members are experiencing issues that are affecting production due to coronavirus.
Speaking on RTÉ's News at One, Simon McKeever said companies that source their components from China are being hit by a halt in production in Wuhan and surrounding areas.
He said a "slowdown in payments coming out of China" has begun and individual companies are having to question "at what point do we stop producing things?"
Mr McKeever said he expects the "medium term impact will be acute in four to six weeks' time".
He said "even if the outbreak is at a peak, there will be another six to eight week 'tail' before the whole logistics system gets back in place, after the displacement of assets around region".
The economy will be affected on a macro level, Mr McKeever said, because companies that import from or export to China may need to find alternative sources of supply, or alternative customers closer to home, which he said "is not as easy as people think".