Massive swarms of locusts are devouring entire fields of crops in as little as 30 seconds and fuelling fears of a major food crisis in some of the world's poorest countries, Irish aid agency Concern Worldwide has warned.
Concern's Country Director for Kenya Amina Abdulla has said swarms of locusts, over 40km wide, are now affecting around 12 counties.
Speaking to RTÉ's Morning Ireland, Ms Abdulla said this will cause a major food security crisis, particularly for counties and regions in the northern part of the country.
She added that Kenya, and the Horn of Africa in general, recently came out of a prolonged drought period that was followed by widespread flooding, so communities are already very vulnerable.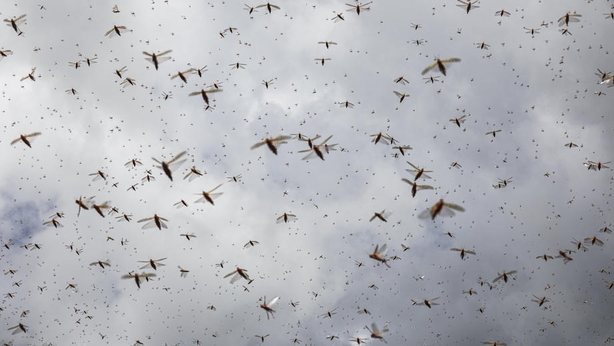 Ms Abdulla explained that the millions of locusts are taking "anything that is green" and have destroyed thousands of crops that were ready for harvest.
"So far, about twelve counties have been infected by the infestation", she said. "The swarms are estimated to be as large as 60 by 40 kilometres. It is feared this is going to cause a major food security crisis."
Ms Abdulla added that while efforts are being made by the Kenyan government to contain the problem, the locusts are moving from county to county before preventative measures, such as aerial spraying, can be implemented.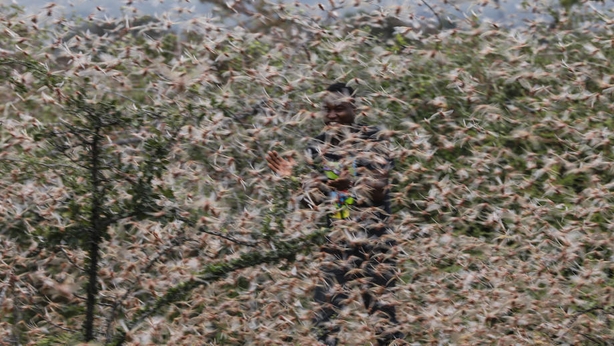 As well as Kenya, hundreds of millions of locusts have swept across Ethiopia and Somalia in recent weeks, in what the United Nations has described as the worst outbreak in a quarter of a century.
Somalia has declared a state of emergency.
Uganda, Eritrea and Djinbouti are also affected, with authorities there carrying out aerial pesticide spraying.
Experts say the scale of the infestation is beyond local capacity, as desert locusts can travel up to 150km in a day.
We need your consent to load this rte-player contentWe use rte-player to manage extra content that can set cookies on your device and collect data about your activity. Please review their details and accept them to load the content.Manage Preferences
---
Read more:
Somalia declares emergency over locust infestation
Billions of locusts swarm through east Africa
---
Additional reporting Reuters