Australian officials used a respite from fierce wildfires that have killed 25 people across the country's southeast to race to reopen blocked roads and evacuate people who have been trapped for days.
A second day of light rain and cool winds brought some relief from heatwave-fuelled blazes that ripped through two states over the weekend, but officials warned the hazardous weather conditions were expected to return later in the week.
Police today confirmed the death of a 71-year-old man on the south coast of New South Wales who was reported missing on 31 December, bringing the toll to 25.
More than eight million hectares of land have so far been destroyed in the current fire season - nearly the size of Ireland.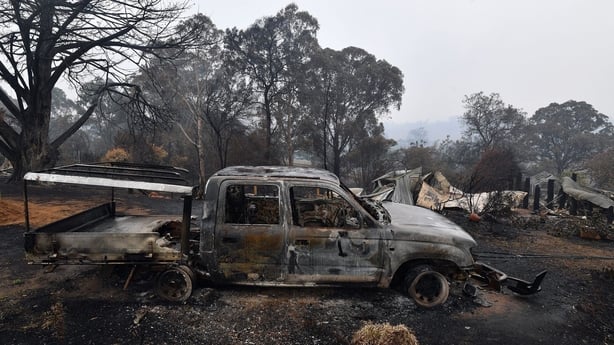 "No one can be complacent. We've got big fire danger coming our way towards the end of this week with hot weather," Victoria Premier Daniel Andrews told reporters.
Authorities redoubled their efforts to provide supplies and repatriate thousands of people who have been trapped by firelines in coastal towns for several days.
"What we are focusing on here is the human cost and the rebuilding cost for people's lives," Prime Minister Scott Morrison told reporters in Canberra as he announced funding of AUS $2 billion over two years to the newly formed National Bushfire Recovery Agency.
Mr Morrison said nearly 4,000 cattle and sheep have been killed as a result of the fires.
Heavy smoke from bushfires obscured the view of Australian Air Force teams working to provide assistance to rescue and relief operations. Aircraft footage showed crews attempting to land amid an orange haze | https://t.co/dYCv1PLGWi pic.twitter.com/EdSTMNHnCJ

— RTÉ News (@rtenews) January 6, 2020
---
Read more:
---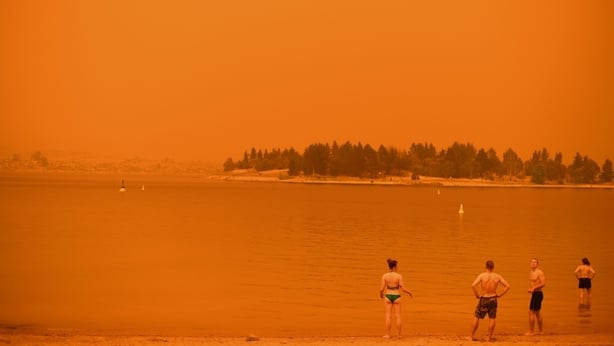 Dean Linton, a resident of Jindabyne in the Snowy Mountains, used the break from an immediate threat to his town to visit his wife and four children who had evacuated to Sydney.
He also used the 870km round trip to pick up a fire-fighting pump and generator to help him protect the family home.
"There's a lot of fuel in that national park; it would only take one lightning strike," Mr Linton told Reuters.
The bushfire season started earlier than normal this year following a three-year drought that has left much of the country's bushland tinder-dry and vulnerable to fires.
Bushfire cloud visible in South America
Meanwhile the cloud of smoke caused by the fires has been spotted more than 12,000 kilometers away in Chile and Argentina, weather authorities in the South American countries said.
In the early hours "the effect was seen in the sun through red tones. This effect was produced by a cloud of smoke that comes from the fires," Chile's meteorology chief Patricio Urra told AFP.
The cloud has risen to 6,000 metres above sea level and there is no meteorological reason for it to fall back to earth, said Urra.
The Argentine Meteorological Service published satellite images of the cloud saying it had been "transported by frontal systems that move from west to east."
However, it added that all that would be visible was "a sun that's a little redder."
Regional meteorological company Metsul said the cloud could even reach Rio Grande del Sur state in Brazil.