Bushfires are continuing to burn dangerously out of control on Australia's east coast, fanned by high temperatures and strong winds that have firefighters battling to save lives and property, as a change in wind conditions merged several large fire fronts.
Victoria has 14 fires rated at emergency or evacuate warning levels, and New South Wales has 11 rated emergency, with more than 150 others burning across the states.
New fires have started, and others have broken containment lines.
"There are a number of fires that are coming together – very strong, very large, intense fires that are creating some of these fire-generated thunderstorms," New South Wales Rural Fire Service (RFS) Commissioner Shane Fitzsimmons said.
"And unfortunately we've still got many hours to go of these elevated and dangerous conditions."
The Bureau of Meteorology (BOM) said conditions were deteriorating rapidly as a gusty southerly wind change pushed up the coast and smoke plumes from the fires triggered storms.
Authorities are worried the fires could turn out to be worse than New Year's Eve, when they burnt massive tracts of bushland and forced thousands of residents and summer holidaymakers to seek refuge on beaches.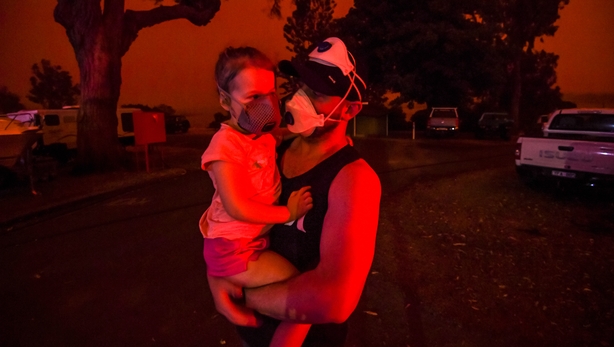 In Victoria, Premier Daniel Andrews said while conditions were difficult, the job of firefighters had been made easier by tens of thousands of people following advice to evacuate.
It may be tomorrow or later before damage assessments can be made.
Prime Minister Scott Morrison put the national death toll from the current fire season, which began in September, at 23.
Twelve of those are from this week's fires alone.

In updates, the NSW RFS repeatedly delivered the same blunt advice to those who had not evacuated at-risk areas: "It is too late to leave. Seek shelter as the fire approaches."
Residents used social media to post photos of the sky turning black and red from the smoke and glare of the fires, including in the Victorian town of Mallacoota, where around 1,000 people were evacuated by sea.
The federal government announced an unprecedented call up of 3,000 army reservists to support firefighters as well other resources including a third navy ship equipped for disaster and humanitarian relief.
Andy Gillham, the incident controller in the Victorian town of Bairnsdale, said the area had avoided the worst of the fires today but stressed this was an exceptional fire season.
"In a normal year, we would start to see the fire season kick off in a big way around early January and we're already up towards a million hectares of burnt country. This is a marathon event and we expect to be busy managing these fires for at least the next eight weeks," he said.
"We've been stuck without power for four days now. We haven't been able to feed the kids - we've got five kids with us - and we ran out of food about a day ago."
The latest fatalities came on Kangaroo Island - a tourist haven off the coast southwest of Adelaide - when two people were trapped in a car overrun by flames.
Fires there have "taken out much of the Flinders-Chase National Park," according to South Australia premier Steven Marshall, before the warm front spread to the mainland.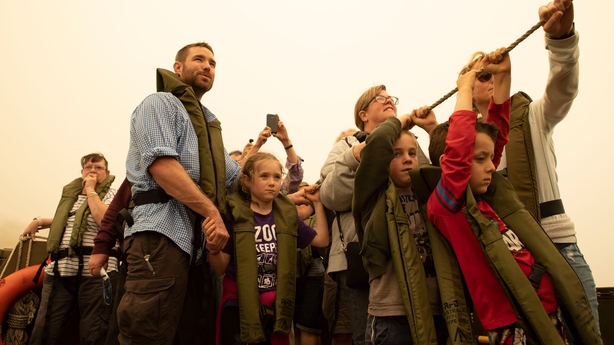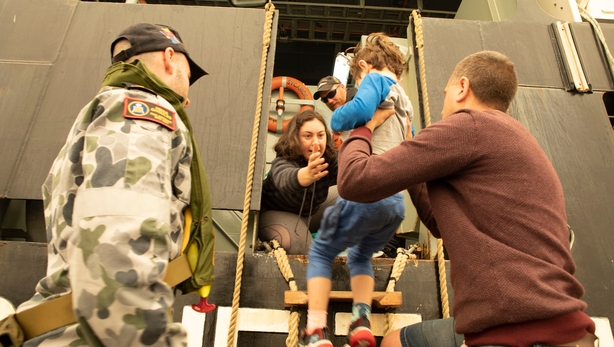 Ahead of the coming storm, an eerie calm settled over the smoke-shrouded town of Batemans Bay, a four-hour drive south of Sydney, where supermarkets, shops and the pub were all shut.
The only activity in the usually bustling tourist hotspot was at an evacuation centre, where hundreds of locals forced from their homes were sheltering on an open field in tents and caravans.
Mick Cummins, 57, and his wife fled to the evacuation centre when fire ripped through his rural town on New Year's Eve.
"We said this is too tough for us, let's get out. We went to the beach and then hellfire came over the hill," he said.

"I was here in the '94 fires. I thought that was bad. That was just a barbeque" in comparison, he said.
The scale of Australia's unprecedented months-long bushfire crisis has shocked not just locals but the world.
In the small town of Mallacoota, Australia's navy was called in to evacuate around 1,000 people trapped by fire and forced to wait for days on the foreshore.
The first of two ships carrying families, pets and a few belongings arrived near Melbourne early today.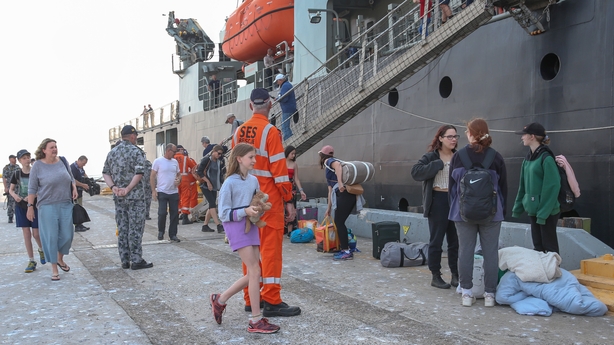 Eloise Givney, 26, escaped from the blazes further up the coast with a police escort after she and a large group of family members spent four days isolated without power, phones or internet.
"The fire came within about 50 metres of us and we drove through fire, because there's only one road in and one road out," she told AFP, adding the flames soared 15 metres (50 feet) high on either side of the road.
"We've been stuck without power for four days now. We haven't been able to feed the kids - we've got five kids with us - and we ran out of food about a day ago."
Electricity supplies in New South Wales, including its largest city Sydney, were under threat after bushfires took out two substations with authorities warning of rolling blackouts if conditions worsen.
The blazes have raged across NSW, and they brought down transmission lines in the state's south connecting with neighbouring Victoria, state energy minister Matt Kean tweeted.
Mr Kean urged people to reduce unnecessary electricity use and "turn off pool pumps, lights in unoccupied rooms and avoid using washing machines and dishwashers".
TransGrid chief executive Paul Italiano said the system was coping but "under stress".
He warned the loss of another major power station could mean "load shedding" power cuts to prevent the electricity grid from collapsing.