Thousands of Iraqis chanting "Death to America" joined the funeral procession for Iranian commander Qasem Soleimani and Iraqi paramilitary chief Abu Mahdi al-Muhandis, both killed in a US air strike.
The cortege set off around Kadhimiya, a Shia pilgrimage district of Baghdad, before heading to the Green Zone government and diplomatic compound where a state funeral was to be held attended by top dignitaries.
In all, ten people - five Iraqis and five Iranians - were killed in yesterday's US strike on their motorcade just outside Baghdad airport.
The dead were brought to Kadhimiya on the back of pickup trucks in coffins shrouded in their national flags.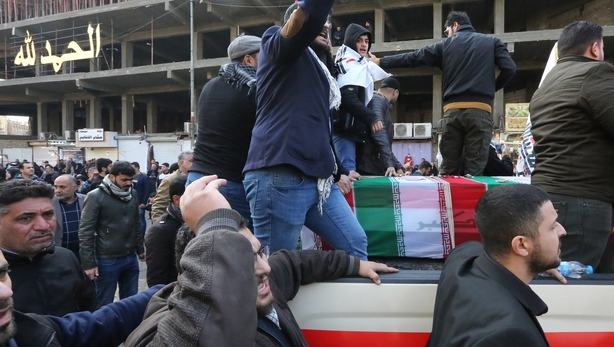 The convoy snaked its way through a sea of black-clad mourners, some of whom carried portraits of Iran's supreme leader Ayatollah Ali Khamenei.
The bodies of the Iranians will then be flown this evening to Iran, which has declared three days of mourning for General Soleimani.
His funeral is to be held on Tuesday in his hometown of Kerman in central Iran.
Iraq's Prime Minister Adel Abdel Mahdi was among those who joined the procession along with Muhandis' associate Hadi al-Ameri, Shia cleric Ammar al-Hakim and other pro-Iran figures.
Meanwhile, Iraq's military denied that an air strike had taken place on a medical convoy inTaji, north of Baghdad.
Iraq's Popular Mobilisation Forces umbrella grouping of paramilitary groups had said earlier on that an air strike targeting its fighters hit a convoy of medics.
However, the PMF later issued another statement saying that no medical convoys were targeted in Taji.
---
Read More:
US kills top Iranian commander Soleimani in air strike
Soleimani killing ordered to 'stop' war - Trump
Tens of thousands rally Tehran against US killing of Soleimani
---
US-led forces helping Iraqi troops have scaled back operations, a US defence official said.
"We will conduct limited anti-Islamic State group operations with our security partners where it mutually supports our force protection efforts," the official said.
"We have increased security and defensive measures at Iraqi bases that host coalition troops," the official added.
Yesterday, US Secretary of State Mike Pompeo said that Washington's European allies had not been "as helpful" as he hoped over the US killing of Gen Soleimani.

Mr Pompeo called officials worldwide to discuss the attack, which was praised by US President Donald Trump's Republicans and close ally Israel, but elsewhere met with sharp warnings it could inflame regional tensions.
"I spent the last day and a half, two days, talking to partners in the region, sharing with them what we were doing, why we were doing it, seeking their assistance. They've all been fantastic," Mr Pompeo said in an interview with Fox News.
"And then talking to our partners in other places that haven't been quite as good. Frankly, the Europeans haven't been as helpful as I wish that they could be," he said.
Britain has advised all UK nationals against travelling to parts of Iraq and Iran following the killing of Gen Soleimani.
Foreign Secretary Dominic Raab said: "The first job of any government is to keep British people safe.
"Given heightened tensions in the region, the Foreign Office now advise people not to travel to Iraq, with the exception of the Kurdistan Region of Iraq, and to consider carefully whether it's essential to travel to Iran.
"We will keep this under review."
The Foreign Office also warned British nationals in the region to "remain vigilant and monitor the media carefully".
French Foreign Minister Jean-Yves Le Drian said he had discussed the situation in the Middle East with his German and Chinese counterparts, and added that all three had agreed on the need to avoid any escalation in tensions.
Mr Le Drian said he had held a telephone conversation with German foreign minister Heiko Maas and senior Chinese diplomat Wang Yi.
"We all noted in particular our agreement in the importance of preserving the stability and sovereignty of Iraq, and the whole of the region in general, as well as the need for Iran to avoid any new violation of the Vienna Agreement," added Mr Le Drian.