Tens of thousands of people took to the streets of Tehran and other cities to protest against the US, after its air strike killed a top Iranian commander in Baghdad this morning.
Chanting "Death to America" and holding up posters of the dead Iranian commander, Qasem Soleimani, the demonstrators filled streets for several blocks in central Tehran after Friday prayers.
We need your consent to load this rte-player contentWe use rte-player to manage extra content that can set cookies on your device and collect data about your activity. Please review their details and accept them to load the content.Manage Preferences
Women and men, many of them elderly, took part in the processions, some holding aloft portraits of Iran's supreme leader Ayatollah Ali Khamenei.
"The axis of any evil is America, the motto of religion and the Koran is death to America," they said in unison.
"O leader of our revolution, condolences, condolences."
One group of men tore holes out of a US flag before setting it on fire.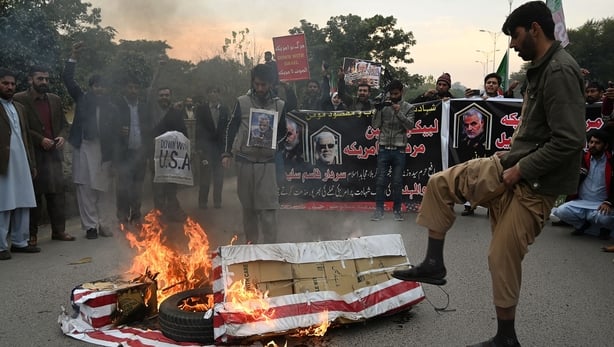 Iran's supreme leader has vowed "severe revenge" after the US killed the commander of the Quds Force.
"Martyrdom was the reward for his ceaseless efforts in all these years," Ayatollah Khamenei said on his Farsi-language Twitter account in reference to Gen Soleimani, also declaring three days of mourning.
"With him gone, God willing, his work and his path will not be stopped, but severe revenge awaits the criminals who bloodied their foul hands with his blood and other martyrs' in last night's incident."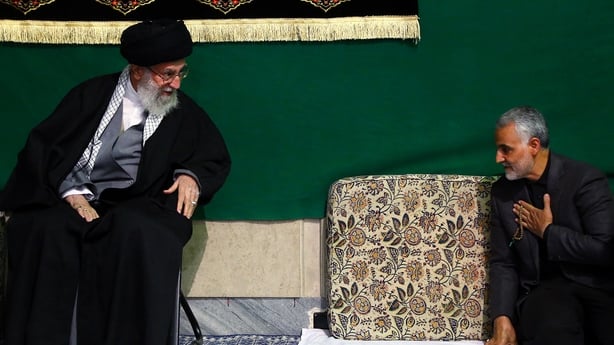 Iran's Revolutionary Guards confirmed Gen Soleimani had been killed early today, saying he was "martyred" in an attack by US helicopters on Baghdad Airport.
Gen Soleimani was one of the most popular figures in Iran and seen as a deadly adversary by the US and its allies.
Ayatollah Khamenei called Gen Soleimani the "international face of the resistance" and said he was killed by "the most cruel of those on earth".
All people who back the resistance would be his "avengers", he added.
"The lack of our devoted and dear general is bitter, but continuing the fight and achieving final victory will embitter the murderers and criminals even more," he added.
Iranian President Hassan Rouhani said Iran will be more determined to resist the United States following the killing, Iranian state television reported.
"Soleimani's martyrdom will make Iran more decisive to resist America's expansionism and to defend our Islamic values. With no doubt, Iran and other freedom-seeking countries in the region will take his revenge," Mr Rouhani said in a statement.
---
Read more:
US kills top Iranian commander Soleimani in air strike
US killed Iranian commander to prevent 'imminent attack' - Pompeo
The killing of Soleimani: What happens next?
---
Iraq's caretaker prime minister Adel Abdel Mahdi slammed the strike as an "aggression" that would "spark a devastating war".
"The assassination of an Iraqi military commander in an official post is an aggression against the country of Iraq, its state, its government and its people," Mr Abdel Mahdi said in a statement.
He was referring to Abu Mahdi al-Muhandis, the deputy head of the powerful Hashed al-Shaabi paramilitary force, who died in the strike along with General Soleimani.
Mr Abdel Mahdi said the strike was also a "flagrant violation of the conditions authorising the presence of US troops" on Iraqi soil.
Russia warned that the death of General Soleimani would increase tension across the Middle East.
"The killing of Soleimani ... was an adventurist step that will increase tensions throughout the region," news agencies RIA Novosti and TASS quoted the foreign ministry as saying.
"Soleimani served the cause of protecting Iran's national interests with devotion. We express our sincere condolences to the Iranian people."
UN Secretary General Antonio Guterres said the "world cannot afford" another Gulf war.
A spokesman for Mr Guterres said: "The secretary-general has consistently advocated for de-escalation in the Gulf."
"This is a moment in which leaders must exercise maximum restraint. The world cannot afford another war in the Gulf."
China appealed for restraint from all sides, "especially the United States", after the US strike.
"China has always opposed the use of force in international relations," Chinese foreign ministry spokesman Geng Shuang said at a daily press briefing.
"We urge the relevant sides, especially the United States, to remain calm and exercise restraint to avoid further escalating tensions," he said.
He said Iraq's sovereignty, independence and territorial integrity must be respected.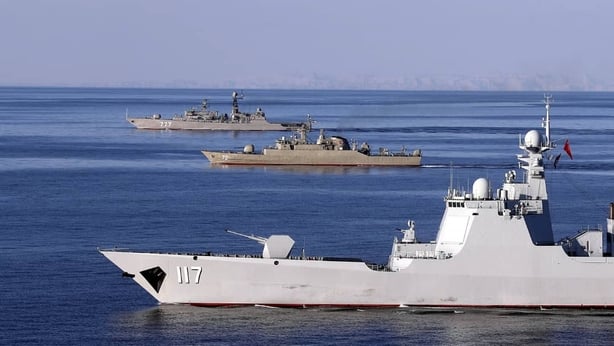 China, a permanent member of the UN Security Council, is a key partner of Iran and major buyer of the country's oil.
Iran, China and Russia held joint naval drills in the Indian Ocean and the Gulf of Oman last week and the Iranian foreign minister visited Beijing earlier this week.
China and Russia are also parties to the 2015 nuclear deal with Iran, from which Mr Trump withdrew in May last year.
Elsewhere, British Foreign Secretary Dominic Raab has called for a calming of tension from all aggressors.
Mr Raab issued a statement saying the British government had "always recognised the aggressive threat posed by the Iranian Quds force led" by the general.
"Following his death, we urge all parties to de-escalate. Further conflict is in none of our interests," Mr Raab said.
French President Emmanuel Macron has urged all parties to avoid any new escalation.
In a telephone call with Russian President Vladimir Putin, Mr Macron said there should be no "new dangerous escalation of tensions" and "called on all the parties to act with restraint."
Israeli Prime Minister Benjamin Netanyahu has cut short a visit to Greece as Lebanon's Hezbollah demanded revenge for the killing.
A source in Mr Netanyahu's office said that he was returning from Athens but did not elaborate.
Hezbollah has called for the missile strike by Israel's closest ally to be avenged.
"Meting out the appropriate punishment to these criminal assassins ... will be the responsibility and task of all resistance fighters worldwide," Hezbollah chief Hassan Nasrallah said in a statement.
The Israeli army has also closed a ski resort in the annexed Golan Heights, which border Lebanon and Syria.