Violence against women and girls is among the most widespread, and devastating human rights violations in the world - the United Nations has said - on International Day of the Elimination of Violence against Women. One of the most "unsafe places" in the world to be female is South Africa. Jackie Fox has been taking a look at the country where women are saying enough is enough.
Annika, not her real name, was lying in a hospital bed unable to talk or eat.
The 28-year-old believed that her death could be coming down the tracks sooner than she thought.
Her two jaws and several teeth had been broken in an attack by her boyfriend.
In the midst of this trauma, she realised that the relationship could end her life.
"This is not a healthy relationship. I'm going to die here," Annika thought. It took almost two years to get to this key moment.
Her partner had emotionally, verbally and physically abused her during their relationship.
Annika said he watched and monitored her meetings with friends and family and as she worked.
The controlling behaviour reached tipping point when she had to give up her job.
"Every time I wanted to leave, he threatened to kill himself and [he said] he wouldn't survive without me. I ended up feeling sorry for him sometimes," she said.
Annika said she apologised for situations - even though she wasn't in the wrong.
Eventually, a brutal beating left her with a plate in her jaw and wires supporting her teeth.
Her story is too familiar for South African women as every three hours, a woman there is killed. That's five times the world average with almost 4,000 women and children murdered by men last year.
The violence against women has been described as an "epidemic" with the president of South Africa describing it as one of the most "unsafe places" in the world to be female.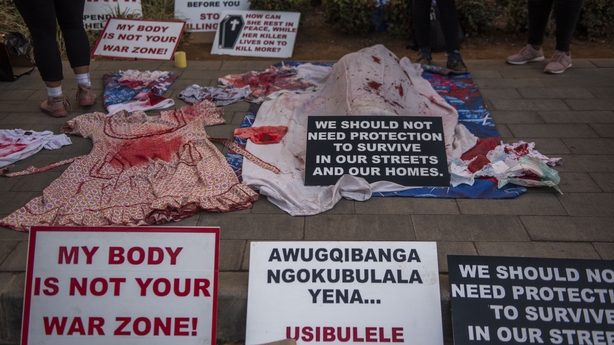 While the numbers are high, it is estimated a large amount of abuse and assaults go unreported.
Police tried to convince Annika to open a case against her partner because she said the attack could be considered as attempted murder. However, she said part of her still loved him and she refused.
"I was really stupid about it because I said that I didn't want him to get arrested. I just want him to stop what he's doing to me," she said.
Not feeling safe in her own home, Annika went to a women's shelter for help. Counselling and support made her process the abuse she had suffered and that "no woman should be treated" the way she was.
Even as he came grovelling back, she had the skills to refuse a reconnection and threatened him with a protection order.
But the fear of running into him again still haunts her.
"I still feel I'm not safe and if I'm on the road, I always look back on my shoulders. I don't know where he is. I don't know what will happen when I see him again," she stated.
She is in a safe location now, working on healing and she feels support from around the world.
Annika's story hasn't reached the global headlines but many high profile deaths and gruesome assaults in South Africa have. The details are harrowing and disturbing.
Among them was Uyinene Mrwetyana.
In August, the 19-year-old student was lured by a man to his workplace, a post office, where she was raped and bludgeoned to death with a measuring scale. The man was recently given three life sentences.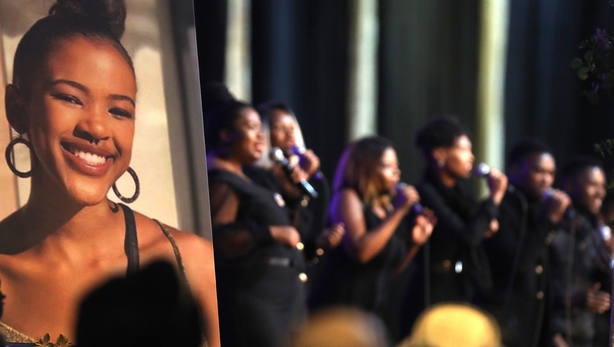 The same month, two sports stars were also murdered in separate and unrelated incidents.
South African boxer and karate champion, Leighandre "Baby Lee", was shot dead in a car by her ex-boyfriend.
Showjumper, Meghan Cremer, was found dead in a shallow grave with a rope around her neck.
A month later the horrifying story of Janika Mallo emerged. The 14-year-old school girl was sexually assaulted and died after she was hit with a concrete block.
The appalling circumstances of their deaths sparked mass protests around the country. Thousands of women took to the streets in a rallying cry against femicide.
An insight into the most 'unsafe' places for women, reports @jackiefox Read more: https://t.co/IqAM45t5vO pic.twitter.com/LQUwN3bpR7

— RTÉ News (@rtenews) November 25, 2019
Hashtags like #AmINext and #MenAreTrash made up most of the traffic on South African Twitter - becoming a safe space to share stories similar to the #MeToo campaign.
The equivalent to RTÉ News in South Africa, SABC, also launched a TV talk show where it asks survivors to share their stories and empower others to stand up.
Platforms across South Africa had been created for women to say enough is enough.
"We need to speak out and not die in silence. Many women die in silence. Some women are being buried in front of us because of violence," Annika said.
However fear of violence and unexpected attacks along with lack of trust have women on high alert.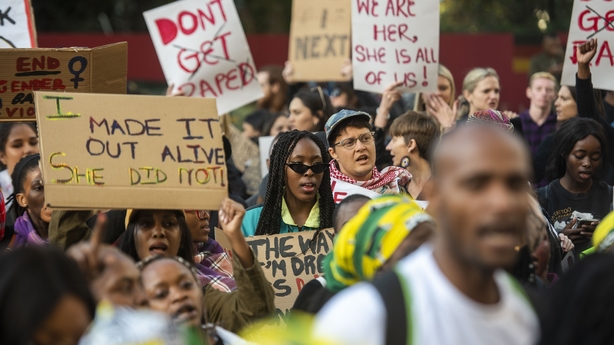 Companies are handing out self-defence items to their female staff so they feel more protected while shelters are offering self-defence classes to women for their security.
"Women in South Africa at this moment and time are walking around with a lot of trauma," said Bernadine Bachar Director of the Saartjie Baartmen shelter and centre, and one of the organisers of the marches happening.
Ms Bachar said the centre has seen an increase in the number of women seeking help.
"Very recently there have been a lot women coming in with burns on their faces from boiling liquids on their hands and on their feet," she said.
Statistics show that 109 women in South Africa are raped every day with the numbers of reports of sexual assault have risen by 4.65% to more than 50,000 a year.
A 2016 UN special rapporteur report on violence against women in South Africa estimated that only one in nine rapes was reported to the police.
"Heartbreaking" is how she described seeing many women being raped, or stabbed and left for dead on the side of the road.
"It boils down to the aftermath of the Apartheid - where power and control of human beings was a day to day occurrence but also as part of the patriarchy," Ms Bachar said.
She points several gaps in the criminal justice system including sensitivity training for police officers, court delays and sentencing issues.
The laws and policies are in place but the issue arises in implementation, according to one lawyer in South Africa.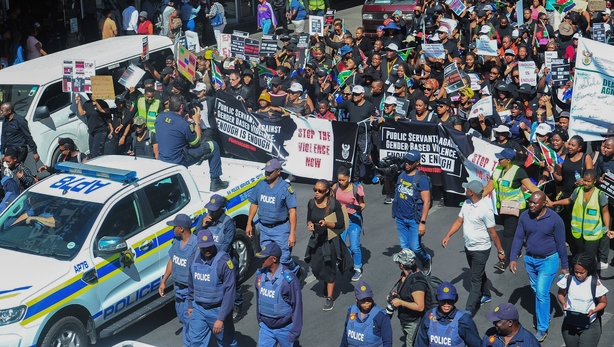 Gender-based violence attorney Bronwyn Pithey from the Women's Legal Centre said that as a lawyer, the criminal justice system is not structured in a way that is "going to look after the needs and protective requirements [that] would necessitate a system which really reflects those needs of victims".
However, Ms Pithey acknowledges there has been a shift in political will.
At an emergency sitting of the South African parliament in September, President Cyril Ramaphosa said the levels of femicide were similar to those of country at war and "urgent action" was needed.
He pledged $108m for measures to tackle gender-based violence with education, improvements to the justice system and care for victims.
Victims speaking out about the violence are a public issue, but a private one too, according to Ms Pithey, and therefore she would err on the side of caution for women to share their experiences.
"I think that we need to be very wary and very slow to encourage women to speak out about violence they've experienced and then put them into a system which is not victim-centric and victim-centred, and does not focus and accommodate the needs of victims," Ms Pithey said.
For Annika though, she is striving to convince women to speak out.
Through her story and trauma, she wants to show the signs of domestic violence and how to spot it, to build a different culture and strengthen support in a country on the cusp of further change.
We need your consent to load this rte-player contentWe use rte-player to manage extra content that can set cookies on your device and collect data about your activity. Please review their details and accept them to load the content.Manage Preferences
---
Women's Aid are available on a 24-hour freephone helpline - 1800 341 900