The United States has told Turkey to impose an immediate ceasefire in Syria, according to US Vice President Mike Pence.
Speaking to reporters at the White House, Mr Pence said US President Donald Trump had spoken to his Turkish counterpart Recep Tayyip Erdogan and told him to agree to an immediate end to the Turkish assault on northern Syria.
Mr Pencce also said he would travel to the region soon to try to mediate the crisis.
He said Mr Trump had been firm with Mr Erdogan on the phone.
"The United States of America simply is not going to tolerate Turkey's invasion in Syria any further. We are calling on Turkey to stand down, end the violence and come to the negotiating table," Mr Pence said.
The US Treasury has also imposed sanctions on Turkey's defense minister and two other ministers in response to the assault on northern Syria.
Minister of Defense Hulusi Akar, Interior Minister Suleyman Soylu, and Energy Minister Fatih Donmez were placed on the Treasury's sanctions blacklist, freezing their US assets and banning US or US-related transactions with them.
The Defense and Energy ministries were also hit with sanctions, the Treasury said.
"The United States is holding the Turkish Government accountable for escalating violence by Turkish forces, endangering innocent civilians, and destabilizing the region," said Treasury Secretary Steven Mnuchin.
It comes as Russian-backed Syrian forces have deployed deep inside Kurdish-held territory south of the Turkish border, less than 24 hours after the United States announced a full withdrawal.
The US's Kurdish former allies said they invited in the government troops as an emergency step to help fend off an assault by Turkey, launched last week after Mr Trump moved his troops aside in what the Kurds call a betrayal.
After a week of stinging rebukes from fellow Republicans, Mr Trump earlier announced plans to impose sanctions on Turkish officials, reimpose steel tariffs and immediately halt negotiations on a $100 billion trade deal.
"Turkey's military offensive is endangering civilians and threatening peace, security and stability in the region," Mr Trump said in a statement, adding that Turkey's actions were "setting conditions for possible war crimes."
However Mr Trump renewed his plans to withdraw almost all remaining US forces, a move that effectively gives Mr Erdogan and Russia's Vladimir Putin free hands to shape the battlefield of the world's deadliest ongoing war.
We need your consent to load this rte-player contentWe use rte-player to manage extra content that can set cookies on your device and collect data about your activity. Please review their details and accept them to load the content.Manage Preferences
In particular, the Syrian army deployment is a victory for Syrian President Bashar al-Assad and his most powerful ally Russia, giving them a foothold in the biggest remaining swathe of the country that had been beyond their grasp.
They will now face Turkish armed forces along a new frontline hundreds of miles long.
Syrian state media reported the army entered Manbij, a town near the Turkish border in northeast Syria that had been controlled by a militia allied to US-backed Kurdish forces.
Earlier it pushed into Tel Tamer, a town on the strategically important M4 highway that runs east-west around 30 km south of the frontier with Turkey.
State television later showed residents welcoming Syrian forces into the town of Ain Issa, which lies on another part of the highway, hundreds of miles away.
Ain Issa commands the northern approaches to Raqqa, former capital of the so-called Islamic State "caliphate".
Kurdish fighters recaptured the city from the militants two years ago in one of the biggest victories of the US-led campaign.
Much of the M4 skirts the southern fringe of territory where Turkey aims to set up a "safe zone" inside Syria. Turkey said it had seized part of the highway.
An official of the Kurdish-led Syrian Democratic Forces said clashes were ongoing.
....Kurds may be releasing some to get us involved. Easily recaptured by Turkey or European Nations from where many came, but they should move quickly. Big sanctions on Turkey coming! Do people really think we should go to war with NATO Member Turkey? Never ending wars will end!

— Donald J. Trump (@realDonaldTrump) October 14, 2019
---
Read more
---
The swift Syrian government deployments underscored how suddenly the strategy the US had pursued in Syria forthe past five years has unravelled.
The US said yesterday that it was pulling out its entire force of 1,000 troops which had provided air support, ground assistance and training for Syrian Kurds against IS forces since 2014.
Mr Trump said US troops would remain at a small garrison at Tanf in southern Syria "to continue to disrupt remnants" of IS.
But the base would do little to support operations elsewhere in the country.
Senate Republican leader Mitch McConnell, better known for his backing of Mr Trump, joined his critics to express concern over the Syria pullout, saying it would "invite the resurgence" of IS.
"Such a withdrawal would also create a broader power vacuum in Syria that will be exploited by Iran and Russia, a catastrophic outcome for the United States' strategic interests," he said in a statement.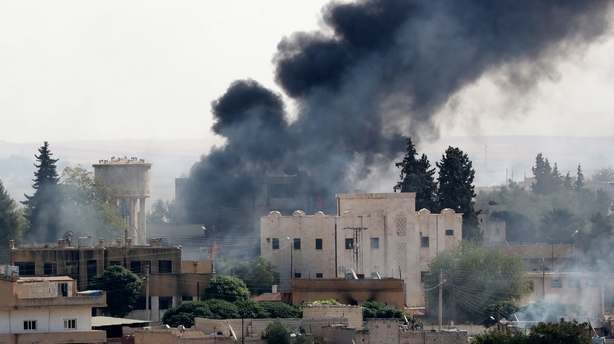 A US official said today that a diplomatic team working to help stabilise territory captured from IS had already pulled out.
US troops were still on the ground but early phases of their withdrawal had started, the official said.
Two other US officials have told Reuters the bulk of the US pullout could be completed within days.
Yesterday's announcement of the US retreat came just a week after Mr Trump gave what the Kurds consider the go-ahead for Turkey to attack by shifting US troops out of the way.
Thousands of fighters from a Kurdish-led force have died since 2014 battling Islamic State in partnership with the United States, a strategy the Trump administration had continued after inheriting it from his predecessor Barack Obama.
Mr Trump says he aims to extract the United States from "endless" wars in the Middle East.
"Anyone who wants to assist Syria in protecting the Kurds is good with me, whether it is Russia, China, or Napoleon Bonaparte," Trump wrote on Twitter.
"I hope they all do great, we are 7,000 miles away!"
Turkey says it aims to defeat the Kurdish YPG militia which it views as a terrorist group because of its links to Kurdish separatists in Turkey.
A "safe zone" would be set up in Syria to resettle refugees, 3.6 million of whom are in Turkey.
"We are determined to continue the operation until the end, without paying attention to threats," Mr Erdogan said in a speech during a visit to Azerbaijan.
"Our battle will continue until ultimate victory is achieved."
EU member states united to condemn Turkey's offensive but stopped short of imposing an arms embargo.
"The EU condemns Turkey's military action which seriously undermines the stability and the security of the whole region," the EU said in a joint statement at a meeting of foreign ministers in Luxembourg.
It noted the decision made by some members, including France and Germany, to halt weapons exports to Turkey, but did not impose an EU-wide embargo.
Instead, the ministers agreed that EU member countries should pay close regard to their existing common policy on arms exports, which includes a provision that they should not be approved where there they may "contribute to regional instability".
In response Turkey's Foreign Ministry accused the European Union of protecting "terrorists".
"It is unacceptable for the EU to display an approach that protects terror elements," the ministry said in a statement.
The statement added that Turkey will seriously examine its co-operation with the EU on certain areas due to its "unlawful and biased" attitude.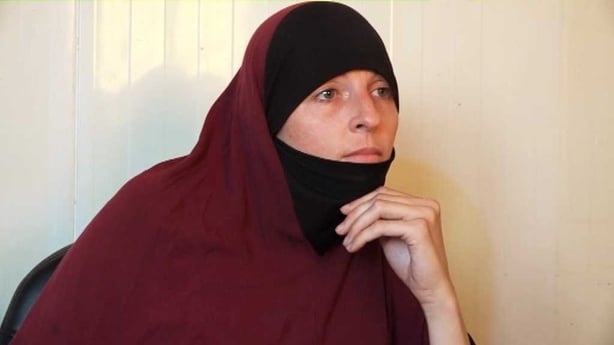 Govt monitoring situation in northeastern Syria
The Irish Government has said it is engaging "very closely" with international partners regarding the situation in northeastern Syria.
Irish woman Lisa Smith and her daughter had been living in the Ain Issa camp in the region.
A spokesperson for the Department of Foreign Affairs told RTÉ News that it is "very complex and rapidly changing".
The Department said: "As in all cases where Irish citizens are in distress or danger overseas, the Government will continue to engage with partners and to provide appropriate consular advice and assistance."
Given the particularly volatile situation in the region, the Department of Foreign Affairs said it would not be helpful to comment further on any possible course of action.