Turkish forces launched an assault Wednesday on Kurdish positions in northern Syria, their third such operation in the war-torn country.
Here are the warring parties fighting the battle.
---
Turkey and Syrian proxies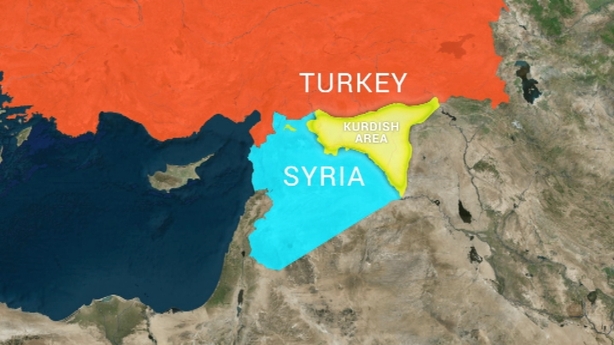 Turkish warplanes have pounded Kurdish controlled positions on Syria's northern border as part of an offensive dubbed "Operation Peace Spring".
Turkish tanks and armoured vehicles have also been massing at the border in recent days, even before Ankara on Wednesday announced the land phase of its operation.
Beyond its own forces, Ankara is also relying on 18,000 Syrian fighters - most of them grouped under the banner of an outfit that calls itself the Syrian National Army.
They are mostly Sunni Arab former rebels who were defeated by the Damascus regime, and who now effectively serve as Turkish proxies.
They have already fought alongside Ankara during its previous Syria operations in 2016 and 2018, the latter of which saw them take over the Kurdish enclave of Afrin, near the border.
In addition to Kalashnikov rifles, these Syrian fighter are armed with rocket launchers and heavy artillery.
---
Kurds and their allies
The Kurdish People's Protection Units (YPG) form the backbone of an alliance of Kurdish and Arab fighters, known as the Syrian Democratic Forces.
Since it was formed in 2015 with US backing, the SDF has played a key role in the years-long battle to eliminate the so-called Islamic State group's so-called "caliphate".
It has lost 11,000 personnel in such offensives.
A seasoned fighting force, the SDF has been trained and armed by Washington.
It has also benefitted from the support of a global anti-IS coalition, led by the United States.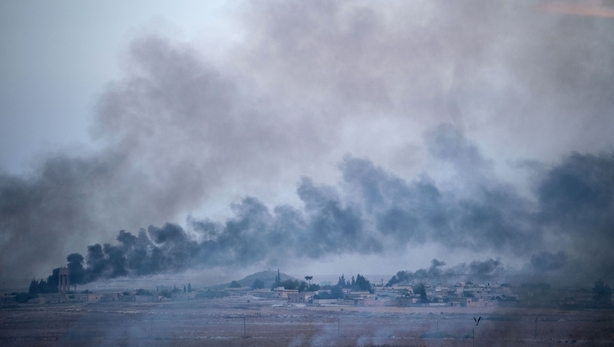 Without backing from coalition warplanes, which had provided the SDF aerial cover during anti-IS operation, the Kurd-led force is now at a disadvantage against Turkey.
It has called on the US and the international coalition to establish a "no-fly zone" over northern Syria to protect its forces from Turkish jets.
The YPG, which Istanbul considers a "terrorist" threat, had started withdrawing from positions along the border before the start of Turkey's latest operation.
Under an agreement between Washington and Ankara, they were replaced by local fighters presented as independent of the SDF.
But they are now fighting alongside the Kurdish militia in an attempt to hold off a Turkish invasion.
---
American forces absent
In 2018, US President Donald Trump announced that all of the roughly 2,000 US troops in Syria will be withdrawn because IS had been "defeated".
We need your consent to load this rte-player contentWe use rte-player to manage extra content that can set cookies on your device and collect data about your activity. Please review their details and accept them to load the content.Manage Preferences

The planned pull-out was delayed at the request of the Pentagon, which maintains that IS continues to pose a threat despite its territorial defeat.
But on 6 October, Washington announced that US forces would withdraw from Syria's northern border to make way for a "long-planned operation" by Turkish forces.
A senior US administration official later said the US had redeployed 50-100 troops away from the region.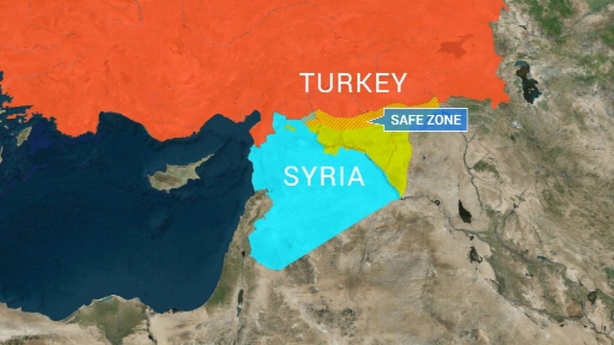 Turkish media reports suggest the main goal of the operation is to create what Ankara calls a "safe zone" over an area about 30km deep and stretching about 120km along the border.
Kurdish forces control large swathes of territory in northern and eastern Syria, covering nearly 30% of the war-torn country.
In these regions, the international coalition still has several bases and positions, in which French forces are also stationed.
---
Explained: Syria's War
We need your consent to load this rte-player contentWe use rte-player to manage extra content that can set cookies on your device and collect data about your activity. Please review their details and accept them to load the content.Manage Preferences