He has been compared with Barack Obama and Nelson Mandela, and now Abiy Ahmed can join their superior rank as a winner of the Nobel Peace Prize.
The youngest head of an African state was commended for breaking a bitter and violent deadlock between his country Ethiopia and neighbouring Eritrea.
Mr Ahmed becomes the 100th winner of the Nobel Peace Prize and here is everything you need to know about who he is and why he was chosen.
Where did the conflict between Ethiopia and Eritrea begin?
Neighbours Ethiopia and Eritrea have been bitter foes for decades.
It has led to violent clashes with the bloody scenes clocking up tens of thousands of deaths.
Families, friends and communities have been torn apart – separated, isolated and denied contact with each other for years.
Part of the tension can be brought back to the 1960s when Ethiopia annexed Eritrea.
However, that was reversed in 1993 when Eritreans voted for independence. 
At the time the two countries split on okay terms but it wasn't long until things turned nasty.
It came in the form of the border town Badme as both Ethiopia and Eritrea claimed ownership over it.
In 1998, violence exploded in the area with an estimated 80,000 people killed and thousands displaced.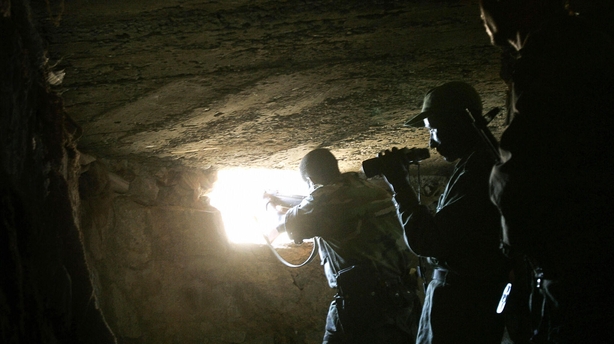 A new millennium saw hope in a peace agreement between the neighbours.
Under the deal, a border commission was established which ended up causing a more complex situation than anticipated.
As the commission declared that Badme belonged to Eritrea, Ethiopia put its foot down and demanded further negotiations.
The situation deteriorated once again with another stalemate with Eritrea refusing to go into talks unless it was a certain Badme was recognised as theirs.
Military conscription was introduced in Eritrea and those who avoided it were punished severely.
Once again, families were in smithereens as tens of thousands of Eritreans fled to Ethiopia, Europe and beyond - adding to an already intense migrant crisis.
For a decade, there was no sign of the grief subsiding.
Ethiopia was also dealing with its own political turmoil.
Mass protests were filling the streets over unhappiness of political corruption and economic woes.
Where does Abiy Ahmed come in?
In April 2018, Abiy Ahmed was elected the prime minister of Ethiopia - becoming the youngest leader in Africa at 41.
Mr Ahmed introduced massive reforms at the beginning of his tenure – releasing political prisoners, unblocking websites, opening talks with China on major debt and promoting gender balance leadership by appointing a record breaking number of women to his cabinet.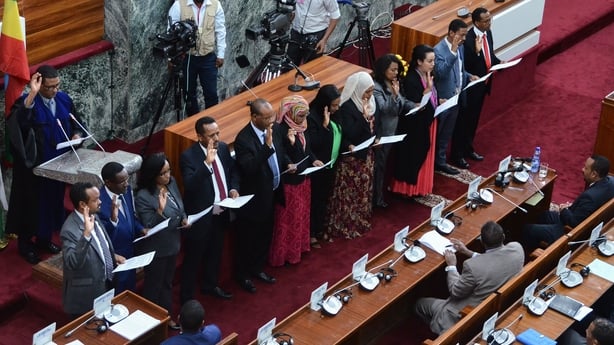 More importantly in June 2018, only three months after he took office, Abiy Ahmed announced that Ethiopia would acknowledge the border commission's decision over Badme.
A month later he travelled to Eritrea's capital, Asmara, to meet with the country's president Isaias Afwerki.
He was welcomed with open arms and in a joint statement, the two men declared that the war had ended and a new era of peace and friendship had begun.
Rapid change followed with Eritrea appointing an ambassador to Ethiopia for the first time in 20 years.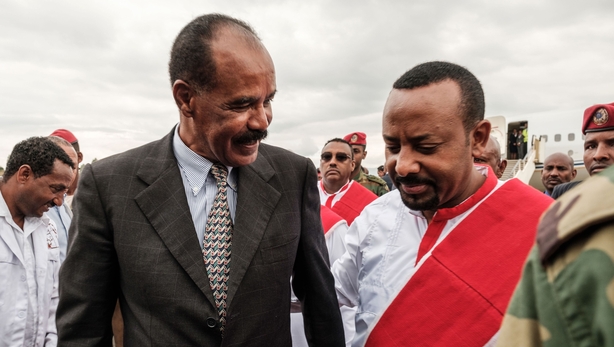 Telecommunications between the two were restored and flights between both capitals begun.
Emotional scenes filled headlines as those families, friends and communities once separated were reunited for the first time in decades.
"When Prime Minister Abiy Ahmed reached out his hand, President Afwerki grabbed it, and helped to formalise the peace process between the two countries" the Nobel Peace Prize committee said as the praised President Afewrki for his role in breaking the impasse.
Who is Abiy Ahmed?
Abiy Ahmed was born in southern Ethiopia's Jima Zone in 1976 to an Oromo Muslim father and an Amhara Christian mother.
After studying in London, he was awarded a doctorate in peace and security issues from Addis Ababa University.
In the mid 90s, he served as a UN peacekeeper in Rwanda.
Later in 2010, he went into politics and became a member of the Oromo People's Democratic Ogranisation.
With a mixed ethnic background, Mr Ahmed crossed over and ethnic divides by forming a new alliance between Oromo and the Amhara groups.
What's next?
Abiy Ahmed is set to collect his award in December in Oslo.
 "Humbled and thrilled" is how he described the news of the prize while expressing some hope as to how this will impact the continent
"It is a prize given to Africa, given to Ethiopia, and I can imagine how the rest of Africa's leaders will take it positively to work on peace building process in our continent" he said.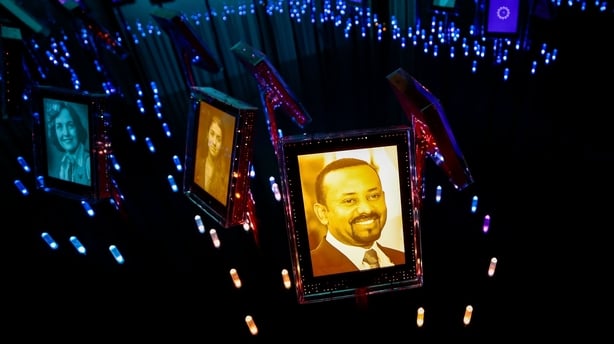 For now, Abiy Ahmed goes down in history as playing a starring role in softening a once thought of impenetrable dispute.
Now hailed as a visionary and reformer, Abiy Ahmed still has his battles at home.
Ethnic violence has been on the rise in recent years, causing Ethiopia to record more internally displaced people than any other country.
Nearly 2.5million people are displaced by ethnic violence and deep divisions which makes his position vulnerable.
We need your consent to load this rte-player contentWe use rte-player to manage extra content that can set cookies on your device and collect data about your activity. Please review their details and accept them to load the content.Manage Preferences

During the summer, Mr Ahmed faced another growing threat to his power when gunmen assassinated high-ranking officials including an army chief.
While the UN acknowledged that the "winds of hope are blowing ever stronger across Africa" with this honour bestowed upon Mr Ahmed, human rights groups including Amnesty International are more cautious.
The organisation said that this should spur Mr Ahmed to enhance reforms in Ethiopia on human rights with ongoing ethnic tensions which "threaten instability and further human rights abuses".
No doubt though, this prestigious honour is a welcome boost for the prime minister as he goes into upcoming parliamentary elections in May 2020.