He entered under a cloud of suspicion, fear and desperation.
A month later, eight-year-old Prince Borondo nervously leaves an Ebola treatment centre greeted by cheers and applause.
The slight, shy and nervous boy survived Ebola in the Democratic Republic of Congo - the centre of the latest epidemic.
In one of the world's poorest countries that is something to celebrate.
His mother Mado remembers the moment she realised her son could have contracted the contagious hemorrhagic fever.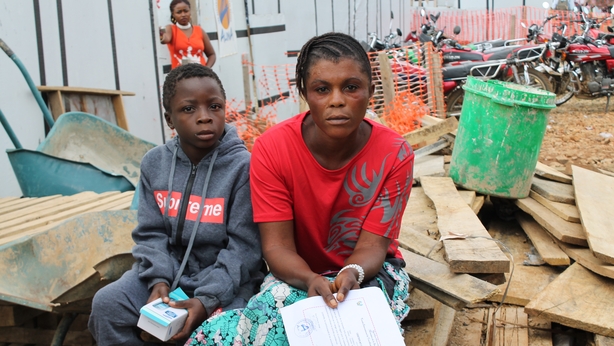 "It started with diarrohea, then he developed a high fever and he was vomiting blood. I knew he was really sick and I was scared he would die," she told RTÉ News.
"That's why I came here. I wasn't afraid to because I knew they would take care of him."
An Ebola treatment centre (ETC) in Beni in the Eastern DRC has become a lifeline to communities in a remote region.
Suspected patients pass through an entrance dominated by a large sign that spells out "Ebola treatment Centre" printed in bold red letters.
For many patients it can be a scary experience, but the medical staff treat everyone they meet with kindness and respect.
The centre is run by Alima (Alliance for International Medical Action) a medical NGO that is based in Beni.
Since last August more than 3,200 patients have been admitted, with 305 of them turning out to have Ebola.
"Everyone is touched by the virus," explains Alima's Berangere Lucotte who works at the facility.
"We have seen a lot of kids but we don't yet know the reason why they are so affected."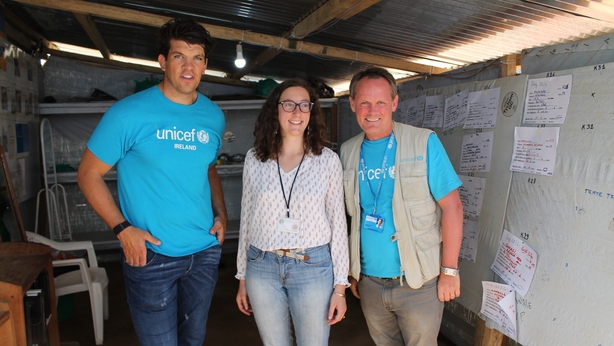 The World Health Organization (WHO) says there are more than 2,000 confirmed cases of Ebola, including more than 1,400 deaths, since it emerged in Eastern DRC in August.
The hotzone is located in the provinces of Ituri and North Kivu, where a long-running conflict has been raging for decades.
Ebola spreads among humans through close contact with the blood, body fluids, secretions or organs of an infected person.
Beni's ETC deals with both suspect and confirmed Ebola cases.
It opened with only 20 beds and as the crisis developed staff had to bring in more beds. Today, there is capacity for 58 beds.
Doctors trial four experimental treatments, as well as a vaccine that is proven to be 97.5% effective. The earlier a patient arrives for treatment the higher the chance of survival.
"Some people don't believe in the disease or they are afraid of the treatment centres so they hide their symptoms," Berengere Lucotte told RTÉ News during a tour of the facility.
"They arrive too late with Ebola and it is much harder to cure. Unfortunately, we have had some deaths here."
Ebola patient
This is the tenth outbreak of Ebola in the DRC in the past 40 years. The latest epidemic is the second worst global outbreak in history.
More than 270 staff work around the clock at the ETC in Beni, with 69 nurses and 23 medical doctors on the frontline dealing with many frightened and worried patients.
Those with confirmed Ebola are isolated in sections and contained inside 13 plastic cubes. Each cube is roughly the size of a small bathroom.
We meet a Congolese doctor carrying out an examination of 57-year-old Kavira Anne-Marie Gugu. She arrived with fever, fatigue, and muscular pain and doctors quickly confirmed she had Ebola.
Ebola is highly contagious so doctors have to wear a head-to-toe protection suit - three layers in total - so they won't get contaminated.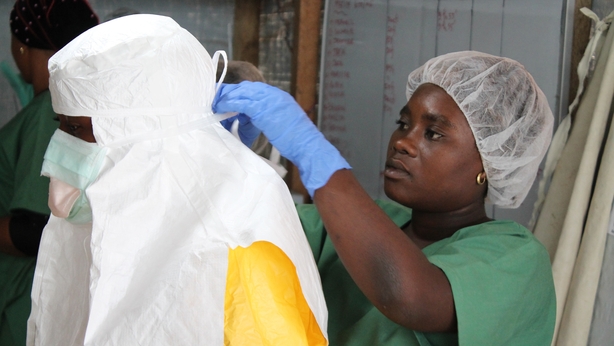 "If you touch a confirmed person's body fluids such as blood, vomit or even sweat you can get the disease," the doctor tells us as he begins his examination.
He takes the woman's temperature, gives her medicines and makes sure the patient is as comfortable as possible.
Ebola suspect
In the suspect cases unit, we meet 22-year-old Abigael Kayindo who may have contracted Ebola.
She sits alone on a flimsy plastic chair behind a wooden fence in unit number 1. She looks a little lost, wrapped in a pink shawl with images of bunnies.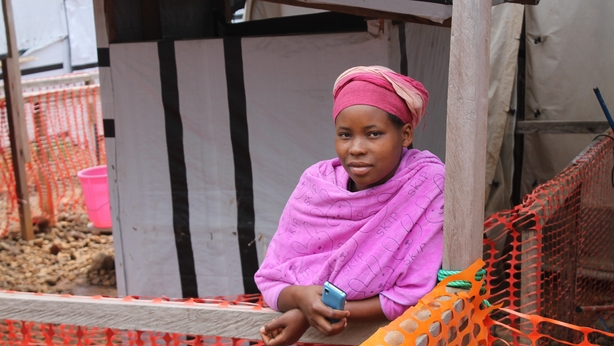 Abigael is held in an area surrounded with bright orange plastic fencing. I'm warned by staff to keep at least three to five metres away so we chat to each other over the fence.
"I arrived with my child who was very unwell and is now under observation," she explains to our translator.
Her boy has been taken away and is in a unit directly opposite where Abigael is contained. Every so often she spots a doctor carrying a child and her eyes light up, desperately hoping to catch a glimpse of her little boy.
"I was worried about what people in my community were saying that people were dying because of Ebola," Abigael says.
"I knew someone in my village who died from it," she murmurs softly over the fence.
"No one in my family has had it before, but I'm hopeful that Ebola will come to an end."
Suspected patients like Abigael and her son are tested everyday. They will only be discharged once they have two negative tests within 24 hours. We later learn that both Abigael and her son pass the test and are allowed to leave.
The current outbreak has spread across the border from the DRC to Uganda. Around 11,300 people died between 2014-2016 after an epidemic struck mainly in Liberia, Guinea and Sierra Leone.
Health officials are desperately trying to ensure the latest outbreak does not peak at the same levels.
Outside the ETC in Beni, Prince Borondo is presented with a certificate declaring that he is Ebola free. He barely cracks a smile. You sense that he just wants to go home and get back to normal.
He has spent an entire month away from his parents and siblings and everyone close to him. His family receives hygiene kits with disinfectant and antibacterial gels.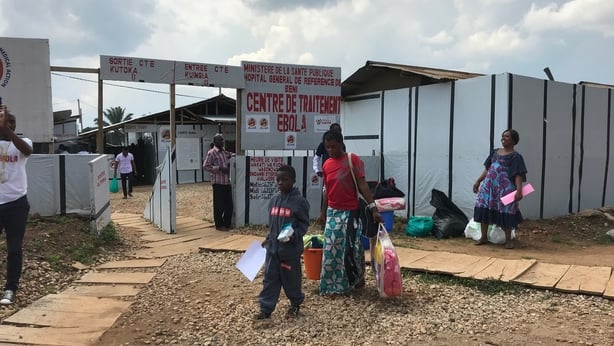 Prince clutches a new mobile phone to his chest as he walks back into the community. He received it as part of a clinical trial as doctors will monitor him at intervals over the next 58 days.
Staff will text and phone to remind his parents of his appointments.
I ask Prince's mother if is she is happy to have him back? She leaps to her feet and lifts her boy into her arms and holds him tightly.
"I'm so grateful to be able to touch him again and give him a hug and to kiss him. I can take Prince back home in full health - it's a big relief."