Fathiya Abdelrahim scrolls through her phone like any other Irish teenager but the content is graphic and disturbing.
She taps and swipes through videos and photos of bodies being pulled from the River Nile in the Sudanese capital of Khartoum.
Her social media accounts are full of chaos and disorder as she tells harrowing stories of women being targeted and brutally assaulted.
One Instagram story she selects shows a man pleading for people to spread the word about what is happening in the region. Fathiya has decided that this is what she wants to do.
The violent crackdown in Khartoum has killed dozens and left even more traumatised.
Since April, pro-democracy demonstrators have been holding peaceful protests after ousting one of Africa's longest-serving presidents, Omar al-Bashir.
But things turned ugly on Monday when security forces swept-in and opened fire on unarmed protesters.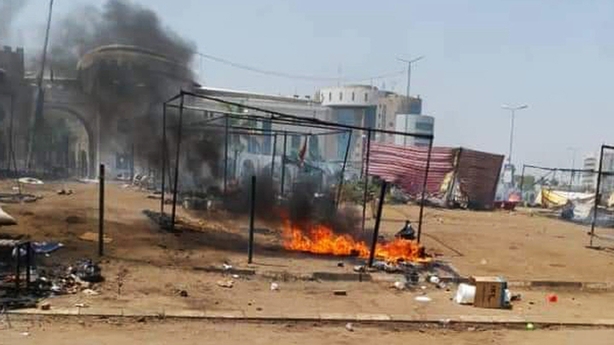 Gruesome stories and details have flooded social media about what happened next.
The death toll from this week's rampage stands at over 100 with those responsible believed to be spawned from the feared Janjaweed militia.
The 16-year-old has not experienced the violence first hand as she was only a baby when her parents left Sudan in search of a better life.
Since 2012, they have been living in Mullingar, Co Westmeath, with the teenager gearing up for her Leaving Cert next year.
Watching the disaster from afar, it is an emotional and harrowing time for the family.
"The morning of Eid, all I heard was my mum's cries 'Look what's happening!'," Fathiya said.
She said she felt horrible as she went on Instagram and scrolled through the violent and distressing content coming from Khartoum.
For her, the final straw was a post about 43 women who were allegedly raped and their underwear was hung out like flags.
In Fathiya's WhatsApp, there are no blue ticks on her messages to her uncle and cousin in Khartoum.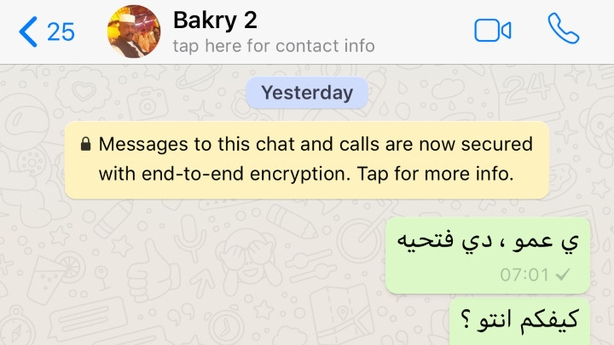 Internet and connectivity is patchy in Sudan with the political upheaval and she doesn't know how they are.
"You kinda went to sleep... thinking is my friend alive? Is my family alive? Is my aunt alive? Is my grandmother alive? It was really hard," she said.
As tears stream down her face, she apologises.
Only last summer she and her family visited Sudan.
The poverty and sadness has stayed with her. She could not believe how people couldn't afford bread.
"I remember me and my friend were in the car and we had milkshakes. We just got them and then these two boys were knocking on the door and were like 'give us some money'. We were sorry, we gave them the milkshake and that was it," she said.
Her mother, Zeinab Salih and her father, a doctor, left Sudan in 2004 to get a better life for their family.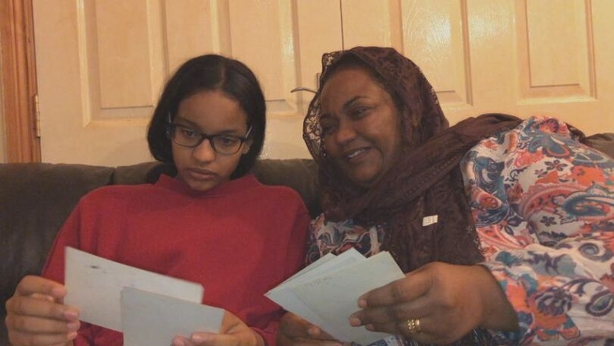 "You need to be a liar" to live in Sudan, she said.
This year 75-year-old Omar al-Bashir was overthrown after 30 years in power and had been accused of war crimes, genocide and crimes against humanity, over atrocities committed in the Darfur region.
Anger reached tipping point last December over the growing economic crisis.
An interim military council took over, called the TMC, and agreed a three-year transition followed by elections.
However, talks between the TMC and protesters broke down recently with the head of TMC cancelling negotiations and announcing that elections would be held in nine months.
Those calling for change want a longer time frame to make sure elections are fair and have no remnants of past governments.
Protesters had called for the Islamic festival of Eid al-Fitr, marked on Tuesday and Wednesday this week, to be celebrated in the streets, as a gesture of defiance against the military.
But things turned ugly when a militia brutally attacked demonstrators and civilians.
Medical centres and clinics are almost off-limits after being looted and staff being beaten.
The United Nations has pulled its employees from the region while the African Union has suspended Sudan and warned of further action unless power was transferred from the military to a civilian-led transitional authority.
Fathiya hopes raising awareness about the situation will push people do something about it.
For now though, her and her family have hope that their family and friends are OK.
"I just hope they [my family] are alive and well, and safe. I hope one day they get their civilian rule and I hope one day I can go back to Sudan and live there," she said.