Ethiopia's capital is a work in progress. Almost 8,000 feet above sea level, the constant hustle and bustle leaves a distinct industrial taste of fumes and dust.
Addis Ababa's streets are flooded with cars, while bamboo scaffolding props up ambitious construction projects. The city is transforming, with flimsy metal shops looking up at new skyscrapers.
However, an unexpected sight is the view of Chinese banners that curtain many floors of the buildings.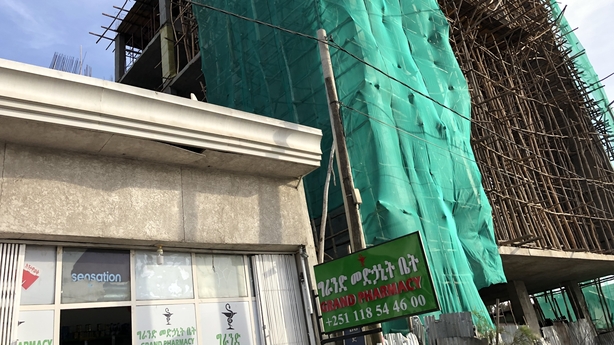 The symbols are a striking feature against the backdrop of building and a constant reminder about the Asian country's influence.
With a population of more than 100 million, Ethiopia is Africa's second-most populous country and it has become a leading investment destination in sub-Saharan Africa, particularly for China.
China is Africa's biggest trading partner, according to Padraig Carmody, Associate Professor in Geography at Trinity College Dublin.
"We've really seen a deepening of involvement of China on the continent particularly related to new infrastructure investment projects," he said.
In particular at the horn of the continent, Chinese investment has drastically increased over the last two decades, aiding industrialisation and broader economic development.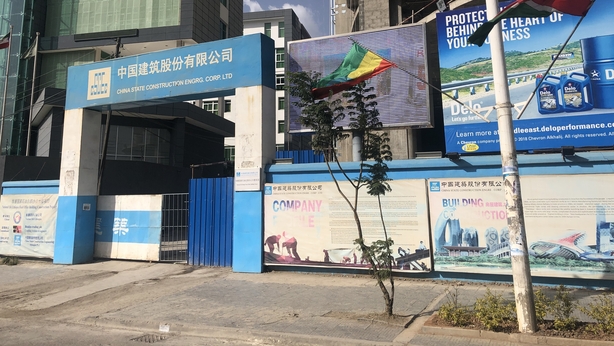 Along with the Chinese script engulfing floors of buildings, their companies are flourishing below. According to a major study in China-Africa relations, at current growth rates, China will be Africa's largest source of foreign direct investment (FDI) stock within the next decade.
The communist country has helped build new dams in Sudan, Ethiopia and Nigeria, railways in Kenya, Chad and Djibouti, and roads across Uganda, Zambia and Mozambique.
These Chinese projects in developing countries are part of China's Belt and Road initiative to create major connectivity through huge rail and road infrastructure projects around the world.
The country is hosting its second Belt and Road summit this week, where almost 40 foreign leaders will attend to talk about their massive projects.
Infrastructure aside, China has also set its sights on winning over African citizens with technological advances. Chinese mobile phone maker Tecno has taken over Apple and Samsung to be one of the most popular phone brands in Ethiopia.
The company has made cheap phones that have been tailored for African customers with special software better designed to capture darker skin tones for selfies.
It was also the first major phone brand to introduce a keyboard in Ethiopia's official language, Amharic.
The Horn of Africa has been a major beneficiary of Chinese investment. In Ethiopia, China has funded its $475m light railway system in the capital and a $86m ring road.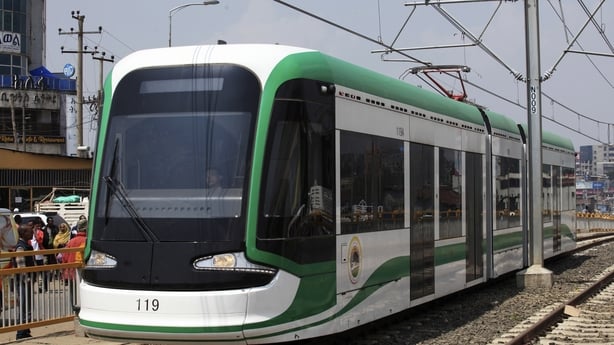 The country has financed other key infrastructure too, helping to add more than 50,000km of new roads since 2000.
Importantly, it has also built the 750km Ethiopia-Djibouti Railway, at a cost of $3.4bn, which opened in 2016. Around 70% of the funds were provided by China's Exmin Bank.
Ethiopia has even appointed Chinese-speaking liaison officers to facilitate investments from the Asian country.
A McKinsley report in 2017 showed that the growth in Chinese investment has been uniformly high, at an average growth rate of more than 52% a year in Ethiopia.
The study found that there are more than 10,000 Chinese-owned firms operating in Africa, with around 90% of them privately owned.
To pay for all of these major developments, Ethiopia has taken out massive loans from China, with state policy banks extending it to more than $12.1 billion since 2000, according to the China Africa Research Initiative at Johns Hopkins University of the United States.
There is no escaping the level of Chinese interest and building, but there is also no ignoring the stumbling blocks that Ethiopia has hit. These opportunities have come at a high price with worries about the sustainability of the country.


Ethiopia does not have enough money or time to pay China. The African nation has racked up tens of billions of dollars of debt, with reports that about half of Ethiopia's external debt is owed to China, with government debt standing at 59%.
We need your consent to load this rte-player contentWe use rte-player to manage extra content that can set cookies on your device and collect data about your activity. Please review their details and accept them to load the content.Manage Preferences
Over the past year, the Ethiopian Prime Minister Abiy Ahmed has opened negotiations with China to restructure previous deals. In September 2018, he reached an agreement with the Asian country to restructure the repayment period of loans from ten to 30 years.
As a result, Ethiopians are cautious of future loans from China, as lenders tend to also acquire collateral of resource and possibly some sort of land, said Dr Niall Duggan, lecturer in the Department of Government and Politics at UCC.
Mr Duggan said that the government is now aware that this could put some Ethiopian land into the ownership of Chinese banks.
The issue has raised questions about China's deepening involvement in developing countries and the conditions of its major investment. Critics say it is a debt trap for poor nations who are desperate to industrialise.
Mr Carmody said that even though he believes China is "not deliberately" trying to entrap countries into debt, he said it is clear that China is pursuing its own interests and debt is being used strategically with the long-term vision of "securing economic and political access and influence".
The Chinese government though has pushed back at critics who say it is saddling Africa with debt. Beijing-based journalist Yvonne Murray said it believes its involvement in Africa is about mutual cooperation and prosperity.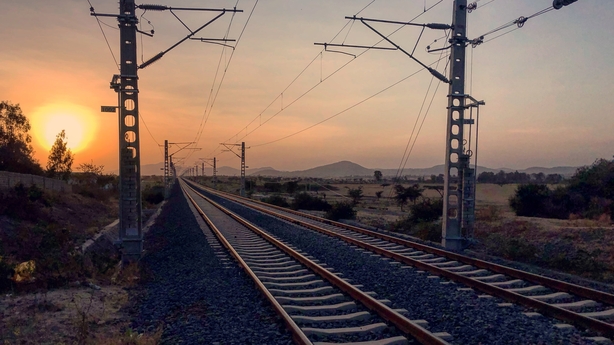 President Xi Jinping last year pledged to invest a further $60bn in the African continent and there is no doubt that this injection of Chinese funds has stimulated economic growth in many African countries and modernised some key industries that they were desperate for.
Loans are one concern but how China is incorporating Ethiopian citizens into its plans is another. One of those involved in the EU business forum in Ethiopia, which aims to help operations for EU companies doing business in the country, said one of the "major issues" for Ethiopians is jobs.
"You don't see a lot of the Chinese investments for activities promoting a lot of job development for Ethiopians," said Deedee Atsumi-Sarno.
On the ground, the irritation around that opinion is clear and it is visibly leaking after years of a honeymoon period of welcome industrialisation. One woman complains that many Ethiopian university graduates are sitting at home as big countries roll in with their own workers.
She points out that citizens could learn new technologies and skills from them, developing not only the infrastructure but their livelihoods, but this is not happening to the extent that it should.
Almost half of Chinese companies source from local firms, according to McKinsley.
On another dusty street of the city, another man echoes the worries that not enough is being done to incorporate Ethiopians into the building of the country.
As someone who travels around the Horn of Africa for work, he questions the sustainability of these much needed projects. With a sigh, he claims the roads are already deteriorating.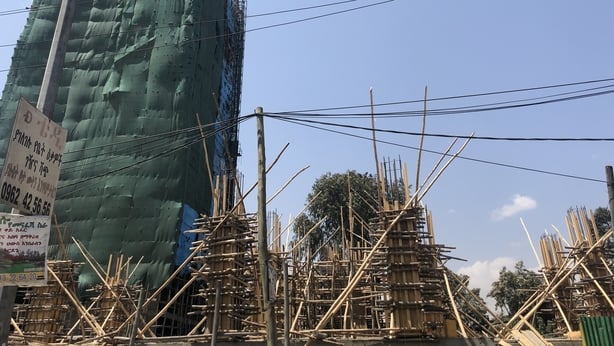 It is something that is one the European Commission's radar too.
"It is true that here in Ethiopia our Ethiopian friends are telling us that 'Hmmm, these roads are not lasting... can you come and repair them?'" said the European Commission's Directorate-General for International cooperation and Development.
Stefano Manservisi admitted that "fair competition" and "quality work" is of importance and there needs to be a level playing field for the benefit of African nations.
Even though the European Commission welcomes China's investments, it has a word of warning for the way in which they do business abroad.
"We don't talk enough," Mr Manservisi said at the European Commission's Ethiopian HQ in Addis Ababa. If they did talk enough, he called on China to work together with them on infrastructure, capacity building, good governance, transparency and affordable debt and loans.
"We have the impression that there is a new wave to public debt which is hampering mainly African countries and we'd like to avoid one day, that we will be called to pay to cover this debt," he said.
It is clear that Ethiopia is on the way up. However, it's obvious that many are already growing tired of foreign power, while anxiously waiting for a new dawn of opportunities.
Will it be a sentiment that is reflected at the second summit of the Belt and Road initiative? Will developing nations express concern at China's escalating influence or remain mum for the sake of more investment? We'll wait and see.