A 28-year-old man has appeared in court in Christchurch, New Zealand, charged with murder after a terror attack on two mosques that left 49 people dead.
42 others were injured in the attack.
Australian-born Brenton Tarrant appeared in court wearing handcuffs and a white prison shirt.
He did not request bail and was taken into custody until his next court appearance scheduled for 5 April.
Police in New Zealand say that while he is currently facing only one charge, further charges will be laid.
Two other people are in custody in connection with the attack.
The Masjid al Noor mosque in central Christchurch was filled with worshippers when the attack happened, as was the second mosque in suburban Linwood.
The gunman broadcast footage of the attack on Facebook after publishing a "manifesto" in which he denounced immigrants, calling them "invaders".
Forty-one people were killed at the Al Noor mosque, seven at a mosque in the Linwood neighbourhood and one died in hospital, police said.
It was the worst ever mass killing in New Zealand which raised its security threat level to the highest, the country's Prime Minister Jacinda Ardern said, adding that "this can now only be described as a terrorist attack".
Ms Ardern said New Zealand had been placed on its highest security threat level.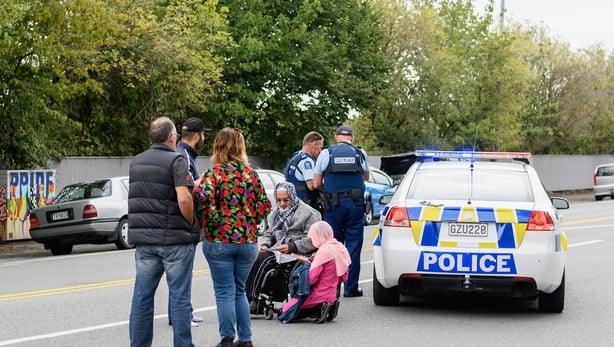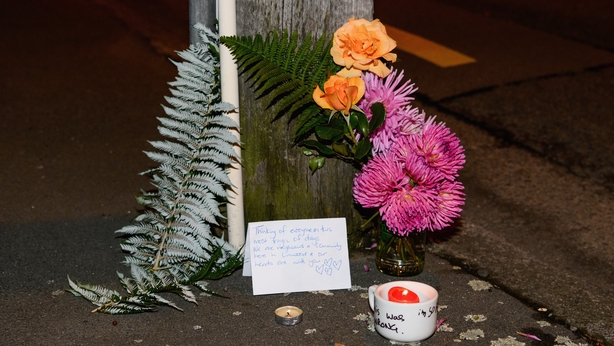 "It is clear that this can now only be described as a terrorist attack. From what we know, it does appear to have been well planned," she said.
Police Commissioner Mike Bush confirmed on Twitter that the death toll stood at 49, with 42 injured.
He said two of those injured are in a critical condition, including a four-year-old who has been transported from Christchurch to the country's specialist children's hospital in Auckland.
Witnesses spoke of seeing bloodied bodies and police warned of "extremely distressing footage" of the incident circulating on the internet.
Australian Prime Minister Scott Morrison said the shooting in Christchurch was carried out by "an extremist, right-wing, violent terrorist" who was an Australian-born citizen.
We need your consent to load this rte-player contentWe use rte-player to manage extra content that can set cookies on your device and collect data about your activity. Please review their details and accept them to load the content.Manage Preferences
Manifesto cited 'white genocide'
An anonymous post today on the discussion site 8chan, known for a wide range of content including hate speech, said the writer was going to "carry out an attack against the invaders", and included links to a Facebook live stream, in which the shooting appeared, and a manifesto.
The manifesto cited "white genocide", a term typically used by racist groups to refer to immigration and the growth of minority populations, as his motivation.
The Facebook link directed users to the page of a user called brenton.tarrant.9.
A Twitter account with the handle @brentontarrant posted on Wednesday images of a rifle and other military gear decorated with names and messages connected to white nationalism.
What looked like the same weapons appeared in the livestream of the mosque attack on Friday.
The manifesto said the gunman identified himself an Australia-born, 28-year-old white male from a low-income, working-class family.
He said that key points in his radicalisation were the defeat of the French far-right leader Marine Le Pen in 2017 elections, and the death of 11-year-old Ebba Åkerlund in the 2017 Stockholm truck attack.
---
Read More: 
'There were bodies all over' - witnesses recall mosque attack
'One of New Zealand's darkest days' - PM condemns terrorist act 
World condemns attack in New Zealand 
What we know about New Zealand mosque attacks
---
The young girl's mother expressed her horror that the man believed behind the shootings claimed to want to avenge her death.
Jeanette Akerlund said the Christchurch attack "goes against everything Ebba stood for".
She said her daughter "spread love and caring, not hate. I feel the pain of the families affected by this. I condemn any form of violence".
Ms Akerlund added: "It's deeply trafic that Ebba's name is abused in the name of political propoganda".
Ebba was the youngest of five victims killed in the attack in Stockholm, when a rejected Uzbek asylum seeker ploughed through pedestrians on a busy shopping street with a stolen beer lorry.
People urged not to share footage of attack
As the Christchurch incident unfolded, New Zealand police said in a tweet that they were aware of "extremely distressing footage relating to the incident in Christchurch circulating online".
"We would strongly urge that the link not be shared. We are working to have any footage removed."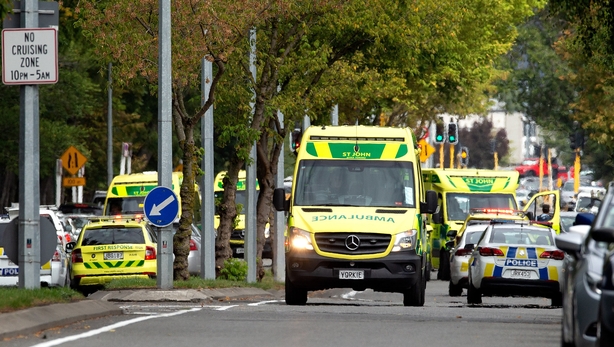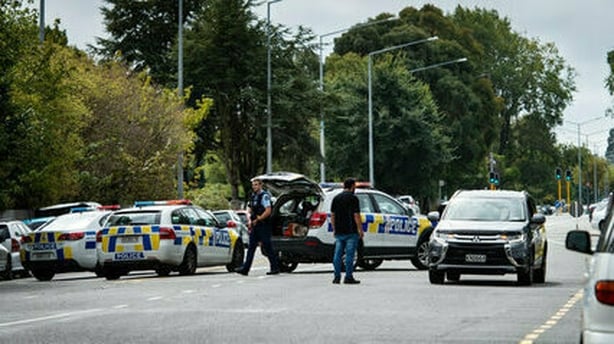 New Zealand Police said officers were searching a property in the south-east of the country following the shooting, and had moved people out of neighbouring homes.
In a statement on Twitter they said: "Police are currently in attendance at a property on Somerville Street, Dunedin. This is a location of interest in relation to the serious firearms incident in Christchurch today. Evacuations of properties in the immediate area have taken place as a precaution.
"Alternative accommodation has been provided for residents requiring it and cordons are in place in the Somerville Street and Everton Road area. There is no further information available at this time." 
'Darkest Day'
"It is clear that this is one of New Zealand's darkest days," Ms Ardern told reporters. "Clearly, what has happened here is an extraordinary and unprecedented act of violence."
"But, as I say, New Zealand has been chosen because we are not a place where violent extremism exists.
"We reject those notions and we must continue to reject them. This is not an enclave for that kind of behaviour, for that kind of ideology.
"We will and must reject it. This is a place where people should feel secure and will feel secure.
"I am not going to let this change New Zealand's profile, none of us should."
An eyewitness told Radio New Zealand that he heard shots fired and four people were lying on the ground, with "blood everywhere".
Police said they had put the entire city on lockdown including schools, and told residents to stay off the streets.
Christchurch City Council offered a helpline for parents looking for children attending a mass climate change rally nearby.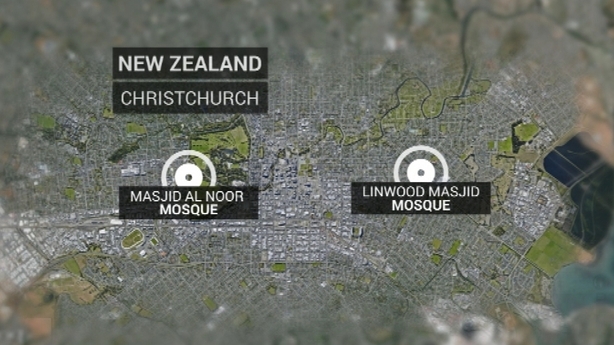 "Please do not try and come and collect your children until police say it is safe for people to come into the central city," they said.
A spokesman said the attack happened as some of players of the Bangladesh cricket team, who were in Christchurch for a test match against New Zealand, got off a team bus and were about to enter the mosque.
"They are safe. But they are mentally shocked. We have asked the team to stay confined in the hotel," he said.
Three Bangladeshis were among the dead and one was missing, the consulate said.
Six Indonesians had been inside one of the mosques, with three managing to escape and three unaccounted for, its foreign minister said.
Afghanistan's ambassador said on Twitter that three Afghans had been wounded. Two Malaysians were wounded, their foreign ministry said.
Mass shootings are rare in New Zealand, which tightened its gun laws to restrict access to semi-automatic rifles in 1992, two years after a mentally disturbed man shot dead 13 people in the South Island town of Aramoana.
However, anyone over 16 can apply for a standard firearms licence after doing a safety course, which allows them to purchase and use a shotgun unsupervised.
We need your consent to load this rte-player contentWe use rte-player to manage extra content that can set cookies on your device and collect data about your activity. Please review their details and accept them to load the content.Manage Preferences