President Michael D Higgins has said the attack on two mosques in New Zealand, which left 49 people dead, "will have appalled people all over the world".
In a statement, he offered the sympathy of the Irish people to the families of the victims, and expressed the solidarity of the people of Ireland with the people of New Zealand.
President Higgins said: "This attack on innocent lives at places of worship for a religious community will be condemned by all those who believe in freedom and democratic values."
Flowers and messages of sympathies have been delivered to the embassy of New Zealand in Dublin in the wake of the mass shooting in Christchurch @rtenews pic.twitter.com/pir2S8PZNh

— Samantha Libreri (@SamanthaLibreri) March 15, 2019
Taoiseach Leo Varadkar described the attack as "horrific, harrowing news" and encouraged "tolerance and openness" over "hate".
In a statement, he said: "Irish people share a deep affinity with the people of New Zealand, whether it's through rugby, travel or pride in our culture as small island nations.
"New Zealand and its people are open, tolerant and welcoming. We join them today, united in our condemnation of this appalling attack and determined in our resolve that hate will not triumph.
"I will be writing to Prime Minister Jacinda Ardern to express sincere sympathies and support. I would also like to pay tribute to the valiant work of Christchurch's emergency services."
Horrific, harrowing news from New Zealand. We stand with the people of Christchurch & NZ at this unimaginably difficult time. Tolerance & openness will overcome hate.

— Leo Varadkar (@campaignforleo) March 15, 2019
Tánaiste and Minister for Foreign Affairs Simon Coveney also conveyed his sympathies to the people of New Zealand.
"I unreservedly condemn the terrorist attacks which took place in Christchurch, New Zealand today," he said in a statement.
"There can be no justification for acts of violence and discrimination based on religion or beliefs. On behalf of the Government, I extend my deepest sympathies and condolences to the families and friends of those injured and killed.
"Freedom of religious expression is a cornerstone of any functioning democracy and those rights must be guaranteed for all citizens. Ireland will continue to stand in solidarity with all the people of New Zealand."
---
Read More:
49 dead in attacks on New Zealand mosques
'There were bodies all over' - witnesses recall mosque attack
'One of New Zealand's darkest days' - PM condemns terrorist act
---
Irish Ambassador in New Zealand Peter Ryan said the resilience of the Irish nurses and doctors working in the aftermath of the atrocity in Christchurch is "inspiring".
He reiterated the message made by the Prime Minister Ardern when she said New Zealand is home to many migrants, and added that many Irish people have made their home there.
"Those migrants, our hearts go out to those today, our community already goes out to them, we will continue to reach out to them and we'll continue to stand with them and show our sympathy with them.
"Our care and attention for them in the weeks and months forward which will be very difficult and traumatic for many members of our community."
The New Zealand ambassador to the EU and NATO spoke emotionally in Dublin, and said his home country is reeling from the "dreadful" events.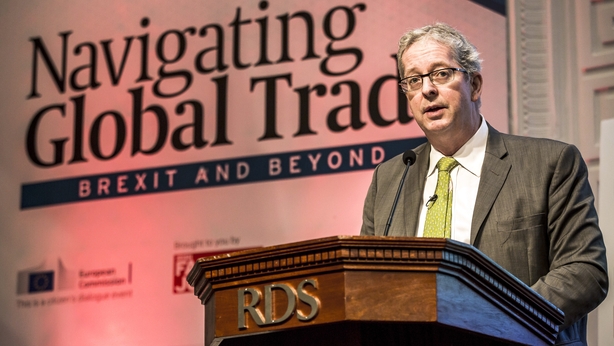 At an Irish Farmers Journal conference, David Taylor said: "Our prime minister described this as one of our darkest days and she condemned in the strongest possible terms what's happened.
"New Zealand is reeling from this. But, as the prime minister said, New Zealand represents diversity, kindness, compassion.
"We're a home for those who share our values and a place of refuge for those in need - I'm getting choked up - and that will not change. We will stay as strong as we have been and will continue and go forward from here."
Britain's Queen Elizabeth, who is head of state of New Zealand, said she was deeply saddened by the attacks.
"I have been deeply saddened by the appalling events in Christchurch today. Prince Philip and I send our condolences to the families and friends of those who have lost their lives," the queen said in a statement.
"I also pay tribute to the emergency services and volunteers who are providing support to those who have been injured. At this tragic time, my thoughts and prayers are with all New Zealanders."
British Prime Minister Theresa May also offered her condolences to the people of the New Zealand.
She tweeted: "On behalf of the UK, my deepest condolences to the people of New Zealand after the horrifying terrorist attack in Christchurch. My thoughts are with all of those affected by this sickening act of violence."
On behalf of the UK, my deepest condolences to the people of New Zealand after the horrifying terrorist attack in Christchurch. My thoughts are with all of those affected by this sickening act of violence.

— Theresa May (@theresa_may) March 15, 2019
Australia's Prime Minister Scott Morrison condemned the attack.
"We stand here and condemn absolutely the attack that occurred today by an extremist, right-wing, violent terrorist," he told a press conference.
Becoming emotional, Mr Morrison offered his sympathies to Kiwis, and announced that flags in Australia would be flown at half-mast in memory of the victims.
"We are not just allies, we are not just partners, we are family," he said.
US President Donald Trump condemned as a "horrible massacre" the twin mosque attacks.
My warmest sympathy and best wishes goes out to the people of New Zealand after the horrible massacre in the Mosques. 49 innocent people have so senselessly died, with so many more seriously injured. The U.S. stands by New Zealand for anything we can do. God bless all!

— Donald J. Trump (@realDonaldTrump) March 15, 2019
Meanwhile, United Nations Secretary-General Antonio Guterres reiterated "the urgency of working better together globally to counter Islamophobia and eliminate intolerance and violent extremism in all its forms," a spokesman said.
European Council President Donald Tusk described the attack as "harrowing news" and said New Zealand Prime Minister Jacinda Ardern can "count on our solidarity".
He tweeted: "Harrowing news from New Zealand overnight.
"The brutal attack in Christchurch will never diminish the tolerance and decency that New Zealand is famous for.
"Our thoughts in Europe are with the victims and their families."
Christchurch, we stand with you during this time. Our thoughts and sympathies are with everyone affected by today's tragedy. Stay strong. Kia Kaha. ??

— All Blacks (@AllBlacks) March 15, 2019
Spanish Prime Minister Pedro Sanchez said he was shocked at the "terrible" attacks and sent condolences to the victims, their families and the government of New Zealand.
Indonesia's foreign minister Retno Marsudi said: "Indonesia strongly condemns this shooting act, especially at a place of worship while a Friday prayer was ongoing."
Indonesia, the world's biggest Muslim-majority country, said six nationals were inside the mosque when the attack occurred, with three managing to escape and three still unaccounted for.
Turkey's President Recep Tayyip Erdogan "strongly condemned" the attack.
"I strongly condemn the terror attack against the Al Noor Mosque in #NewZealand and Muslim worshippers. May Allah have mercy on the victims and grant a speedy recovery to the wounded," the Turkish leader wrote on Twitter in English.
His spokesman Ibrahim Kalin had earlier called it a "fascist" attack that "shows how anti-Muslim rhetoric and hatred leads to murderous acts. The world must break its silence over Islamophobic hatred".
My heart is hurting about the news coming out of Christchurch. Sending love & prayers to the effected families???? pic.twitter.com/7PX9wc56b8

— Sonny Bill Williams (@SonnyBWilliams) March 15, 2019
Norwegian Prime Minister Erna Solberg called for the international community to combat all forms of extremism after the Christchurch attacks, which revived painful memories of the 2011 mass killing in Norway.
"It's obviously very sad. It recalls painful memories of our own experience with July 22, the most difficult moment in the post-war period in Norway," she told Norwegian television TV2.
"This shows that extremism is still flourishing in many places," she said.
"It's also a warning sign that the fight against extremism in all its forms must come high on the agenda."
On 22 July 2011, Norwegian right-wing extremist Anders Behring Breivik killed 77 mostly young people when he set off a van bomb outside the government offices in Oslo and then opened fire on a Labour youth wing summer camp on the island of Utoya.
Breivik said he killed his victims because they embraced multiculturalism.
Additional Reporting AFP