Clerical abuse survivor and former adviser to Pope Francis, Marie Collins, has said the defrocking of former cardinal Theodore McCarrick is "a step in the right direction", but very late considering his behaviour had been known about for many years.
Responding to Pope Francis's decision to expel the former Archbishop of Washington DC from the priesthood for sexually abusing children and seminarians, Ms Collins said this should be the action taken toward any cleric who abuses.
Speaking on RTÉ's This Week programme ahead of a Vatican summit on child sexual abuse this week, Ms Collins added that the Vatican's promise of 'zero tolerance' toward the abuse of minors should be put into canon law.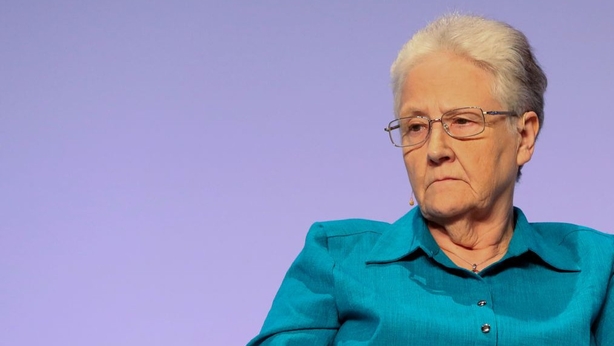 She said the Pope had promised that that any cleric who abuses should be removed, but this has not happened in all cases.
Ms Collins pointed out that in some instances, the Vatican has intervened to restore a cleric who has been removed by local church authorities.
She said the Church does not have to reinvent the wheel, as there are good policies in Ireland and the US.
Even though there is talk of cultural differences in some countries, she said, this must not be allowed to get in the way of appropriately dealing with abuse.
Ms Collins, who was a former member of the Pontifical Commission for the Protection of Minors (PCPM), said the church has too often kicked the can down the road - but eventually, "you get to the end of the road and you have pile of cans".
We need your consent to load this rte-player contentWe use rte-player to manage extra content that can set cookies on your device and collect data about your activity. Please review their details and accept them to load the content.Manage Preferences
She said this week's conference in Rome could be a turning point for the church, but it has not followed through on previous occasions and there have been disappointments before.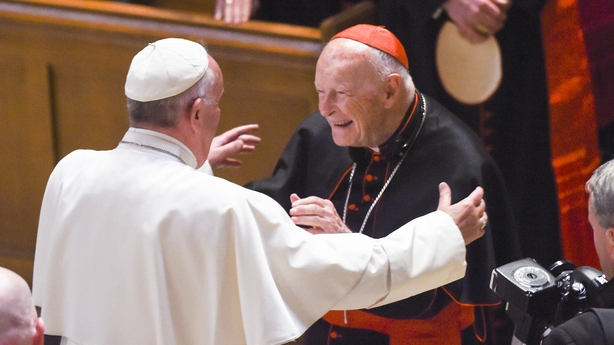 Meanwhile, an international organisation representing survivors of clerical child sexual abuse has given a conditional welcome to news of the expulsion of the former cardinal.
But it says criminal charges could and should be filed against McCarrick and unnamed Catholic Church officials, who it accuses of hiding his wrongdoing for decades.
The Survivors Network of Those Abused by Priests (SNAP) says that, "for the sake of his victims", it is grateful that the case has been "somewhat resolved".
But it criticises the timing of the move, days before what it calls "the Pope's much ballyhooed global abuse summit" and accuses the Vatican of not practicing transparency.
It highlights the case of Monsignor Joseph Punderson, the third highest ranking official at the Vatican's Supreme Court who has lived in Rome for the past 26 years.
Last week the 70-year-old's New Jersey diocese announced he had been removed from ministry after being "credibly accused of the sexual abuse of a minor." It did not specify the date of this allegation.
Responding to this, Ms Collins said this illustrated the obstacles that the pontifical commission she resigned from was up against, when it strove in vain to have the Vatican bureaucracy implement its proposed tribunal for trying bishops who concealed clerical child sexual abuse.
Pope Francis, who originally approved the proposal, told media on his flight from Dublin to Rome that Ms Collins was "fixed" on his failure to establish a tribunal. 
Last month she recalled he had told the Vatican media corps that he tried to explain to her that he was using more appropriate means instead to hold guilty bishops accountable. 
"He said I did not understand and he would explain it to me when I was next in Rome. I have been in Rome since but not surprisingly this has not happened."
SNAP also points to the case of the Austrian priest Hermann Geissler, who resigned last month from the Vatican's key Congregation for the Doctrine of the Faith after a former nun accused him of soliciting sex from her a decade ago while hearing her confession.
The global organisation Ending Clergy Abuse (ECA) said that the church's promise for "zero tolerance" towards abuse is an empty one, without the removal of not only clergy abusers but also those who cover up for them.
The group also welcomed the expulsion of McCarrick, saying it was "long overdue".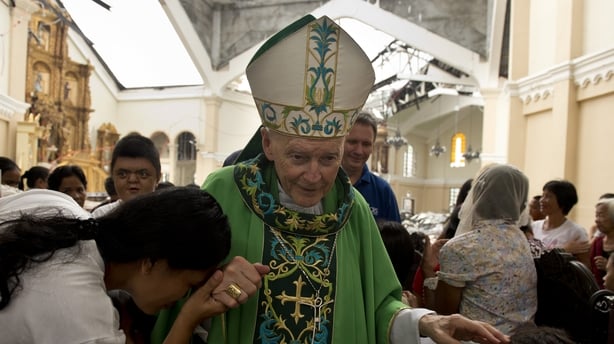 Meanwhile, prayers are being said for survivors and victims of sexual abuse in Catholic Churches around Ireland today.
This follows the marking around the world last Thursday of the annual Day of Prayer for Victims of Abuse, an initiative led by Pope Francis which was first marked in Irish dioceses and parishes in 2017.
In a statement, the Irish Catholic Bishops' Conference said that, at its retreat two weeks ago at the national Marian shrine in Knock, Co Mayo, the bishops blessed and dedicated candles of atonement for use at Masses in their cathedrals and parishes this weekend and during later liturgies.
On Thursday, prayers were said in the primatial see of Armagh and they will continue to be offered in other dioceses today.
The statement notes that the initiative comes days before Pope Francis meets senior bishops and major religious superiors in the Vatican to discuss child safeguarding in the church.
The Primate of All Ireland, Archbishop Eamon Martin, will represent the Irish Church at the gathering which runs from Thursday until Sunday.