Tens of thousands of Syrian refugees living in makeshift camps across Lebanon have had their lives turned upside down by a recent storm.
Four-month-old Jad and his mother Hakima were living in a tent but it was damaged by floods caused by torrential rain in the region.
They both now live in cramped conditions with friends and Jad has become ill from the extreme weather. It is not clear whether he has received medical attention yet.
Storm Norma hit Lebanon at the beginning of the week resulting in heavy rain and high winds, topped with cold temperatures. Tents have collapsed and camps have been submerged in water. Meanwhile, some temporary homes in Beirut and Mount Lebanon have collapsed under heavy snow.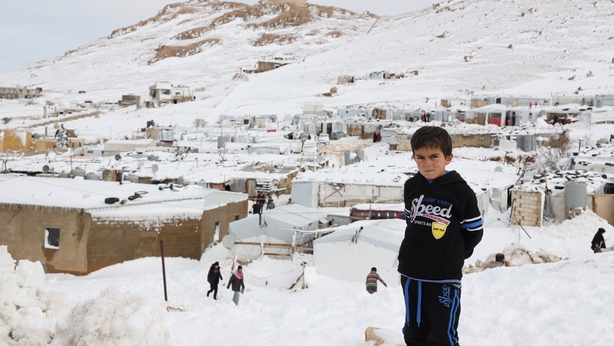 A spokesperson for the UNHCR in Lebanon confirmed to RTÉ News that an eight-year-old girl died in the floods.
Lisa Abou Khaled, who is in Beirut, said that aid agencies are rushing to prepare people in the camps for more bad weather expected this weekend.
She said that disease is also spreading due to the cold temperatures.
In Northern Lebanon, more than 150 refugee areas were hit hard and 11,000 people left scrambling for mattresses, blankets and other resources from charities in the region. Many people have reported a lack of food and shelter.
More than one million Syrian refugees live in Lebanon with around 70,000 living in informal settlements that have little or no infrastructure.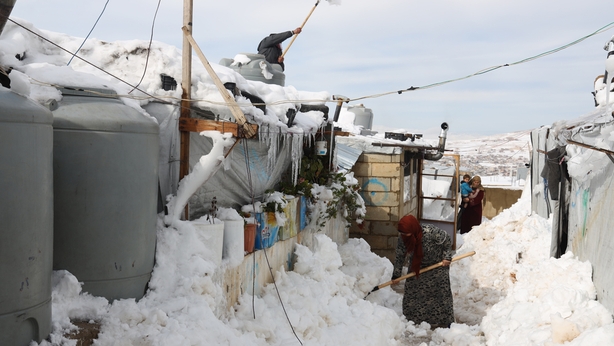 In the north of the country, 12 settlements were flooded destroying tents in which over 2,000 refugees had been sleeping in.
The United Nations' refugee agency said emergency measures had been put in place to rescue stranded families and help those suffering from the cold.
As aid agencies pump water from the affected areas and attempt to relocate families, teams are working to fix what they can.