Airbnb will no longer have listings in Jewish settlements in the occupied West Bank.
The property group announced today that it made the decision because settlements were "at the core" of the dispute between Israelis and Palestinians.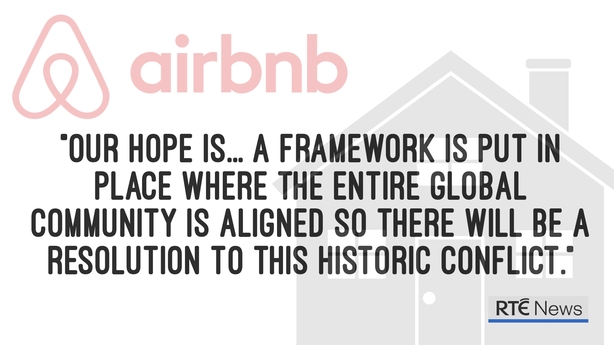 The move will affect 200 listings and will take effect in the days ahead.
Half a million Israelis live in the area, which is also home to more than 2.6 million Palestinians.
Israel captured the West Bank in a 1967 war, but settlements are considered illegal under international law as they are built on land which Palestinians see as part of their future state. However, Israel disputes this.
Palestinians and their supporters have long lobbied Airbnb to de-list the settlements, so the news was widely praised by them.
Palestinian Minister of Tourism, Rula Ma'ayah welcomed the decision and said she hoped "all companies, all travel companies will do the same as soon as possible".
The response from Israel has been one of strong condemnation.
"Shameful and unfortunate" is how the country labelled the decision.
Israel's tourism minister, Yariv Levin, threatened legal action against Airbnb in the United States and Israel over its move, calling it "hypocritical and disgusting".
Mayor of the West Bank settlement of Efrat Oded Revivi denounced the decision, claiming it gives in to "extreme people".
The announcement by Airbnb comes as Human Rights Watch published a report looking at the status of land on which rental properties were built.
'Bed and Breakfast on Stolen Land: Tourist Rental Listing in west Bank Settlements' criticised Airbnb and Booking.com and called for the organisations to withdraw listings for rentals located in settlements in the Israeli-occupied West Bank.
The US-based rights group this morning called on Booking.com to follow Airbnb's "positive step".