Turkish police investigators entered Saudi Arabia's Istanbul consulate today, two weeks after the disappearance of Saudi journalist Jamal Khashoggi.
A Turkish diplomatic source had earlier said that a joint Turkish-Saudi team would conduct a search of the consulate - the last place that Mr Khashoggi was seen before he vanished on 2 October.
Turkish officials have said authorities believe he was killed at the Saudi mission, and his body removed. Saudi Arabia has strongly denied killing Mr Khashoggi.
Meanwhile, US President Donald Trump has said "rogue killers" may have been behind the disappearance Mr Khashoggi, while Saudi Arabia's King Salman ordered an internal investigation into the case.
Mr Trump said he had spoken with King Salman about Mr Khashoggi, a critic of Saudi policies, and that he was sending Secretary of State Mike Pompeo immediately to meet the king and travel to other places as needed.
Mr Khashoggi, a US resident and Washington Post columnist, vanished after entering the Saudi consulate in Istanbul two weeks ago to get marriage documents.
Turkish officials have said authorities believe he was murdered there and his body removed.
Saudi Arabia has strongly denied killing Mr Khashoggi and denounced such assertions as "lies", saying he left the building shortly after entering.
"The king firmly denied any knowledge of it," Mr Trump told reporters.
"He didn't really know, maybe - I don't want to get into his mind but it sounded to me - maybe these could have been rogue killers. Who knows?"
A Turkish official and a security source told Reuters that the authorities have an audio recording indicating that Mr Khashoggi was killed in the consulate, without providing further details.
The official said evidence was being shared with countries including Saudi Arabia and the US.
The case has provoked an international outcry, with Mr Trump threatening "severe punishment" if it turns out Mr Khashoggi was killed in the consulate and European allies urging "a credible investigation" and accountability for those responsible.
A joint Turkish-Saudi team was set to search the Saudi consulate in Istanbul, where Mr Khashoggi was last seen on 2 October.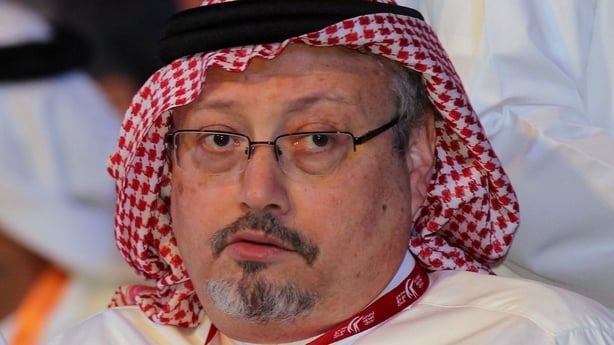 Just spoke to the King of Saudi Arabia who denies any knowledge of whatever may have happened "to our Saudi Arabian citizen." He said that they are working closely with Turkey to find answer. I am immediately sending our Secretary of State to meet with King!

— Donald J. Trump (@realDonaldTrump) October 15, 2018
A Turkish diplomatic source said investigators would inspect the consulate this afternoon, after delays last week when Turkey accepted a Saudi proposal to work together to find out what happened.
"It has been 13 days since the event, so surely proving some of the evidence might be difficult, but we believe we will obtain evidence," the Turkish official said.
A Saudi official, not authorised to speak publicly, told Reuters that the king had ordered an internal investigation based on information from the joint team in Istanbul.
Asked when the public prosecutor could make an announcement, the official said: "He was instructed to work quickly."
Britain expects Riyadh to provide "a complete and detailed response" to questions over Mr Khashoggi's disappearance, Prime Minister Theresa May's spokesman said.
---
Read More: 
Turkey and Saudi Arabian leaders discuss Khashoggi
Foreign ministers call for 'light to be shed' on Khashoggi disappearance  
---
Saudi Arabia has responded to Western statements by saying it would retaliate against any pressure or economic sanctions "with greater action", and Arab allies rallied to support it, setting up a potential showdown between the world's top oil exporter and its main Western allies.
King Salman and Turkish President Recep Tayyip Erdogan spoke by telephone on Sunday evening and stressed the importance of the two countries creating a joint group as part of the probe.
Broadcaster CNN Turk reported that the Saudi team had arrived at Istanbul police headquarters.
Concern over the disappearance has seen media organisations and a growing number of attendees pull out of a "Davos in the Desert" investment conference set to begin on 23 October, which has become the biggest show for investors to promote Saudi Crown Prince Mohammed bin Salman's reform vision.
Mr Khashoggi, a familiar face on Arab talk shows, moved to the United States last year fearing retribution for his criticism of Prince Mohammed, who has cracked down on dissent with arrests.
The former newspaper editor once interviewed Osama bin Laden and later became a consummate insider, advising former Saudi intelligence chief Prince Turki al-Faisal when he served as ambassador in London and Washington.
A Turkish daily published preliminary evidence last week from investigators it said identified a 15-member Saudi intelligence team which arrived in Istanbul on diplomatic passports hours before Mr Khashoggi disappeared.
The Saudi consulate referred Reuters to authorities in Riyadh who did not respond to questions about the 15 Saudis.
Asked if he had reviewed the purported recording of Mr Khashoggi's killing, Mr Trump told reporters on Saturday: "I have not... We've all heard a lot about the audio. Nobody's seen it yet, so we do want to see it... we're going to be seeing it very soon."