Britain, France and Germany have insisted that "light must be shed" on the whereabouts of journalist Jamal Khashoggi, as they called today for a credible investigation into his disappearance.
In a joint statement, Britain's foreign minister Jeremy Hunt, his French counterpart Jean-Yves Le Drian and Germany's Heiko Maas said whoever was responsible for the Saudi journalist's disappearance must be held to account.
"Defending freedom of expression and a free press and ensuring the protection of journalists are key priorities for Germany, the United Kingdom and France," the ministers said in a statement issued by the Foreign Office in London.
"In this spirit, light must be shed on the disappearance of Saudi journalist Jamal Khashoggi," it said, indicating all three countries were treating the matter "with the utmost seriousness".
"There needs to be a credible investigation to establish the truth about what happened, and - if relevant - to identify those bearing responsibility for the disappearance of Jamal Khashoggi, and ensure that they are held to account."
While expressing support for joint Saudi-Turkish efforts to look into his disappearance, they said the Saudi government must provide "a complete and detailed response", indicating that such a message had been conveyed "directly" to Riyadh.
Mr Khashoggi, a prominent critic of Riyadh and a US resident, disappeared after visiting the Saudi consulate in Turkey on 2 October.
Turkey's government believes he was deliberately killed inside the building and his body removed.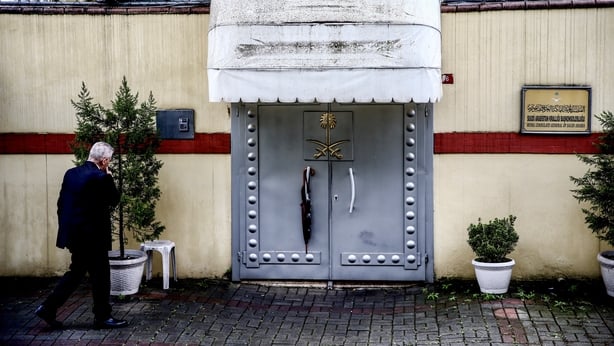 Egypt also called for a transparent investigation into the disappearance, and warned against the case being used to politically exploit Saudi Arabia.
"Egypt stresses the importance of revealing the truth of what happened in a transparent investigation," its foreign ministry said in a statement.
The country said it was monitoring developments "with concern" and supported Saudi Arabia's efforts to deal with the situation, the statement said.
Today, Saudi King Salman affirmed his country's "solid" relations with Turkey in a phone call with Turkish President Recep Tayyip Erdogan, the Saudi foreign ministry said.
The Turkish president has called on Saudi Arabia to explain the fate of the journalist.
Saudi Arabia warned today that it would retaliate against any sanctions imposed on the oil-rich kingdom over Khashoggi's disappearance, as the Riyadh stock market plunged on growing investor jitters.
Earlier, US President Donald Trump said that the United States would be "punishing" itself if it halted military sales to Saudi Arabia, even if it is proven that Saudi journalist Jamal Khashoggi was killed inside the country's consulate in Istanbul.
Mr Trump has said the fate of Mr Khashoggi was "not looking too good" and he may have been killed.
"I think we would've known by now. That was our first hope, our first hope was that he was not killed, but maybe that's not looking too good... from what we're hearing," Mr Trump said.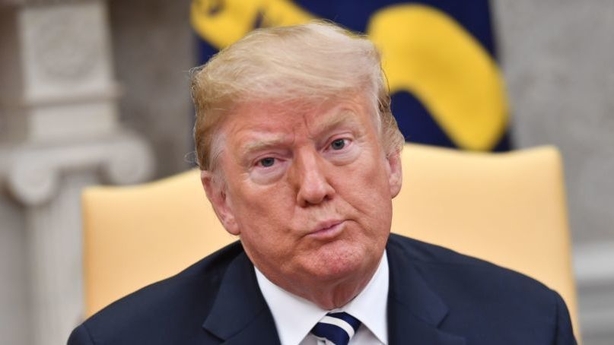 Reports say that the US and Britain are considering boycotting a major international conference in Saudi Arabia after the disappearance.
Mr Trump has forged closer ties with Saudi Arabia and is under international and domestic pressure to help determine what happened to Mr Khashoggi and punish Saudi Arabia if investigations show its government had him killed.
Republican and Democratic policy makers alike have demanded firm action.
There was already mounting concern over civilian deaths caused by a Saudi-led military coalition in Yemen's civil war and some have said Washington should block military sales to Riyadh if the allegations over Mr Khashoggi are proven.
However Mr Trump is firmly opposed.
"I actually think we'd be punishing ourselves if we did that," Mr Trump told reporters at the White House.
"There are other things we can do that are very, very powerful, very strong and well do them," he added, without saying what those measures might be.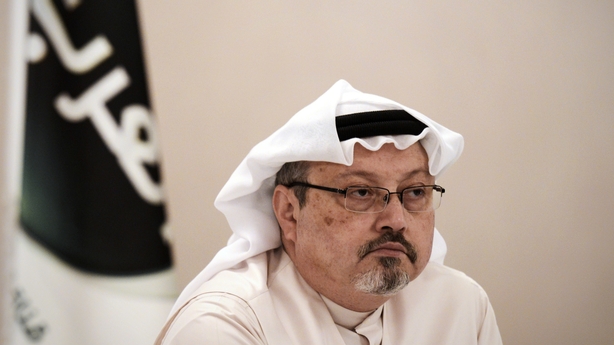 Under US law, major foreign military sales can be blocked by Congress.
An informal review process lets key policy makers use a practice known as a "hold" to stall deals if they have concerns such as whether the weapons being supplied would be used to kill civilians.
Major US defense contractors, including Lockheed Martin Corp and Raytheon Co, are among the beneficiaries of Washington's close ties to Riyadh and would behurt by the halting of major arms deals.
Mr Trump has said his administration won a $110 billion military order from Saudi Arabia and that the deal, combined with Saudi commitments to invest heavily in the United States, was worth hundreds of thousands of US jobs.
"If they don't buy it from us, they're going to buy it from Russia or they're going to buy it from China," he said.
"Think of that, $110 billion. All they're going to do is give it to other countries, and I think that would be very foolish."
It was unclear what specific measures, if any, Mr Trump is considering against Saudi Arabia, which is the world's largest oil exporter, and one of his top allies.
Mr Trump said he would probably speak to Saudi Arabia's King Salman over the weekend "because I think it's appropriate for me to ask him what's going on."
Today, Saudi Arabia thanked countries including the United States "for refraining from jumping to conclusions" over the disappearance of journalist Jamal Khashoggi.
The embassy in Washington issued a tweet to clarify an earlier statement in which Saudi Arabia said it would retaliate to international pressure or sanctions with greater measures.
To help clarify recently issued Saudi statement, the Kingdom of Saudi Arabia extends it appreciation to all, including the US administration, for refraining from jumping to conclusions on the ongoing investigation. https://t.co/AhcsVkn7Cy

— Saudi Embassy (@SaudiEmbassyUSA) October 14, 2018