Early exit polls in Brazil this evening boosted hopes among supporters of right-wing presidential candidate Jair Bolsonaro that he could outperform recent opinion surveys enough to win a first-round victory.
The fiery lawmaker has surged in opinion polls in the past week, with all major surveys suggesting the race would go to a second-round runoff in what has become a referendum on Mr Bolsonaro, a former army captain who praises dictatorships and vows a brutal crackdown on crime.
However, exit polls today suggested an even more dramatic swing. An Ibope exit poll for the Rio de Janeiro governor race showed former judge Wilson Witzel, a Bolsonaro ally, scoring a shock victory over former Rio mayor Eduardo Paes by 39% to 21%, suggesting earlier opinion surveys underestimated a deep-seated desire for change in the electorate.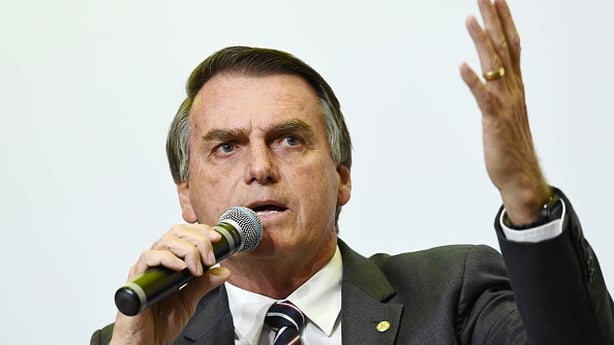 Mr Bolsonaro, 63, was accompanied by a nurse as he cast his vote today, a month after a near-fatal stabbing at a campaign rally that required two emergency surgeries.
He said he was confident he had the majority of valid votes necessary to clinch the race without a runoff vote on 28 October, avoiding a showdown with the leftist Workers Party (PT).
"If God is willing, we'll settle this today," he told reporters. "We are on an upward trajectory and are confident that the Brazilian people want to distance themselves from socialism."
---
Read more: All you need to know about Brazil's divisive election
---
An exit poll also showed one of Mr Bolsonaro's closest aides, former police major Olimpio Gomes, scoring a surprise win in the Senate race in Sao Paulo state, surging past his recent polling.
In Minas Gerais state, exit polls showed another Bolsonaro ally scoring an upset victory in the governor's race.
Mr Bolsonaro is riding a wave of anger at the establishment over one of the world's largest political graft schemes and rising crime in the country with most murders in the world.
His supporters blame all that on the PT, which ruled Brazil for 13 of the past 15 years, along with reckless economic policies that contributed to Brazil's worst recession in a generation.
Still, Brazil is split over the danger to democracy posed by Mr Bolsonaro, a long-time congressman who advocates for torture and police violence, praises the country's 1964-85 military regime and suggested that opponents could only win the race through fraud, although he now vows to respect the electoral process.
Mr Bolsonaro's closest rival, PT candidate Fernando Haddad, a former education minister and one-term mayor of Sao Paulo, is standing in for the party's jailed founder, former president Luiz Inacio Lula da Silva, who is serving time for bribery and money laundering.
Brazil's 147 million voters will choose the president, all 513 members of the lower house of Congress, two-thirds of the 81-member Senate, plus governors and lawmakers in all 27 states.