Brazil's right-wing presidential frontrunner Jair Bolsonaro was seriously injured when he was attacked with a knife while campaigning yesterday, his son has said.
Flavio Bolsonaro, who initially described his father's wounds as superficial, later tweeted that the 63-year-old suffered injuries to the liver, lung and intestine and had "lost a lot of blood".
"Sadly it is more serious than we thought," he posted, as his father underwent emergency surgery in hospital.
The hospital said Mr Bolsonaro suffered a perforated intestine, and described his condition as "stable".
He could take two months to fully recover and will spend at least a week in hospital, the doctor who operated on Mr Bolsonaro said.
Images shared on social media and Brazilian television showed Mr Bolsonaro being carried on the shoulders of a throng of supporters, before a man lunges at his stomach.
A military police spokesman said that a 40-year-old man had been arrested in connection with the assault. The suspect was carrying a knife wrapped in fabric, the spokesman said.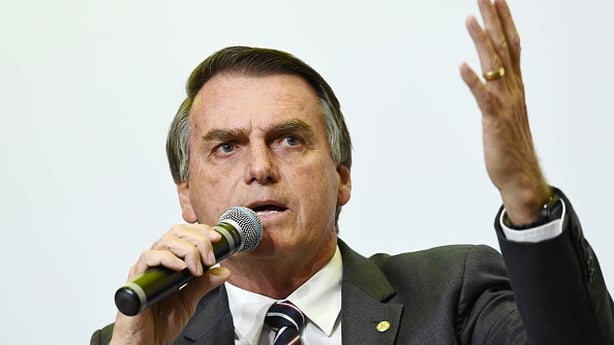 Other images showed the presidential candidate, a former army captain, being carried to safety and Mr Bolsonaro's son initially said his father was "fine".
With jailed former president Luiz Inacio Lula da Silva ruled out of the 7 October election, the latest polls put Bolsonaro in a clear lead with 22% compared to 12% each for environmentalist Marina Silva and centre-left runner Ciro Gomes.
One of his campaign pledges has been to legalise the carrying of weapons in order to combat rising violent crime.
Despite being a long-serving member of congress, he has successfully presented himself as an outsider, untouched by the corruption scandals engulfing so much of the political elite.
Mr Bolsonaro has pushed for a harder crackdown on crime - in a country where police are already often engaged in low-level wars against gangs.
About 64,000 people die in homicides every year.
He has also courted deep controversy with comments attacking women and sexual minorities, as well as for praising the country's 1964-1985 military dictatorship.
Sometimes described as Brazil's Donald Trump, Mr Bolsonaro has a huge social media following of 8.5 million people.
The only Brazilian politician currently more popular is the leftist ex-president Luiz Inacio Lula da Silva, who is in prison for corruption and has been banned from competing in October's election.