Pope Francis has accepted the resignations of two more bishops from Chile, where prosecutors are investigating cases of sexual abuse by members of the clergy.
The civil authorities said last month they were looking into 119 cases relating to the sexual abuse of minors since 1960.
The resignations bring to seven the number of bishops who have stepped down since all of the country's 34 bishops offered their resignations en masse during an emergency meeting with the Pope in May over allegations of a cover-up.
That meeting was held after Vatican investigators produced a 2,300-page report alleging that senior church officials in Chile had failed to act on abuse claims and in some cases hid them.
We need your consent to load this rte-player contentWe use rte-player to manage extra content that can set cookies on your device and collect data about your activity. Please review their details and accept them to load the content.Manage Preferences
With the latest resignations, the Pope has removed the leadership of about 20% of the Latin American country's dioceses.
The Vatican said the two latest resignations were those of Bishop Carlos Eduardo Pellegrin Barrera of the diocese of San Bartolom de Chillan, and Bishop Cristin Enrique Contreras Molina of the diocese of San Felipe.
The bishops could not be immediately contacted for comment.
In both cases, Pope Francis appointed other bishops as commissioners, known as apostolic administrators, to run the dioceses until further notice.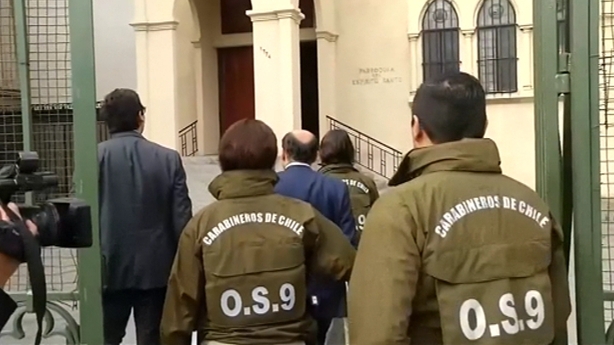 In the past few months, Chilean prosecutors and police have launched raids on the offices of several dioceses as part of investigations looking for new cases of sexual abuse or evidence that church officials concealed abuse from authorities.
Chile's bishops' conference has said it was committed to working with civil authorities on accusations of abuse.
The latest resignations also come as the Catholic Church is facing sexual abuse scandals in other countries including the United States, Australia and Germany.
Pope Francis has summoned the heads of national Catholic bishops from around the world to the Vatican to discuss the protection of minors at an extraordinary meeting from 21-24 February next year.
Der Spiegel magazine reported earlier this month that a study commissioned by the German bishops' conference had revealed that 1,670 clerics and priests had sexually abused 3,677 minors, mostly boys, in Germany over a 70-year period.
In the United States, a grand jury has found that 301 priests in the state of Pennsylvania sexually abused minors over a similar period.
The Pope has also been hit by demands from an Italian archbishop, Carlo Maria Vigano, that he step down over the case of former US Cardinal Theodore McCarrick.
In a bombshell document released in August, Archbishop Vigano, the Vatican's former ambassador to the United States, said the Pope knew for years about sexual misconduct by Mr McCarrick with adult male seminarians but did nothing about it.
The Pope has not responded to Dr Vigano's accusations, saying that the archbishop's document "speaks for itself".
The Vatican is expected to produce a rebuttal.
Mr McCarrick resigned in July over separate allegations - which US church officials said were "credible and substantiated" - that he had abused a 16-year-old boy almost 50 years ago.
Mr McCarrick, whom the pope ordered to live a life of seclusion and penitence, has said he has "absolutely no recollection" of such an incident.
He has not commented on the allegations of misconduct with the adult seminarians.