Tropical Storm Florence has hit North and South Carolina, knocking down trees, swamping streets with torrential rain, and causing four deaths before slowing to a pace that will lead to a days-long deluge for the region.
Florence has weakened to a tropical storm, the US National Hurricane Center (NHC) said, adding that still life-threatening storm surges and catastrophic freshwater flooding are expected.
"Significant weakening is forecast over the weekend and into early next week while Florence moves farther inland," the NHC said.
The storm's first casualties, which included a mother and her baby killed when a tree fell on their brick house in Wilmington, North Carolina, were announced about eight hours after Florence came ashore.
The child's father was taken to a hospital.
In Pender County, North Carolina, a woman suffered a heart attack and died when storm debris blocking roads prevented paramedics from reaching her.
A fourth person was killed in Lenoir County while plugging in a generator, the governor's office said.
After landfall, Florence slowed to a pace that meant it would plague the area with days of flooding.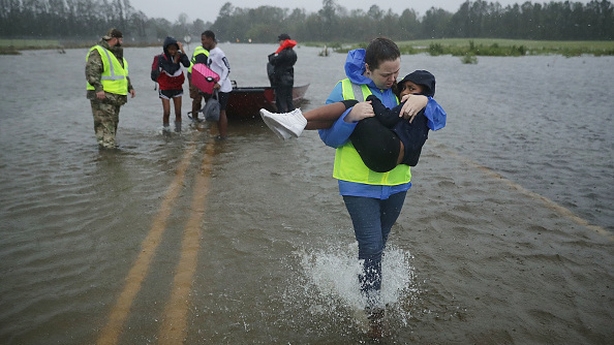 The storm surge - the wall of water it pushed in from the Atlantic - had "overwhelmed" New Bern, a town of about 30,000 people at the confluence of the Neuse and Trent rivers, North Carolina Governor Roy Cooper said.
"The sun rose this morning on an extremely dangerous situation and it's going to get worse," he said at a news conference in Raleigh. "To those in the storm's path, if you can hear me, please stay sheltered in place."
Mr Cooper said Florence would "continue its violent grind across the state for days."
Authorities said more than 60 people, including many children and pets, had to be evacuated from a hotel in Jacksonville, North Carolina, after strong winds caused parts of the roof to collapse.
Storm surge will be a huge factor for Hurricane #Florence Check out what it might look like with @TWCErikaNavarro: pic.twitter.com/TPqTZTmiAM

— The Weather Channel (@weatherchannel) September 13, 2018
The centre of the storm's eye came ashore near Wrightsville Beach close to Wilmington, North Carolina, with sustained winds of 150kph, the NHC said.
---
Read more:
Hurricane Florence expected to be 'extremely dangerous'
Thousands take to shelters to wait out Florence
One million told to flee as US braces for Hurricane Florence
---
Mr Cooper said Florence was set to cover almost all of North Carolina in several feet of water.
The NWS predicted Florence could drop up to eight months' worth of rain in two or three days.
Authorities in New Bern said more than 100 people had to be saved from floods and that the downtown area was underwater. The town's public information officer, Colleen Roberts, told CNN 150 more people were awaiting rescue.
People battle strong winds and flood waters in New Bern, North Carolina | https://t.co/IrguEiiJXb pic.twitter.com/YqLm598pkh

— RTÉ News (@rtenews) September 14, 2018
Video reports from several towns in the Carolinas showed emergency personnel wading through thigh-high flood waters in residential neighborhoods.
Florence also blew down trees, including one that went through the roof of Kevin Di Loreto's home in Wilmington. He said all roads leading to his neighborhood were blocked by fallen trees.
"It's insane," he said in a phone interview. "Everybody laughs at the fact that this storm got downgraded ... but I've never seen tree devastation this bad.
More than 634,000 homes and businesses were without power in North and South Carolina today, utility officials said. Utility companies said millions were expected to lose power and restoration could take weeks.
Florence had been a Category 3 hurricane with 120 mph winds yesterday but dropped to Category 1 before coming ashore.
It is expected to move across parts of southeastern North Carolina and eastern South Carolina today and tomorrow, then head north over the western Carolinas and central Appalachian Mountains early next week, the NHC said. Significant weakening is expected over the weekend.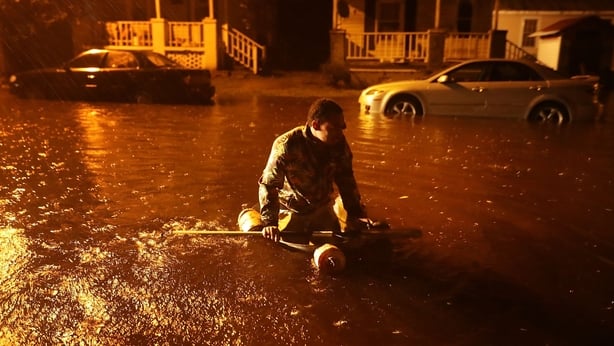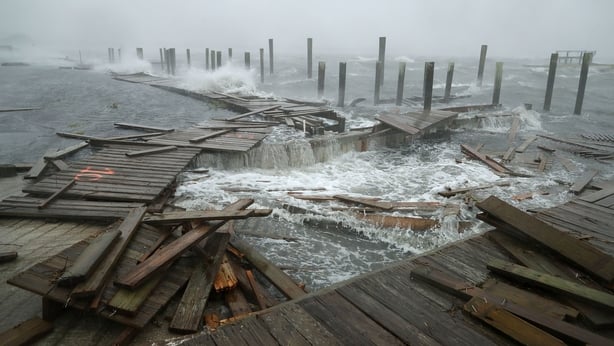 About 10 million people could be affected by the storm and more than one million were ordered to evacuate the coasts of the Carolinas and Virginia. Some of those who stayed went to shelters while others stuck it out in their homes.
Amtrak cancelled its passenger rail service south of Washington, DC, and there were nearly 600 cancellations of flights arriving or departing from major airports in the Carolinas.