Around one million people have been ordered to evacuate from the South Carolina coast as the state and neighbouring North Carolina brace for a hit from Hurricane Florence.
The hurricane is the most powerful storm to approach the US mainland this year.
The storm had winds of 209km/h and was due to gain strength before making landfall.
The US National Hurricane Center said that was likely to occur early on Thursday in the Carolinas.
The storm will bring heavy rain that could cause severe flooding through the region.
"We do not want to risk one South Carolina life in this hurricane," Governor Henry McMaster said at a news conference.
He said around one million people would be fleeing the coast.
In North Carolina, officials already had ordered some 250,000 residents and visitors to begin evacuating the Outer Banks barrier islands.
"We are in the bull's-eye," North Carolina Governor Roy Cooper said at a news conference.
"This is going to be a state-wide event."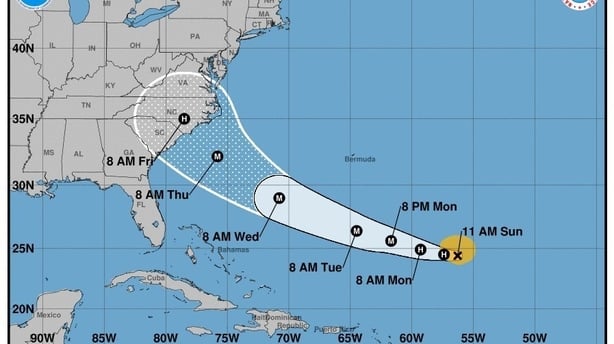 We need your consent to load this rte-player contentWe use rte-player to manage extra content that can set cookies on your device and collect data about your activity. Please review their details and accept them to load the content.Manage Preferences
The United States was hit with a series of high-powered hurricanes last year, including Hurricane Harvey, which killed about 68 people and caused an estimated $1.25 billion in damage with catastrophic flooding in Houston.
Elsewhere, Hurricane Maria killed some 3,000 people in Puerto Rico, which is a US territory.
By Monday evening, Florence was around 1,800km southeast of Cape Fear, North Carolina, and was a Category 4, the second-strongest on the Saffir-Simpson scale, the NHC said.
US President Donald Trump, whose administration faced severe criticism for a slow response in Puerto Rico to Hurricane Maria, cancelled a political rally planned for Friday in Jackson, Mississippi, over safety concerns related to Florence, his campaign said.
My people just informed me that this is one of the worst storms to hit the East Coast in many years. Also, looking like a direct hit on North Carolina, South Carolina and Virginia. Please be prepared, be careful and be SAFE!

— Donald J. Trump (@realDonaldTrump) September 10, 2018
Mr Cooper said he had asked Mr Trump to declare a federal state of emergency for North Carolina.
Florence could bring a life-threatening coastal storm surge, and inland flooding as far north as Virginia, the NHC said.
Historically, 90% of fatalities from hurricanes, tropical storms and tropical depressions have been caused by water, said NHC spokesman Dennis Feltgen said.
Some 27% of the deaths have come from rain-driven flooding, sometimes hundreds of miles inland.
In Holden Beach, North Carolina, in the storm's path, longtime residents could be seen boarding up homes and securing possessions.
The US military said it was sending an advanced team to Raleigh, North Carolina, to coordinate with federal and state partners and that about 750 military personnel will be designated to provide support.
The US Navy said it was sending nearly 30 ships from coastal Virginia out to sea to avoid damage.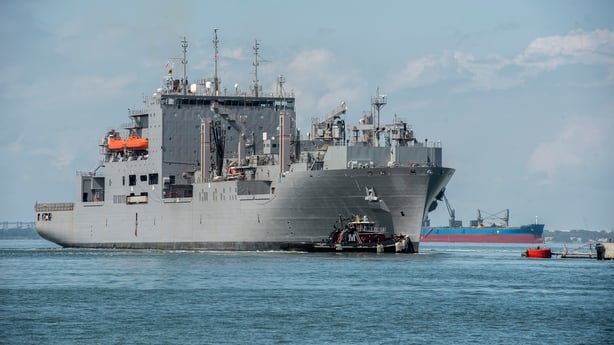 #Florence is now a powerful Category 4 hurricane with maximum sustained winds of 130 mph. #GOESEast captured this close-up of the storm's eye as it continues tracking toward the southeastern U.S. Latest: https://t.co/vziaU0pOhE pic.twitter.com/SvHPKYGZsC

— NOAA Satellites (@NOAASatellites) September 10, 2018