A new play is opening in Washington this weekend which chronicles the visit to Ireland in 1845 by African-American anti-slavery campaigner Frederick Douglass.
Born into slavery, Frederick Douglass escaped and went on to become a leading voice in the US abolitionist movement.
In 1845, he toured Ireland giving lectures and selling books as part of his mission to rid the world of slavery.
'The Frederick Douglass Project' combines modern hip-hop and rap with traditional Irish music and dance to tell the story of Douglass' visit to Ireland.
The performance is produced by Washington-based Irish arts group Solas Nua.
Artistic Director Rex Daugherty describes Douglass as America's greatest abolitionist.
He says; "He was born into slavery and left the US shortly after he wrote his book. He was getting a lot of pressure and threats. He named slave-catchers in his book so friends of his suggested he get out of town for a while and he went on an abolitionist speaking tour to Ireland."
Douglass was profoundly influenced by his time in Ireland.
Mr Daugherty says Douglass recalled that he was treated as a man and not as a colour.
Referring to his time in Ireland he famously wrote:"I have spent some of the happiest moments of my life since landing in this country, I seem to have undergone a transformation. I live a new life."
This performance is staged on a pier in a marina in Washington across the river from Douglass' home. The stage overlooks a bridge named in his honour.
According to the show's director Raymond O Caldwell, Douglass formed a lot of his political views while in Ireland.
"He began having conversations about wealth, women's rights and poverty. Conversations he had not had before and it really became the foundations for his politics which he then brought back to the United States."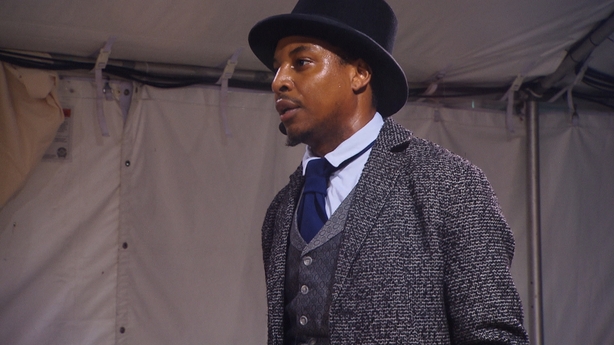 Actor Gary Perkins III plays Douglass.
"This show has a big blend between hip-hop and Irish culture. We have three different raps in the first act when Frederick Douglass gets into a contemporary scene and raps about his experiences as a black man in America. In the second act, there is traditional Irish music. It what's make this story different, the blending of the two cultures".
The Frederick Douglass Project consists of two short plays; one by Irish playwright Deirdre Kinahan, the other by hip-hop artist Psalmayene 24.
He says; "One of my intentions with this piece was to bridge African-American culture and Irish culture. I was also hoping to create the springboard for a dialogue that engages people across racial lines. Here in America and in many places around the world there's still a rift across racial boundaries."
Modern lyrics in the rap performances refer to things like 'Black Lives Matter' and discrimination.
Although the show is based on events that happened 170 years ago, the audience is reminded that themes of intolerance and racism are still a problem today.
The Frederick Douglass Project runs until 25 May at the Yard's Marina in Washington DC.