The Russian Ambassador to Ireland has said common sense should be used by the Government in responding to the poisoning of a former Russian spy in Salisbury in England earlier this month.
It follows the expulsion of Russian diplomats from a number of European countries and the United States today.
Speaking in an interview on RTÉ's Claire Byrne Live programme, Yury Filatov said it was important to put the interests of the Irish and Russian public first, and not someone else's interests, which he said he suspected might be the case with the recent EU response to the matter.
We need your consent to load this rte-player contentWe use rte-player to manage extra content that can set cookies on your device and collect data about your activity. Please review their details and accept them to load the content.Manage Preferences
Mr Filatov described the actions taken by NATO and EU member states in response to the Skripal case as provocative and senseless, and said this did not bring us any closer to the point of uncovering the truth of what had happened in Salisbury.
He said the action would not go unanswered by Russia.
Minister for Foreign Affairs Simon Coveney said Ireland will take "appropriate action" on Russian diplomats in this country in an announcement expected to be made tomorrow.
The Tánaiste said we will show solidarity with our closest neighbour. 
Mr Coveney said he had a security briefing this evening and he had made a decision on a course of action that he would bring to Cabinet tomorrow. 
He said he wanted to brief his colleagues first before announcing the details of a course of action. 
Asked about possible consequences for Irish diplomats in Moscow, Mr Coveney said he would brief the Russian ambassador tomorrow before making an announcement. 
Simon Coveney: "You can expect that Ireland will take action tomorrow that's appropriate and that will show solidarity with our closest neighbour." pic.twitter.com/fiqPk9c07c

— RTÉ News (@rtenews) March 26, 2018
16 European Union member states, as well as the US, Canada, Australia, Ukraine, Albania, Norway and Macedonia, are expelling more than 100 Russian diplomats, in response to the poisoning of Sergei Skripal and his daughter Yulia.
The UK has already expelled 23 Russians, who it said were undeclared intelligence officers.
The EU member states have said it was highly likely Russia was responsible for the poisoning on 4 March, and ordered the recall of the bloc's ambassador to Moscow. 
US President Donald Trump ordered the expulsion of 60 diplomats and the closure of the Russian consulate in Seattle. Russia has warned of retaliation.
This evening, Iceland also announced a diplomatic boycott of the 2018 World Cup in Russia.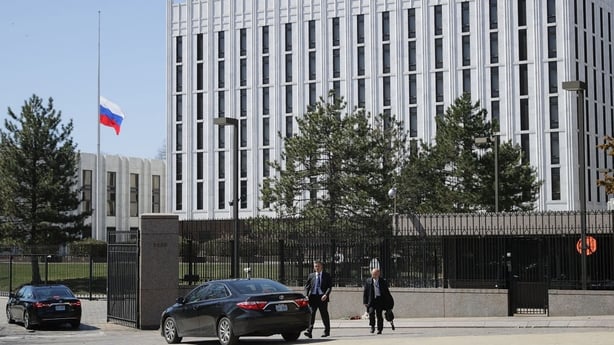 The EU measures were announced by European Council President Donald Tusk earlier this afternoon.
"Additional measures, including further sanctions within the common EU framework, cannot be excluded in the coming days and weeks," he said.
The number of diplomats expelled varies according to member state.
Individual member states have also imposed restrictions on certain named Russians from entering their territories.
---
The 16 EU states who have so far today confirmed expulsions: 
Sweden, Denmark, Finland, Lithuania, Latvia, Estonia, Poland, Czech Republic, Netherlands, Germany, France, Italy, Croatia, Romania, Spain, Hungary.
These are the numbers being expelled:
UK: 23; Ukraine: 13; Canada: 4; Albania: 2; Australia: 2; Norway: 1; Macedonia: 1.
32 Russian diplomats are being expelled by 15 EU countries:
Germany, France, Poland: 4
Lithuania, Czech Republic: 3
Italy, Netherlands, Denmark, Spain: 2
Estonia, Croatia, Romania, Latvia, Finland, Sweden: 1
---
The decision to expel diplomats was taken in solidarity with Britain at a meeting of EU leaders last week.
British Foreign Secretary Boris Johnson described the action as the biggest such expulsion of Russian spies ever.
"Today's extraordinary international response by our allies stands in history as the largest collective expulsion of Russian intelligence officers ever and will help defend our shared security," Mr Johnson said on Twitter.
"Russia cannot break international rules with impunity."
Russia has denied it is behind the attack earlier this month on the Skripals, the first known offensive use of a nerve toxin in Europe since World War II.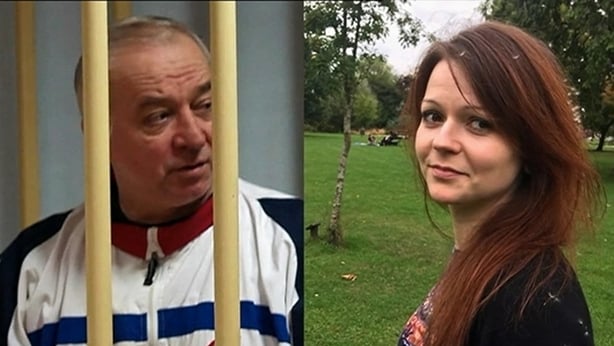 Mr Skripal, 66, and his 33-year-old daughter Yulia were found unconscious on a public bench and a British court has since said they may have suffered brain damage by the attack which British authorities said was carried out by a Soviet-era military-grade nerve agent.
British Prime Minister Theresa May said more than 130 other people in Salisbury could also have been exposed to the nerve agent. 
Russia has indicated that it will respond to the EU and US measures in kind.
48 of the diplomats are attached to the Russian Embassy in the US.
A further 12 are officials attached to Russia's delegation to the United Nations, based in New York.
A senior White House official said the Deputy Secretary of State had determined that those 12 officials were Russian intelligence agents who were using their posting at the UN as cover for what the US claims is "intelligence operations".
The official said today's actions were designed to make the US safer.
The 60 individuals and their families have been given seven days to leave the United States.
A US administration official said all 60 were believed to be intelligence officials "cloaked" in diplomacy.
A senior administration official said the Americans were forcing the closure of the Russian consulate in Seattle because of its proximity to a naval submarine base, but said the decision was not taken as the result of any evidence of any specific operation directed at the base.
The official said there was "an unacceptably high level of Russian operatives in the United States" currently, and today's actions meant Russia would now have a "degraded capability" when it came to "spying on our citizens" and the action "sent a message" to Russia.
Mr Trump has not spoken to Russian President Vladimir Putin since last Tuesday and an official said today's decision had been communicated to the Russian government "at the appropriate level".