The Russian Ambassador to Ireland has said that any expulsion of Russian diplomats from Ireland would be "an unfriendly action, that is certain".
Yury Filatov was responding to a question at a press conference in the Russian Embassy in Dublin, on whether such a move would be regarded as a hostile action.
He said he hopes Ireland will use its "common sense" in assessing any action it may take in the wake of the poisoning of a former Russian spy in England.
Asked what the Russian response would be if Ireland did expel diplomats, he said it would be premature to speculate on that.
Ambassador Yury Filatov says expulsion of Russian diplomats would be 'unfriendly' act pic.twitter.com/xAR0bKjJWi

— RTÉ News (@rtenews) March 23, 2018
Mr Filatov said the Irish Government is well within its rights to make such decisions, but he wished it would take into account the best interests of Russian relations, which he said were developing positively.
He also reiterated that Russia had nothing to do with the poisoning of Sergei Skripal in Salisbury and said there is no evidence or proof to suggest otherwise.
The ambassador said it was his observation that some countries are being led and manipulated by others into fighting someone else's unjust war.
He also said that EU decisions taken in the wake of the poisoning were "regrettable" and he described British statements on the matter as irresponsible and groundless.
We need your consent to load this rte-player contentWe use rte-player to manage extra content that can set cookies on your device and collect data about your activity. Please review their details and accept them to load the content.Manage Preferences
This morning, the Taoiseach said Ireland will carry out a security assessment of Russian diplomats in Ireland with a view to possible further measures in the wake of the poisoning of Sergei and Yulia Skripal in Salisbury on 4 March.
Leo Varadkar said that a statement by European Union leaders blaming Russia for the attack was strengthened on his and French President Emmanuel Macron's initiative.
Arriving for the second day of a two-day summit in Brussels, the Taoiseach said that having listened to British Prime Minister Theresa May's assessment of alleged Russian involvement in the attempted assassination, the Government now shared the UK's view that the Russian state was behind the attack.
The Taoiseach told reporters:
"What we'll now consider in the coming days is whether we want to take individual action relating to Russian diplomats in Ireland."
"Bearing in mind what the UK did was to expel 23 diplomats, who they did not believe were diplomats - they were agents.
"We would have to do a security assessment just like they did before we did that. We're not going to just randomly expel people who are genuine diplomats perhaps.
Taoiseach says security assessment will be carried out ahead of any Russian diplomats possibly being expelled pic.twitter.com/yOU1zy2qXA

— RTÉ News (@rtenews) March 23, 2018
"A security assessment will be done. The Minister for Foreign Affairs, the Tánaiste, and I have already spoken about it. We'll make a decision in the early part of next week."
The agreement by EU leaders was an unexpectedly strong condemnation of Russia.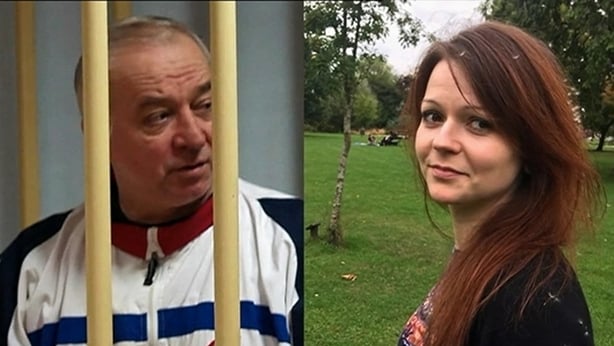 Mr Varadkar said that the joint EU statement was changed to say that leaders "agreed" with the British assessment, rather than simply being "concerned" about it.
The change was at the initiative of himself and Mr Macron, he said.
Mr Varadkar said: "The European Union agreed last night, and Ireland is part of the European Union, and this was on our proposal, we agreed yesterday ... that we agreed with the UK's assessment that it's highly likely the Russian authorities were behind the Salisbury attack. So that's our position."
Opposition divided on Govt approach
There has been a mixed response from the opposition to news that the Government is conducting a security assessment of Russian diplomats here.
Fianna Fáil has called on the Government to undertake a thorough, objective and neutral assessment of allegations against the Russian government.
The party's foreign affairs spokesperson Darragh O'Brien described the Taoiseach's statement about the possible expulsion of Russian diplomats from Ireland as "rash".
Labour leader Brendan Howlin told RTÉ News that in these circumstances it is appropriate that Ireland stands with the UK, and all its EU colleagues, and condemns the act in the strongest possible terms.
Sinn Féin's foreign affairs spokesperson Sean Crowe called on the Taoiseach to meet the political parties to outline the information he has received that has led him to announce a review of the Russian Embassy.
Solidarity-People Before Profit TD Richard Boyd Barrett called on the Taoiseach "not to takes sides in a dangerous new Cold War or act preemptively without evidence".
"It would be a dangerous move that would undermine Ireland's neutrality."
---
Read more:
EU leaders agree Russia 'highly likely' behind spy attack
British PM says Russian state behind spy poisoning
Russia to expel 23 British diplomats in ex-spy row
---
Russia has said it regrets the EU's decision to recall its envoy to Moscow.
Kremlin spokesman Dmitry Peskov said decisions were being made on the basis of suppositions about what happened to the Skripals.
Mr Peskov said that he did not know on what basis the EU had voiced solidarity with Britain as Russia had seen no first-hand information on the case.
By directly blaming Russia, the EU has raised the stakes in an increasingly bitter war of words over the poisoning, and over Russia's posture in general towards the West.
The EU said the attack was a grave challenge to its shared security, and that member states would now take joint, but as yet unspecified, action against Russia.
Some member states, such as Lithuania, have already said they could also expel Russian diplomats, following Britain's actions last week.
Last night's joint statement was a boost for Mrs May, who had outlined over dinner Britain's analysis of the Kremlin's alleged culpability.
She appears to have convinced leaders from countries, such as Italy, Greece and Hungary, which are traditionally more sympathetic to Russia, to sign up to the statement.
It also means that Ireland, which until now has been reluctant to explicitly blame Russia for the attack, has shifted its position.
Additional reporting: Conor Hunt, Martina Fitzgerald and Micheál Lehane