Scientists, academics, pop stars and actors have all paid tribute to renowned physicist Professor Stephen Hawking, who died peacefully at his home in Cambridge.
His children, Lucy, Robert and Tim said they will miss him forever and that his legacy will live on for many years.
In a statement, they said: "He was a great scientist and an extraordinary man whose work and legacy will live on for many years. His courage and persistence with his brilliance and humour inspired people across the world.
"He once said: 'It would not be much of a universe if it wasn't home to the people you love'. We will miss him forever."
---
Read More:
Professor Stephen Hawking dies aged 76
Stephen Hawking: Genius who defied a paralysing illness
A brief history of Stephen Hawking
---
NASA remembered Prof Hawking as a "renowned physicist and ambassador of science".
Remembering Stephen Hawking, a renowned physicist and ambassador of science. His theories unlocked a universe of possibilities that we & the world are exploring. May you keep flying like superman in microgravity, as you said to astronauts on @Space_Station in 2014 pic.twitter.com/FeR4fd2zZ5

— NASA (@NASA) March 14, 2018
Inventor of the World Wide Web, Sir Tim Berners-Lee, tweeted: "We have lost a colossal mind and a wonderful spirit. Rest in peace, Stephen Hawking."
Have fun out there among the stars. pic.twitter.com/S285MTwGtp

— Barack Obama (@BarackObama) March 14, 2018
Physicist James Hartle, whose work with Prof Hawking led to the Hartle-Hawking model of the universe's origins, said his colleague had "inspired a lot of people".
He said: "What was unique about him was that he had a marvellous ability to see through all the clutter in physics and to see what the essential points are and that, of course, was a great thing for going forward."
He added: "My memory of him would be on several fronts: first our work together, as a scientist, and second as a human being whose whole story is of triumph over adversity and who inspired a lot of people, including me."
British Prime Minister Theresa May said: "Professor Stephen Hawking was a brilliant and extraordinary mind - one of the great scientists of his generation.
"His courage, humour and determination to get the most from life was an inspiration. His legacy will not be forgotten."
Irish comedian Dara Ó Briain said Prof Hawking was one of a few people he thought of as a hero and he "was a triumph" of what humans can achieve.
In a series of tweets this morning, he also recalled asking his friend how had he lived so long, despite being told in his 20s that he only had a few years to live after being diagnosed with a rare form of motor neuron disease, to which Prof Hawking replied "How can I die, when I have so much of the Universe left to explore?"
What a privilege it was to know Stephen Hawking. His work elevated us to the extra-ordinary; his life pushed down a terrible, limiting disease so that he could enjoy the full joy of the ordinary. In both, he was a triumph of what can we, as humans, can achieve.

— Dara Ó Briain (@daraobriain) March 14, 2018
Scientist and broadcaster Professor Brian Cox tweeted: "Sad to hear about Stephen Hawking. What a remarkable life.
"His contributions to science will be used as long as there are scientists, and there are many more scientists because of him. He spoke about the value and fragility of human life and civilisation and greatly enhanced both."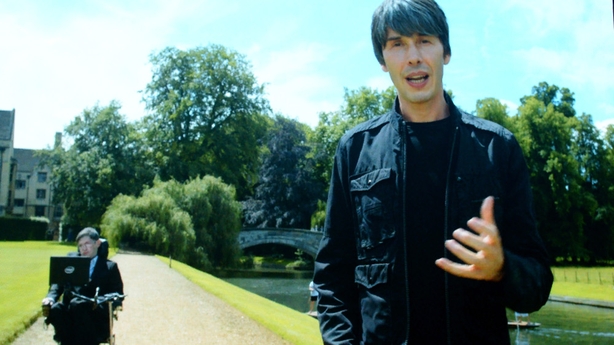 Speaking on BBC Radio 4, Prof Cox said: "I think he is one of the greats. There are many good theoretical physicists who make a big contribution, but there aren't that many greats.
"And by that I mean that I think there are physicists in a thousand years time, they will still be talking about Hawking radiation, they will be using his fundamental results on black holes.
"Actually, the last time I saw him at his 75th birthday party, he was talking about the new gravitational wave experiment where we've seen the collisions of black holes, and speculating that those results might be able to prove some of his theorems once and for all.
"Plus his contributions to the physics of the very early universe, so there are at least three and possibly more areas where his work will be remembered as long as there are cosmologists and that's the best you can hope for as a scientist."
Astronomer Royal Professor Lord Martin Rees, who is emeritus professor of cosmology and astrophysics at the University of Cambridge, said: "Tragedy struck Stephen Hawking when he was only 22. He was diagnosed with a deadly disease, and his expectations dropped to zero.
"He himself said that everything that happened since then was a bonus. And what a triumph his life has been.
"His name will live in the annals of science; millions have had their cosmic horizons widened by his best-selling books; and even more, around the world, have been inspired by a unique example of achievement against all the odds - a manifestation of amazing will-power and determination."
Eddie Redmayne, who starred as Professor Hawking in The Theory Of Everything, said in a statement: "We have lost a truly beautiful mind, an astonishing scientist and the funniest man I have ever had the pleasure to meet.
"My love and thoughts are with his extraordinary family."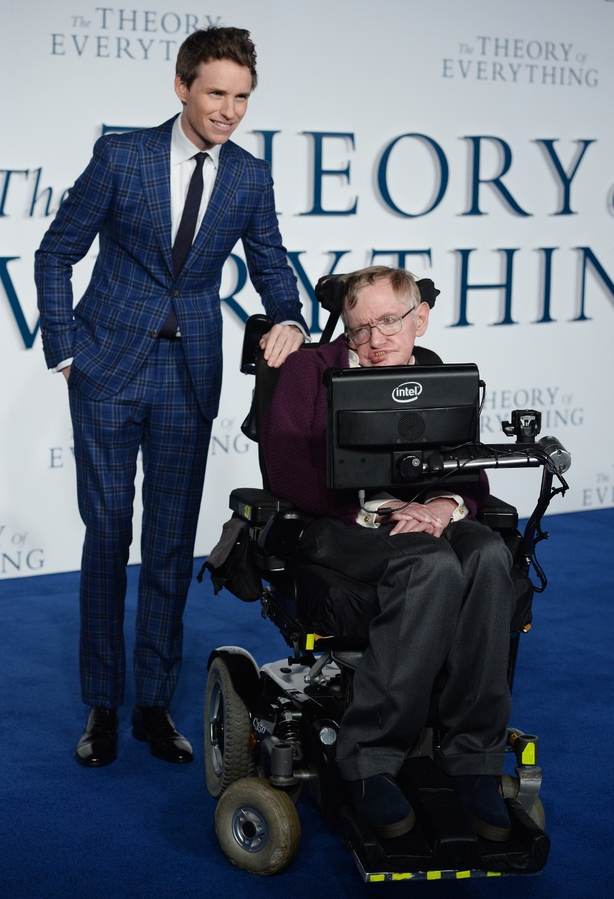 British astronaut Tim Peake said Prof Hawking "inspired generations to look beyond our own blue planet and expand our understanding of the universe".
US astrophysicist Neil deGrasse Tyson was one of the first to pay tribute to Prof Hawking. Sharing a photo of himself and Prof Hawking on Twitter.
His passing has left an intellectual vacuum in his wake. But it's not empty. Think of it as a kind of vacuum energy permeating the fabric of spacetime that defies measure. Stephen Hawking, RIP 1942-2018. pic.twitter.com/nAanMySqkt

— Neil deGrasse Tyson (@neiltyson) March 14, 2018
Greenpeace USA thanked Prof Hawking for helping people understand their place in the universe and for "leaving us in awe and wonder".
Celebrities also paid tribute, with US singer Katy Perry saying his death left a "big black hole in my heart".
Jonathan Ross tweeted: "RIP Stephen Hawking. The world just dropped a lot of IQ points. And, he was a fun person. Very sad news."
KT Tunstall tweeted: "Wow. What a life. What an extraordinary Human Being. Enjoy the cosmos Stephen Hawking, the biggest and most mysterious adventure that we all get to go on one day... RIP #genius."
The rock band Foo Fighters tweeted: "'Remember to look up at the stars and not down at your feet' - RIP Stephen Hawking you ... legend."
US actor Macaulay Culkin described Prof Hawking as a "genius", adding that the physicist was also his favourite Simpsons character.
He tweeted: "I just heard about Stephen Hawking's passing. He was both a genius and my favorite Simpsons character. We'll miss you, buddy."
In loving memory of Stephen Hawking. It was an honor to have him on The #BigBangTheory. Thank you for inspiring us and the world. pic.twitter.com/9rWoYqIToy

— The Big Bang Theory (@bigbangtheory) March 14, 2018