Professor Stephen Hawking, one of the world's finest scientific minds, has died at the age of 76, according to his family.
He died peacefully at his home in Cambridge in the early hours of this morning.
In a statement, his children Lucy, Robert and Tim said: "We are deeply saddened that our beloved father passed away today.
"He was a great scientist and an extraordinary man whose work and legacy will live on for many years.
"His courage and persistence with his brilliance and humour inspired people across the world.
"He once said, 'It would not be much of a universe if it wasn't home to the people you love.' We will miss him forever."
The physicist and cosmologist was diagnosed with amyotrophic lateral sclerosis (ALS), a form of motor neurone disease, when he was a 22-year-old student at Cambridge University.
Most people die within a few years of the diagnosis.
Prof Hawking first gained attention with his 1988 book 'A Brief History of Time', a simplified overview of the universe. It has sold millions of copies across the world.
His subsequent theories revolutionised modern understanding of concepts like relativity, black holes and the Big Bang theory of how the universe began.
For 30 years, he held a mathematics post at Cambridge University previously held by Sir Isaac Newton.
Prof Hawking retired from that position in 2009 and became director of research at the university's Centre for Theoretical Cosmology.
He achieved all that despite being almost entirely paralysed and in a wheelchair since 1970.
Read more
Genius who defied a paralysing illness
The world has lost a 'colossal mind'
A brief history of Stephen Hawking
Amyotrophic lateral sclerosis: What is ALS?
---
Stephen Hawking: A genius who defied a paralysing illness | https://t.co/3xbHP82Gb7 pic.twitter.com/JE6JUquDCb

— RTÉ News (@rtenews) March 14, 2018
After catching pneumonia in 1985, Prof Hawking needed around-the-clock care and relied on a computer and voice synthesizer to speak.
It could take up to ten minutes for him to formulate a single sentence.
He wrote on his website: "The only trouble is (the voice synthesizer) gives me an American accent."
Prof Hawking's fame led to guest appearances on some of his favourite television shows, including 'The Simpsons' and 'Star Trek' and 'The Big Bang Theory'.
His animated likeness from 'The Simpsons' has been turned into an action figure - one of which sat proudly on his office desk.
In 2007, Prof Hawking took a zero-gravity flight in Florida, the first time in 40 years he abandoned his wheelchair.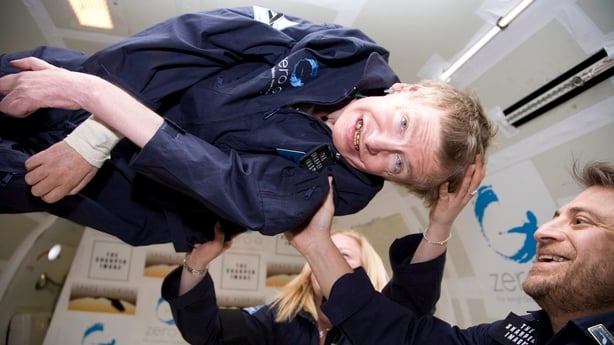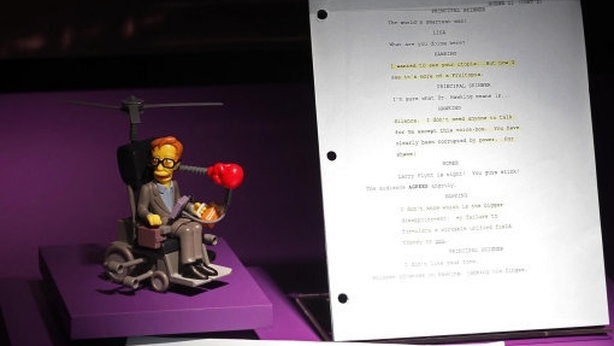 His passing has left an intellectual vacuum in his wake. But it's not empty. Think of it as a kind of vacuum energy permeating the fabric of spacetime that defies measure. Stephen Hawking, RIP 1942-2018. pic.twitter.com/nAanMySqkt

— Neil deGrasse Tyson (@neiltyson) March 14, 2018
Tributes have been made around the world, from fellow scientists to politicians and pop stars.
Indian prime minister Narendra Modi said Prof Hawking had "made the world a better place" and his death was "anguishing".
"Professor Stephen Hawking was an outstanding scientist and academic. His grit and tenacity inspired people all over the world," he said.
US astrophysicist Neil deGrasse Tyson was one of the first to pay tribute.
Sharing a photo of himself and Prof Hawking on Twitter, he said the scientist's death has "left an intellectual vacuum in his wake".
He added: "But it's not empty. Think of it as a kind of vacuum energy permeating the fabric of spacetime that defies measure. Stephen Hawking, RIP 1942-2018."
Irish comedian Dara Ó Briain paid tribute to Prof Hawking's "immeasurable life".
Ah, what a week for losing icons and legends. I'll tweet more tomorrow when I have the measure of it, but what an immeasurable life he had. Love to Lucy and Tim and all the family and his devoted team. RIP Stephen.

— Dara Ó Briain (@daraobriain) March 14, 2018
US singer Katy Perry saying his death left a "big black hole in my heart", while rock band Foo Fighters tweeted: "'Remember to look up at the stars and not down at your feet' - RIP Stephen Hawking you … legend."
In loving memory of Stephen Hawking. It was an honor to have him on The #BigBangTheory. Thank you for inspiring us and the world. pic.twitter.com/9rWoYqIToy

— The Big Bang Theory (@bigbangtheory) March 14, 2018
Stephen Hawking - In his own words
- On the reason why the universe exists: "If we find the answer to that, it would be the ultimate triumph of human reason - for then we would know the mind of God" - A Brief History Of Time, published 1988.
- On being diagnosed with motor neurone disease: "My expectations were reduced to zero when I was 21. Everything since then has been a bonus" - Interview in The New York Times, December 2004.
- On black holes: "Einstein was wrong when he said, 'God does not play dice'. Consideration of black holes suggests, not only that God does play dice, but that he sometimes confuses us by throwing them where they can't be seen" - The Nature Of Space And Time, published 1996.
- On God: "It is not necessary to invoke God to light the blue touch paper and set the universe going" - The Grand Design, published 2010.
- On commercial success: "I want my books sold on airport bookstalls" - Interview in The New York Times, December 2004.
- On fame: "The downside of my celebrity is that I cannot go anywhere in the world without being recognised. It is not enough for me to wear dark sunglasses and a wig. The wheelchair gives me away" - Interview on Israeli TV, December 2006.
- On an imperfect world: "Without imperfection, you or I would not exist" - In Into The Universe With Stephen Hawking, The Discovery Channel, 2010.
- On euthanasia: "The victim should have the right to end his life, if he wants. But I think it would be a great mistake. However bad life may seem, there is always something you can do, and succeed at. While there's life, there is hope" - Quoted in People's Daily Online, June 2006.
- On intellectual showboating: "People who boast about their IQ are losers" - Interview in The New York Times, December 2004.
- On the possibility of contact between humans and aliens: "I think it would be a disaster. The extraterrestrials would probably be far in advance of us. The history of advanced races meeting more primitive people on this planet is not very happy, and they were the same species. I think we should keep our heads low" - In Naked Science: Alien Contact, The National Geographic Channel, 2004.
- On the importance of having a sense of humour: "Life would be tragic if it weren't funny" - Interview in The New York Times, December 2004.
- On death: "I have lived with the prospect of an early death for the last 49 years. I'm not afraid of death, but I'm in no hurry to die. I have so much I want to do first" - Interview in The Guardian, May 2011.