Zimbabwe's former vice president Emmerson Mnangagwa has told a cheering crowd in Harare that the country was entering a new stage of democracy.
He is due to be sworn in as Zimbabwe's president this Friday, replacing Robert Mugabe who announced his resignation yesterday.
Mr Mnangagwa, who fled for his safety after Mr Mugabe sacked him two weeks ago, arrived back in Zimbabwe today.
"The people have spoken. The voice of the people is the voice of God," Mr Mnangagwa told thousands of supporters who had gathered outside the ruling ZANU-PF party's offices.
"Today we are witnessing the beginning of a new and unfolding democracy," he said.
Mr Mugabe resigned as president a week after the army and his former political allies moved to end four decades of rule by a man once feted as an independence hero who became feared as a despot.
The 93-year-old Mr Mugabe had clung on for a week after an army takeover, with ZANU-PF urging him to go.
He finally resigned moments after parliament began an impeachment process seen as the only legal way to force him out.
People danced in the streets of Harare and car horns blared at the news that the era of Mugabe, who had led Zimbabwe since independence in 1980, was finally over.
Some brandished posters of Mnangagwa and army chief General Constantino Chiwenga. 
---
Read more
Mugabe resigns as President of Zimbabwe
Key players in the Zimbabwe crisis
The oldest leaders in the world
---
Meanwhile, the African Union has welcomed Mr Mugabe's decision to step down, saying the people had expressed their will for a "peaceful transfer of power".
AU commission chairperson Moussa Faki Mahamat said he "welcomes the decision by President Robert Mugabe to step down from his position as Head of State following a lifetime of service to the Zimbabwean nation.
"President Mugabe will be remembered as a fearless pan-Africanist liberation fighter, and the father of the independent Zimbabwean nation."
Despite the Zimbabwe army's intervention, the AU did not characterise Mr Mugabe's ousting as a coup, but rather a legitimate expression of the will of Zimbabweans.
"The African Union recognises that the Zimbabwean people have expressed their will that there should be a peaceful transfer of power in a manner that secures the democratic future of their country," it said.
"President Mugabe's decision to resign paves the way for a transition process, owned and led by the sovereign people of Zimbabwe."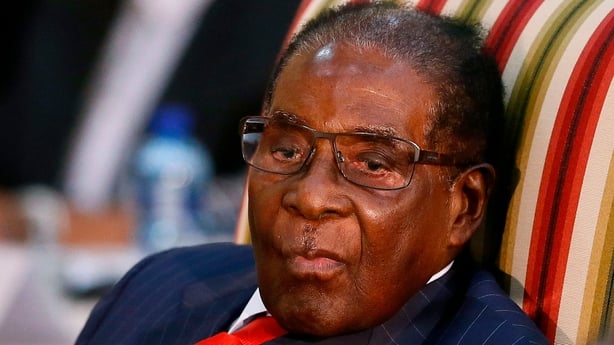 Call for Mugabe to go before International Criminal Court
A former director of a human rights group in Zimbabwe has said that Robert Mugabe should be brought before the International Criminal Court to face charges relating to atrocities carried out in Zimbabwe by the military in the 1980s.
Mike Auret, who now lives in Ireland, served as a director of the Catholic Commission of Justice and Peace in Zimbabwe.
He was involved in the investigation into the mass killings of the Ndebele people in the Matabeleland and midland regions of Zimbabwe between 1983 and 1988.
A report published following the investigation found that over 20,000 men, women and children were killed by the military branch called the Fifth Brigade in this period.
The military campaign was aimed at quelling "dissidents" in the support base of political rival Joshua Nkomo.
Mr Auret presented the finished report to Mr Mugabe in the hope that the actions of the military would stop.
Mr Auret said that he initially thought that Mr Mugabe was not aware of the atrocities, but now says that not alone was Mr Mugabe aware of it, he must have ordered it.
As preparations are under way for Mr Mnangagwa to be sworn in as successor to Mr Mugabe on Friday, Mr Auret said he holds little hope that this will mean a new era of economic prosperity for his native Zimbabwe.
He has met Mr Mnangagwa on a number of occasions, but said that Mr Mnangagwa's decades in power with Mr Mugabe could mean that very little will change as the ruling party will try to cling on to power.
Mr Auret said that the African Union and the International Community should now take a role in leading reform after the Mugabe years in Zimbabwe.