Today marks another historic and unprecedented day in American history - a former US president will appear in a federal courthouse in Miami this evening.
This is Donald Trump's second courtroom appearance as a criminal defendant this year. It is also the first ever federal criminal prosecution against a former US president.
Mr Trump has been charged in relation to illegally keeping a trove of classified government documents at his Mar-a-Lago resort in Florida and obstructing efforts to retrieve them.
During an FBI search of Mar-a-Lago in August 2022, agents found 102 documents marked as classified which, according to the indictment, included details about US nuclear weapons, spy satellites and the US military.
Agents discovered the documents in "a ballroom, a bathroom and shower, an office space, his bedroom, and a storage room".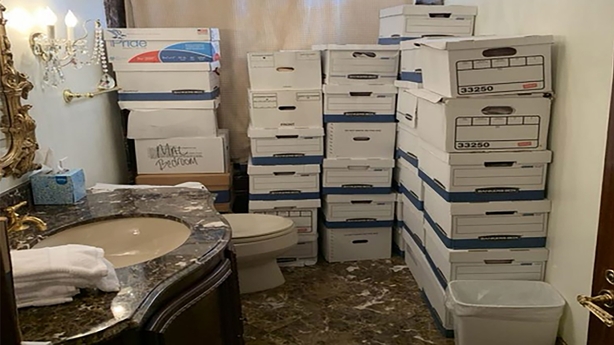 What happens at 8pm this evening (Irish time) when Donald Trump sets foot in court remains unclear.
Federal defendants typically have mugshots and fingerprints taken at their initial court days. Some are also handcuffed.
However, his appearance at this Florida courtroom may mirror his muted one in New York in April.
In April, he appeared in a Manhattan court in relation to an indictment brought by the state's district attorney for allegedly falsifying business records, however only his finger prints were recorded. He was not handcuffed and no mugshot was taken.
So, while details of today's events remain unclear, the severity of the charges and their possible penalties are more clear-cut.
Is this case against the former president the biggest threat he has faced?
The former commander-in-chief has been charged with 37 criminal counts and many legal experts argue that the charges could lead to substantial prison time if he is convicted.
The charges include 31 counts of wilful retention of national defence information under the Espionage Act.
This is arguably the most serious charge which criminalises the unauthorised possession of national defence information. It is punishable by up to ten years in prison.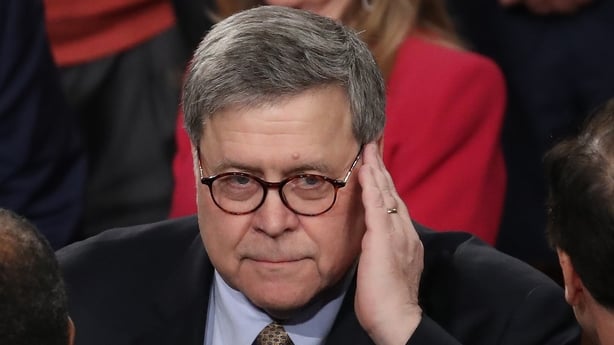 The indictment states that the documents kept by Mr Trump included information "regarding defence and weapons capabilities of both the United States and foreign countries; the United States' nuclear programs, potential vulnerabilities of the United States and its allies to military attack, and plans for possible retaliation in response to a foreign attack".
Former US attorney general William Barr said that if these allegations against Mr Trump are proven true, then "he's toast".
"I was shocked by the degree of sensitivity of these documents and how many there were ... and I think the counts under the Espionage Act that he willfully retained those documents are solid counts," Mr Barr, who served under Donald Trump, told Fox News Sunday.
However, it could be unlikely that a senior US official could serve jail time if convicted over the handling of classified documents.
Former CIA director David Petraeus was charged with giving classified documents to his former mistress and biographer.
Mr Petraeus reached a plea deal with the US justice department and was sentenced to two years probation and a $100,000 fine.
However, the charges against Donald Trump don't end there. He is also charged with obstruction of justice - an offence to "impede, obstruct, or influence" an investigation.
The indictment said that Mr Trump directed Walt Nauta, an aide and valet, to move the boxes of records to "conceal them from Trump's attorney, the FBI and the grand jury".
Four of the counts, related to conspiracy and withholding or concealing documents, each carry maximum sentences of 20 years.
Even with the threat of hefty jail time and other court appearances down the line, Mr Trump continues on his campaign to make a return to the White House in 2024.
Already this year, Donald Trump has appeared in court over falsifying business records and a New York jury found that he sexually abused magazine writer E. Jean Carroll in the 1990s and then defamed her by branding her a liar.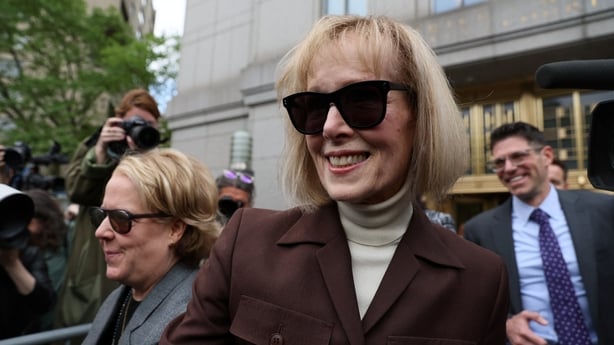 Investigations continue into his role in the 6 January storming of the Capitol building and efforts to reverse his defeat at the polls in Georgia in 2020.
Donald Trump is a man that doesn't appear to be under legal stress and has repeatedly dismissed the claims and charges.
Under US law, none of the charges against Mr Trump would stop him from running for president or possibly even ruling the country - that's even if he is found guilty and sent to prison.
A trial is also not expected to take place for months, leaving Donald Trump free to campaign.
It is also unlikely that the prosecution would continue if Donald Trump won the 2024 election in November as the US justice department usually has a policy that a sitting president cannot be prosecuted.
Mr Trump told Politico that he would continue his presidential campaign, even if he were convicted in the case, saying "I'll never leave".
Amidst his legal woes, Donald Trump's political future doesn't appear to lie in the hands of the justice system, rather the American people.
That's why support is so important to him.
He is still the Republican Party's nomination front-runner and a headline act despite the charges. Mr Trump appeared defiant and unfazed at two Republican Party conventions over the weekend where he called the charges a politically motivated "scam".
One CBS poll also suggested that 76% of likely Republican primary voters were more concerned about the indictment being politically motivated than about the documents posing a national security risk.
The Republican Party and the American people have much power in the coming months when it comes to what path Donald Trump's political career will take.