Taoiseach Leo Varadkar has made the traditional presentation of the bowl of shamrock to US President Joe Biden at the White House.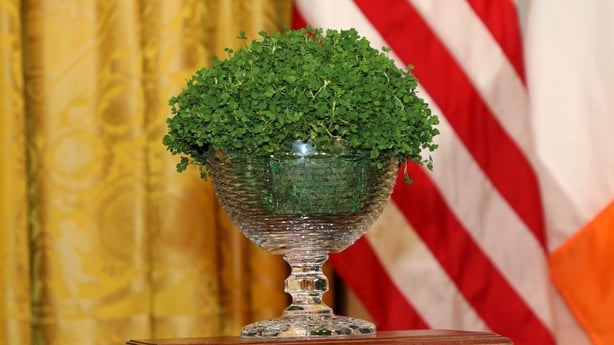 The Taoiseach is in Washington DC as part of St Patrick's Day celebrations, which culminates in the high-profile shamrock event.
Attending the event were former rugby player Rob Kearney, a distant relative of Mr Biden's, former House speaker Nancy Pelosi, Sinn Féin president Mary Lou McDonald and DUP leader Jeffrey Donaldson.
During his speech at the event, Mr Biden repeated his praise of Northern Ireland's political leaders for showing unity in the wake of the attempted murder of DCI John Caldwell.
Taoiseach Leo Varadkar has made the traditional presentation of the bowl of shamrock to US President Joe Biden at the White House | More: https://t.co/M5WPLwfVWq pic.twitter.com/dhy71AeUQb

— RTÉ News (@rtenews) March 17, 2023
Mr Biden stressed the need to find common cause in Northern Ireland as he expressed hope of a return to devolved government at Stormont.
In his speech, he also reflected on the forthcoming 25th anniversary of the Good Friday Agreement.
"Now it's incumbent on all of us to continue to foster that peace and continue to find common cause so that our work may continue to bear fruit for generations to come," he said.
Mr Biden reiterated his support for the new EU/UK deal to resolve the impasse over post-Brexit trade that has led to the collapse of devolution in Stormont.
"Taoiseach we both agree that the recently announced Windsor Framework is an important step," he said.
"We had a long discussion with the Prime Minister of Great Britain about that a week ago in California. That's going to preserve and strengthen the Good Friday Agreement.
"In the past few weeks I've shared my support for the framework with the European Commission president as well, president (Ursula) von der Leyen and the Prime Minister says he's going to continue to push," Mr Biden said.
We need your consent to load this rte-player contentWe use rte-player to manage extra content that can set cookies on your device and collect data about your activity. Please review their details and accept them to load the content.Manage Preferences
In his address at the shamrock presentation, Leo Varadkar said the mission ahead was to realise the full potential of the people of Ireland.
Mr Varadkar also spoke of the contribution made by several US presidents to the peace process as he spoke of the significance of the 1998 Good Friday Agreement.
"And so this year, as we mark that anniversary, we look to the future and all that still needs to be done," he said.
"Our mission now is to find ways of realising the potential for everyone who calls Ireland home.
"We want to see the institutions of the Good Friday Agreement restored, so they can provide hope for a new generation.
"And we'd like to see the people of Northern Ireland benefit from the rich economic opportunities available to them."
Singer Niall Horan performed for Mr Biden, Mr Varadkar and other guests at the ceremony, opening his performance with his new single Heaven.
'Close friends'
Earlier, Mr Varadkar and Mr Biden held talks at the White House.
Ahead of the bilateral engagement, Mr Varadkar hailed the Irish-American relationship as one of "two proud democracies, close friends and economic partners".
The president said the two leaders would discuss the Ukraine conflict and the forthcoming anniversary of the Good Friday Agreement.
Speaking afterwards, Mr Varadkar described the meeting as "good" and "warm".
"He gave us a lot of time," he told reporters outside the White House.
"A very warm meeting, (he was) extremely well-informed about Ireland and Irish affairs.
"We had a chance to talk about the situation in Ukraine, had a chance to talk about Northern Ireland.
"The president's very keen to see the institutions running again in Northern Ireland and hopefully see the Windsor Framework fully put into operation.
"We talked about economic co-operation as well and agreed to cooperate closely on cybersecurity, which is important for both of us as countries."
Mr Varadkar did not outline any further details on President Biden's upcoming visit to Ireland.
"He certainly hopes and expects to come to Ireland hopefully in the future and it'd be very much a homecoming visit, as well as an official visit as well," he said.
When asked on the potential of the president to act as a catalyst in restoring power-sharing at Stormont, Mr Varadkar said: "He's hugely important and very much across what's happening in Ireland, and very supportive of our efforts and would like to see the Good Friday Agreement operating as it should."
Taoiseach Leo Varadkar has held talks with US President Joe Biden as the two leaders marked St Patrick's Day at the White House | https://t.co/PPq58M1lhe pic.twitter.com/zC3bNrKWts

— RTÉ News (@rtenews) March 17, 2023
The story of Irish Americans is a story of people who have weathered hard times, but always come through, spirit intact.

Here are a few of my favorite St. Patrick's Day memories. pic.twitter.com/pPV3GxzPxA

— Joe Biden (@JoeBiden) March 17, 2023
The Taoiseach began the day of traditional St Patrick's Day engagements in Washington at a breakfast event hosted by the US Vice-President Kamala Harris.
Mr Varadkar and his partner, Matt Barrett, posed for photos with Ms Harris and her husband, Douglas Emhoff, when they arrived at her residence early this morning.
Inside, he hailed Ms Harris and the wider US's work on LGBT rights.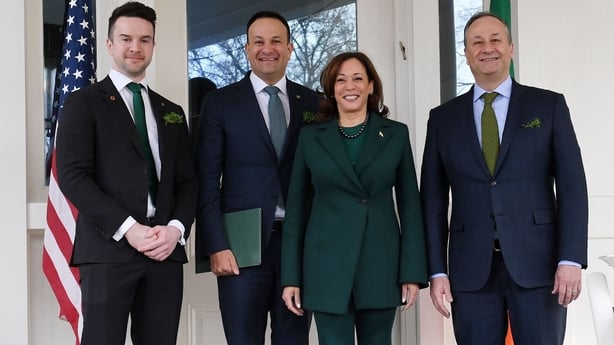 Mr Varadkar thanked Vice President Kamala Harris for her advocacy on the LGBT issue and for being a "strong ally".
"From Stonewall to Sacramento to San Francisco, America has led the way when it comes to LGBT equality," he said.
"I don't think I would be here today were it not for what America did. I know you've been such a strong ally to our community in that regard."
Ahead of today's events, Mr Varadkar was embroiled in a controversy after apologising for an "ill-judged" remark that was seen as an apparent reference to the Clinton-Lewinsky scandal.
While reminiscing about his experience as an intern in the United States, the Taoiseach made a reference to possible concern about being an intern in the US capital at the time.
Mr Varadkar made the remarks during an address to the Washington Ireland Programme, which helps young people develop career skills and which Mr Varadkar took part in, in 2000.
The Taoiseach's comment came hours after attending an event honouring women's role in the Good Friday Agreement, during which he praised Hillary Clinton for her sustained involvement in Northern Ireland.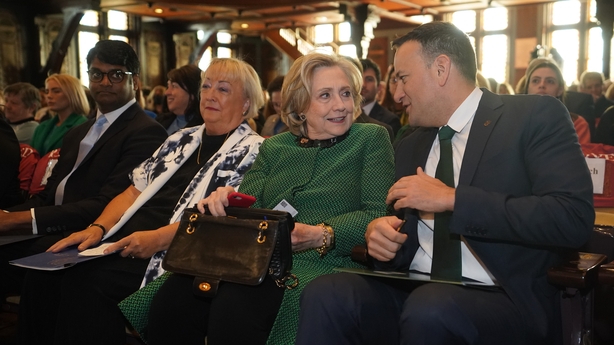 A spokesperson for Mr Varadkar said in a statement following the event: "He made an ill-judged, off-the-cuff remark which he regrets. He apologises for any offence caused to anyone concerned."
Former US president Bill Clinton and Mrs Clinton are due to take a leading role in commemorations planned in Northern Ireland to mark the 25th anniversary of the Good Friday Agreement next month.
Monica Lewinsky was a young White House intern when she and the then-US president Bill Clinton embarked on a romance in the 1990s. She was pilloried for years after the scandal broke.
The affair almost forced Mr Clinton out of office and Ms Lewinsky has spoken about the devastating effect it had on her life in the years after.
Mr Varadkar sat beside Hillary Clinton at Thursday morning's event at Georgetown University focusing on the role of women in the peace process in Northern Ireland.
---
Read More:
Thousands march in Dublin's St Patrick's Day parade
A lucky charm - The business of St Patrick's Day
Kerry firm makes crystal bowl for White House shamrock ceremony
Shamrock farmers shape up for busiest week of the year
---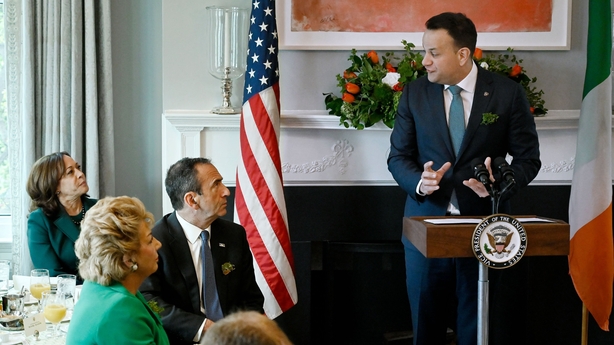 At the ambassador's reception last night, Mr Varadkar said the Irish-US relationship "took root and grew from the contribution of millions of Irish emigrants who came here over the years to expand their talents and energies in the creation of modern America.
"The Irish and Scots Irish came here from a troubled homeland to build new lives for themselves and their families and they succeeded."
Among those present at the event were DUP leader Jeffrey Donaldson, UN Special Envoy to Northern Ireland Joe Kennedy III, and former House speaker Nancy Pelosi.