The official retailer of the St Patrick's Day Parade in Dublin this year is Carrolls Irish Gifts.
You couldn't shake a shamrock at a more perfect partnership. The Irish owned company stocks gifts and souvenirs from Aran knitwear and Guinness glasses to leprechaun hats and face paints, obligatory attire for the parade.
"It's a very important week for the business," said Peter Hyland, Managing Director. "It's extremely busy and customers generally want to add some last-minute fun to their outfits like novelty hats."
This year's St Patrick's Festival, which spans four days, will be the biggest celebration to date, according to Fáilte Ireland, and Dublin's economy will benefit to the merry tune of €50m.
Half a million people are expected to line the streets of the capital to view today's parade, and 28% of them will be overseas visitors. More than half of those tourists will be visiting Ireland for the first time.
The tourism body also supports regional St Patrick's Day events and celebrations in Cork, Killarney, Limerick, Waterford, Sligo, and Kilkenny which drive visitors to regional locations across the weekend.
Festival organisers say it's difficult to quantify the impact of the festival on 'Brand Ireland' and the Irish economy. "We do know that the festival produced 12,000 days employment in total across tech, production, contractors etc in 2022," a spokesperson said.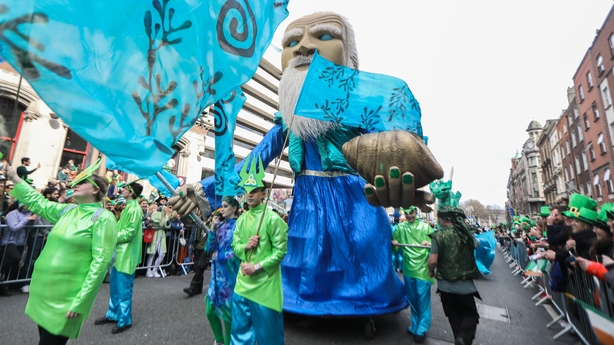 As well as a boost in employment, there was also a surge in spending in 2022.
The Bank of Ireland Spending Pulse tracks debit and credit card consumer spending. "Our spending analysis of the same period in 2022 revealed a major spike in social spending and domestic travel levels, and more of the same is on the cards this weekend," said Jilly Clarkin, Head of Customer Journeys & SME Markets at Bank of Ireland.
Spending in pubs and restaurants between March 14 and 19, 2022, rose by 39% and 14% respectively when compared to the same period the previous week.
A bumper week of sport gambling spend also rose by 56% during the holiday period last year, a pattern that could be mirrored this year with the Cheltenham Festival and the Six Nations decider.
"We expect a bumper weekend of spending to kick off on St Patrick's Day this Friday," Ms Clarkin said.
St Patrick has been good to business, and business is good to support the celebrations surrounding our patron saint.
That support is very important to the St Patrick's Festival, and this year KIA Ireland, Waterways Ireland, Disney 100 and Irish Ferries are among the organisations sponsoring pageants and performances in the parade in Dublin.
"We work with commercial partners at almost every junction of the festival, in transport, hospitality, logistics, and directly supporting the festival programme itself," organisers said.
"It's very much a collaboration between partners. The festival benefits hugely from engaged partners, and we believe that we have something very powerful to offer to businesses who choose to work with us."
As well as being a festival partner, daa is working with Fáilte Ireland to ensure a true Irish welcome in the terminals at Dublin Airport over the St Patrick's weekend, with a number of Irish dancing groups set to entertain 212,000 passengers at arrivals.
A dedicated team of Fáilte Ireland 'Meeters and Greeters' will be in Terminal 1 and Terminal 2 arrivals halls to guide passengers on their way to the festivities.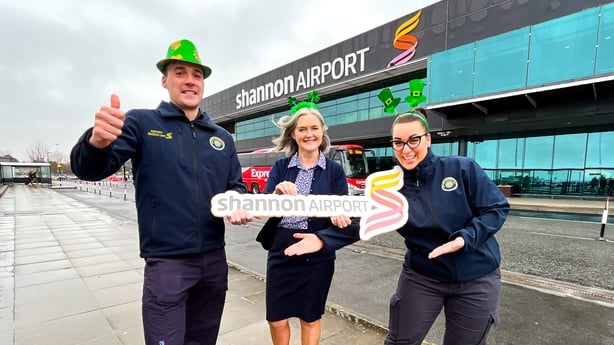 Shannon Airport is also expecting a boost to its passenger traffic this St Patrick's Day period as 30,000 people are due to travel through the airport, a 24% increase on last year.
CEO of the Shannon Airport Group Mary Considine said, "the St Patrick's Day holiday period signifies the start of the summer season at the airport, as people arrive and depart for what is often their first trip of the year. The bank holiday also coincides with the annual Cheltenham racing festival, so we are prepared for a busy week."
It is tradition to wet the shamrock on St Patrick's Day, and many visitors and locals alike will enjoy a pint of the black stuff.
Guinness cannot disclose how many pints are sold in Ireland on St Patrick's Day because it is commercially sensitive information.
However, to help people wet the shamrock and not drown the shamrock, Guinness 0.0 has launched its biggest ever responsible drinking campaign, 'Make it a St Patrick's Day to Remember'. It's a message of moderation.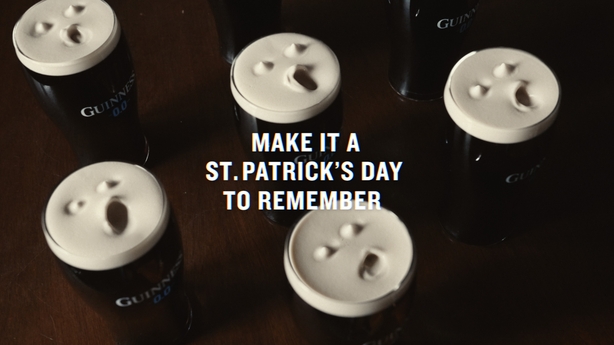 The St Patrick's Festival is also one of the busiest times of year for the Guinness Storehouse.
On the approach to the famous black gates during this year's festivities, Dublin artist Cyan will bring some colour to the Liberties streets and Parkour performer Glenn McMahon will pop up outside to the backdrop of live music and entertainment.
Guinness is also the title sponsor of the Six Nations and celebrations for St Patrick's Day will extend across the weekend if Ireland secures a victory over England on Saturday to complete the Grand Slam.
The highly-anticipated clash is a boost to business at Carrolls Irish Gifts. "With Ireland chasing grand slam glory, it will no doubt be a very busy weekend in the city and we are seeing our Guinness Six Nations merchandise selling really well throughout the tournament," said Mr Hyland.
Hats, scarves and gloves, also sell well around St Patrick's Day. "I expect this trend to continue this year with the weather forecast to be very mixed," he said.
St Patrick has been good for tourism. He has helped showcase Ireland as a tourist destination to people around the world.
Fáilte Ireland has welcomed 45 global print, broadcast and online media with a reach of 22 million people to Ireland to cover St Patrick's Day and the visitor experiences across the country.
However, high prices are a risk to Ireland's reputation as a tourist destination.
Hotel rooms in Dublin city are almost completely sold out this weekend, but room prices in the capital have jumped by 18% over the last three years.
Denyse Campbell, President of the Irish Hotels Federation said room availability will always depend on events and pressure nights, which drive up prices.
"Over the St Patrick's weekend, Dublin is effectively sold out".
Ms Campbell said that Dublin is not an outlier when it comes to rising hotel prices across Europe, giving Paris as another example of a city where room prices have risen by 34%, and Rome where room rates have gone up 29%.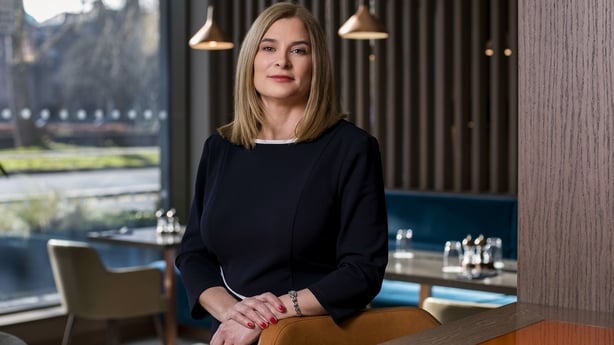 "Dublin room rates have increased 18% over the last three years and that's really on the back of the huge costs we've incurred. Our energy costs have increased hugely, the cost of doing business, our food inputs, inflation has affected it".
Dr Loretta O'Sullivan, Chief Economist at EY Ireland, said while the Irish economy expanded apace again in 2022 to top the European growth league table, the distribution, transport, hotels, and restaurants sector is still playing catch up.
"Activity in this sector was especially hard-hit by Covid-19 restrictions but is expected to return to its pre-pandemic level this year, helped by events like St Patrick's Day. Among the many benefits the festival provides, spending by overseas and domestic visitors and local residents is a significant economic one."
Fáilte Ireland has encouraged tourism businesses to be mindful of not just the revenue for today, but our reputation for tomorrow when setting prices during times of high demand.
In December, Fáilte Ireland's CEO Paul Kelly wrote directly to accommodation providers to inform them that Fáilte Ireland was focusing on compliance with providers' submitted scale of charges in 2023 and to ask every individual business to consider the wider implication of its price setting models.
Mr Kelly advised that short term excessive pricing in a time of capacity constraints will damage the value for money reputation of Ireland as a visitor destination which takes many years to repair.
"The dollar to euro exchange rate has been a significant help in value perceptions among US visitors - however, we are seeing early warning signs on our value for money ratings among domestic, UK and European visitors and this is something that is concerning to Fáilte Ireland and which the industry, needs to be mindful of," Mr Kelly said.