It is estimated that around 156 million people will vote in this year's US Presidential Election.
With a global pandemic raging on, some states have been looking at alternative methods for casting ballots to make voting easier and safer.
Rather than have crowds waiting in long lines at polling stations, officials have spent months exploring postal voting with the hope of reducing the spread of coronavirus.
But queues of people forming are not the only reason for a focus on voting by mail. Many poll workers in the US are not comfortable working at polling sites due to the virus.
More than half of polling workers during the 2016 presidential election were over 61 years of age, according to a US Election Assistance Commission's Voting survey.
With the risk for severe illness from Covid-19 increasing with age, some voting sites closed during primary season this summer due to a lack of staff. Among the causalities were several stations in Bexar county in Texas during the state's run-off elections in July.
This year, universal mail-in voting and absentee ballots have become the two most talked about alternative options to heading, physically, to the polls on 3 November.
One is blasted by the president the other is championed by Democrats.
The rules surrounding both methods can be quite confusing, primarily because each state governors its own election rules. It is not a one size fits all.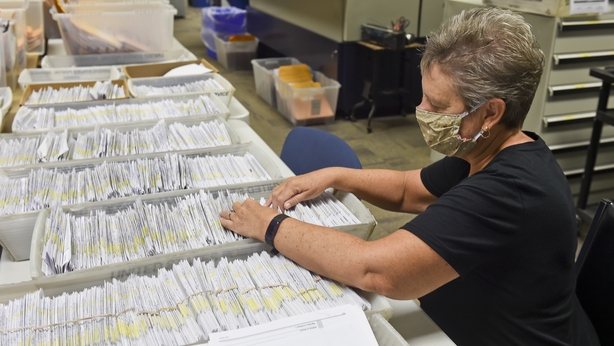 What is universal mail-in voting?
Universal mail-in voting is where state officials automatically send all registered voters ballots, which then have to be posted back or dropped off at a collection point.
Some in-person voting is still available in certain limited circumstances.
Colorado, Hawaii, Oregon, Washington and Utah are among the states which hold elections with universal mail-in voting.
Due to the pandemic this year, California has adopted universal mail-in voting, although some polling places remain open.
Every registered voter, all 21 million of them in California, will be sent a mail ballot.
What are absentee ballots?
An absentee ballot is similar to mail-in voting. It is a postal ballot for when a voter cannot or does not want to attend a polling station.
However, there is a difference.
With universal mail-in voting, every registered voter automatically gets posted their ballot but a voter must officially request an absentee ballot.
Most of the time voters do not need to provide an excuse for why they are not voting in person.
Absentee ballots can be requested without an excuse in Florida, Pennsylvania, Ohio, Michigan and Wisconsin.
In the year of the Covid-19 pandemic, less than a dozen states have decided to automatically send every registered voter an application to request an absentee ballot.
Some states do require a reason to vote through an absentee ballot, including Texas, Indiana, South Carolina, Louisiana and Mississippi.
Excuses could be having to work, being ill, being away from the state you are registered in, or being over the age of 65.
New York Governor Andrew Cuomo approved making all voters eligible for absentee ballots if they cite Covid-19 as a reason they cannot vote in person.
Remember, the rules depend on the state and some reasons are tighter than others.
We need your consent to load this rte-player contentWe use rte-player to manage extra content that can set cookies on your device and collect data about your activity. Please review their details and accept them to load the content.Manage Preferences

Why the controversy?
US President Donald Trump has said there is a fundamental and serious difference between the two systems.
He claims that universal mail-in voting is "catastrophic" and will make the country a laughing stock all over the world.
He has said that it opens up the world of voter fraud and the possibility that people could vote more than once.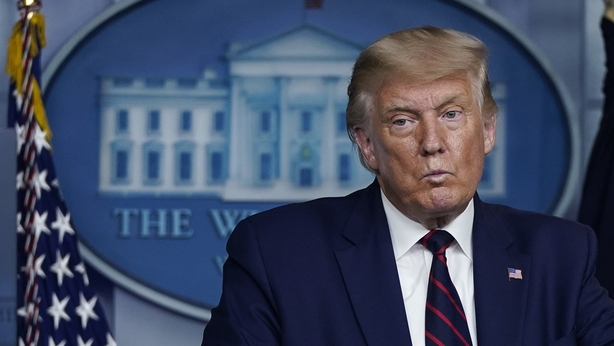 Another one of his claims is that mail-in ballots cannot be verified correctly which could lead to "thousands and thousands of people sitting in somebody's living room, signing ballots all over the place".
Mr Trump and other republicans have made it their mission to highlight the difference between universal mail-in voting and absentee ballots.
They see having to freshly apply for an absentee ballot, rather than automatically getting sent one in the post, as an extra secure step in the voting process.
So, what are the facts?
Verification
- Regardless of the system, a person must be registered to vote to receive a ballot through the mail. Both universal mail-in voting and absentee ballots are methods of postal voting. They have to be filled out at home and posted or put into ballot drop boxes.
- For any postal vote to be counted, the voter's information must be verified by state elections officials. With states having their own rules, the verification process varies.
- In Oregon, the absentee envelope and ballot have a barcode unique to each voter which could identify duplicate barcodes.
- Safeguards in California for voting by mail include signature matching and unique barcodes on each ballot's return envelope. Verifying signatures uses a mix software and staff to check signatures with those on file.
- Alabama requires a copy of the voter's ID to be included with an absentee ballot and either two witnesses older than 18 must sign the envelope in addition to the voter.
- In Maine, a signature by the voter on the envelope is compared to the signature on the absentee ballot.
- In other states, voters must include personal identifying information, such as an address, birthday, driver's license number or last four digits of a Social Security number.
Fraud
- There have been isolated cases of postal ballot fraud, such as in the 2018 North Carolina primary. It was re-run after a consultant for the Republican candidate tampered with voting papers. A consultant for Mark Harris' campaign was accused of illegally posting absentee ballots during November's mid-term election campaign.
- In New Jersey this year, two Democratic councillors charged with alleged fraud in relation to postal voting, after hundreds of ballots were found stuffed in a post box.
- Oregon has held postal elections for 20 years and has reported 14 fraudulent votes attempted by mail.
- A 2017 study, by the Brennan Centre showed that the rate of voting fraud overall in the US is between 0.00004% and 0.0009%.