One of four US police officers involved in the arrest of a black man in Minneapolis, who died after being pinned him with a knee to the throat, has been arrested and charged with third-degree murder and manslaughter, officials in Minnesota have said.
Derek Chauvin, who was seen in a video pressing his knee to the neck of handcuffed George Floyd for at least five minutes on Monday, has been arrested, confirmed John Harrington, the Commissioner of the Minnesota Department of Public Safety.
Mobile phone footage showed 46-year-old Mr Floyd repeatedly moaning and gasping while he pleaded to Mr Chauvin, kneeling on his neck, "Please, I can't breathe". After several minutes, Mr Floyd gradually grew quiet and ceased to move.
"I have just received information from Andrew Evans, the superintendent of the Bureau of Criminal Apprehension, that the officer who has been identified as Derek Chauvin in the death of Mr Floyd has been taken into custody," Mr Harrington told reporters.
Prosecutor Mike Freeman said Mr Chauvin has been charged with third degree murder and manslaughter.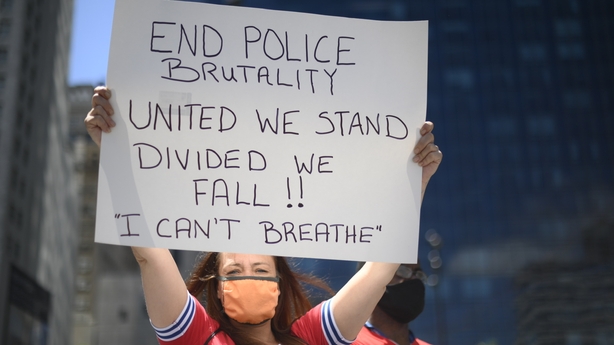 The three other police officers involved in the incident remain under investigation and Mr Freeman said he expects to file charges against them.
Mr Floyd's relatives - who spoke yesterday to President Trump - welcomed news of the officer's arrest as a "step on the road to justice".
But they said they hoped for tougher charges and action against the other officers involved in Mr Floyd's detention and death.
"We want a first-degree murder charge. And we want to see the other officers arrested.
"The pain that the black community feels over this murder and what it reflects about the treatment of black people in America is raw and is spilling out onto streets across America," they said in a statement.
It comes as 500 National Guard soldiers and air force members were deployed in the northern US cities of Minnesota and St Paul after three nights of violent protests over the death of Mr Floyd.
"Our troops are trained to protect life, preserve property and ensure people's right to peacefully demonstrate," said Major General Jon Jensen of the Minnesota National Guard.
US President Donald Trump had earlier said on Twitter that he would send the National Guard troops and "get the job done right" if Mayor Jacob Frey failed to bring the city under control.
"Any difficulty and we will assume control but, when the looting starts, the shooting starts," he said.
Twitter marked the tweet as a violation of its rules over glorifying violence, but noted it may be in the public's interest for the tweet to remain accessible.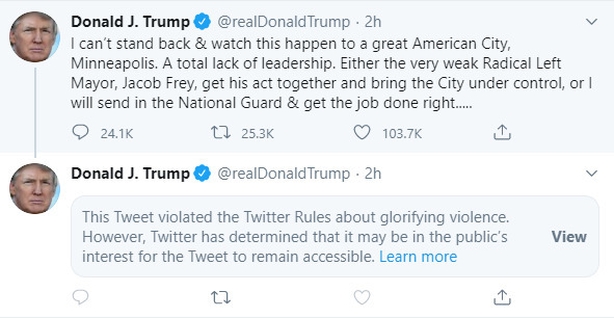 The Floyd case was reminiscent of the 2014 killing of Eric Garner, an unarmed black man in New York City who died after being put in a banned police chokehold as he, too, was heard to say, "I can't breathe".
His dying words became a rallying cry for the Black Lives Matter movement that formed amid a wave of killings of African-Americans by police.
Mr Floyd, a Houston native known affectionately to friends as "Big Floyd" and who had worked as a nightclub security staffer, was suspected of trying to pass counterfeit money at a shop when police took him into custody.