US President Donald Trump said the military could deploy troops to Minneapolis "very quickly" to respond to violent protests in the aftermath of a police killing there of an unarmed black man.
The death of George Floyd sparked protests in several cities across the States, some which have turned violent.
Minnesota Governor Tim Walz activated the state's national guard after four nights of confrontations in Minneapolis, its first full activation since World War 2.
He said the deployment was needed because outsiders were using the demonstrations over the death of George Floyd to spread chaos, and that he expected further "fierce" protests.
A US official, speaking on condition of anonymity, said the military had ordered some active-duty Army military police officers to be prepared to deploy if local authorities requested their help.
"We could have our military there very quickly," Mr Trump said on Saturday afternoon.
Speaking last night from the Kennedy Space Center in Florida after SpaceX lifted off, President Trump denounced the overnight violence in Minneapolis as the work of "looters and anarchists".
"The death of George Floyd was a grave tragedy," he said, adding that Floyd's memory had been dishonoured by "rioters, looters and anarchists".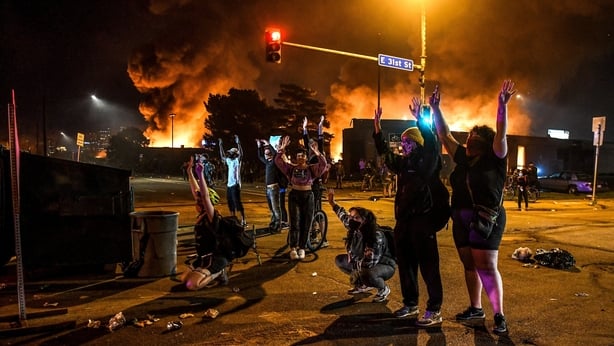 Minnesota has become the epicentre of violence since George Floyd died there in an arrest by an officer who was filmed on video pinning him to the ground for several minutes by kneeling on his neck.
Derek Chauvin was charged yesterday with one count of third-degree murder - unintentionally causing a death - and one count of negligent manslaughter.
"This case is now ready, and we have charged it," said county prosecutor Mike Freeman as outrage grew over the latest death of an African-American in police custody.
But the charges failed to calm a shaken nation whose deep wounds over racial inequality have been torn open anew, with riots raging from New York to Los Angeles in one of the worst nights of civil unrest in years.
We need your consent to load this rte-player contentWe use rte-player to manage extra content that can set cookies on your device and collect data about your activity. Please review their details and accept them to load the content.Manage Preferences
Protests took hold in a swathe of cities including Boston, Dallas, Denver, Des Moines, Houston, Las Vegas, Memphis, and Portland.
In Atlanta police cruisers were attacked and set ablaze as rallies spun out of control, while in the capital Washington protesters collided with Secret Service agents in heated midnight scenes in front of the White House.
The White House was temporarily locked down as hundreds of people gathered across the street in Lafayette Square Park.
After marching away, demonstrators assembled again later and videos showed pushing-and-shoving matches between officers andp rotesters trying to push over metal barriers. The crowd dispersed early this morning.
In tweets hours later, Mr Trump praised the Secret Service officers who guard the White House as "very cool. I was inside, watched every move, and couldn't have felt more safe."
Great job last night at the White House by the U.S. @SecretService. They were not only totally professional, but very cool. I was inside, watched every move, and couldn't have felt more safe. They let the "protesters" scream & rant as much as they wanted, but whenever someone....

— Donald J. Trump (@realDonaldTrump) May 30, 2020
He also tweeted: "Big crowd, professionally organized, but nobody came close to breaching the fence. If they had they would have been greeted with the most vicious dogs, and most ominous weapons," he said. "Many Secret Service agents just waiting for action."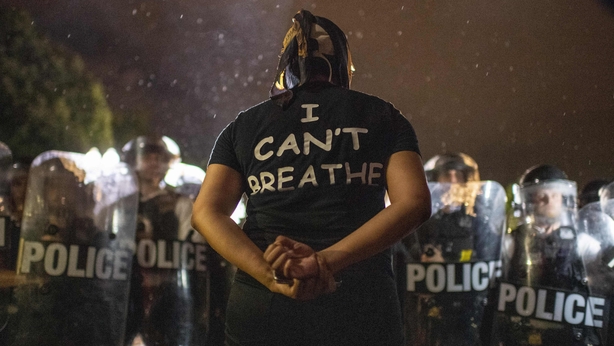 Mr Trump, after attacking the protesters as "thugs" shifted tone yesterday, announcing he had called Mr Floyd's family to express his "sorrow." 
"I understand the hurt, I understand the pain. People have really been through a lot," said the president, who stands accused of stoking tensions with a series of provocative tweets. 
Former vice president Joe Biden, the Democratic candidate who is challenging Mr Trump for the White House in November's election, also spoke to Mr Floyd's family.
He called for justice and said it was time to heal the "open wound" of systemic racism in the United States.
Former President Barack Obama said in a statement that "for millions of Americans, being treated differently on account of race is tragically, painfully, maddeningly normal."
His wife Michelle Obama said on Twitter that she was "exhausted by a heartbreak that never seems to stop".