A plaque commemorating the 1916 Easter Rising has been officially unveiled at the Washington Monument.
The commemorative plaque, which contains the wording of the 1916 Proclamation, was presented to the US National Park Service on behalf of the President and people of Ireland to mark the anniversary of the 1916 Rising.
The Washington Monument has been closed to the public since August 2016 for renovation work.
It will reopen tomorrow, giving visitors their first chance to see the 1916 plaque, which has been hung inside the monument.
The Washington Monument contains commemorative and memorial stones received from all 50 states, as well as cities and towns across America. 
There are also memorial plaques from 17 foreign countries.
The offer of a plaque from Ireland was accepted after ensuring it met proper criteria for inclusion in the Washington Monument.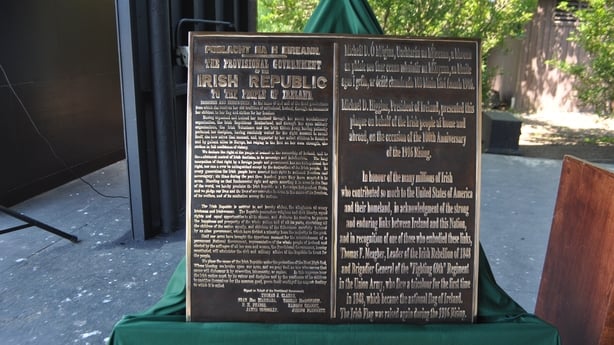 Minister of State Kevin 'Boxer' Moran travelled to the US for today's unveiling.
"This plaque will now be visible to the public for the first time and honours the connection to George Washington and the fight for Independence. This rare honour celebrates the shared heritage of our two nations and reminds us of our precious friendship and ties," Mr Moran said.
Minister of State @kevinboxermoran, @SenatorMarkDaly and Irish Ambassador to the US @DanMulhall are attending today's unveiling of a plaque commemorating the 1916 Rising at the Washington Monument @rtenews pic.twitter.com/x1kUL4YaKv

— Brian O'Donovan (@BrianOD_News) September 18, 2019
Fianna Fáil Senator Mark Daly has worked with the US Department of the Interior and the US National Parks Service to help secure permission for the plaque.  He also attended today's unveiling.
"I am delighted to have been invited to the Washington Monument to see the plaque unveiling. This is a great honour for Ireland and shows the strong and enduring friendship between Ireland and the United States," Mr Daly said.
The plaque unveiling was also addressed by the Irish Ambassador to the US Daniel Mulhall and the US Secretary of the Interior David Bernhardt.
The US First Lady Melania Trump will attend a ceremony tomorrow marking the official reopening of the Washington Monument.
Also there will be the acting White House Chief of Staff, Mick Mulvaney, who will view the 1916 plaque with Irish officials.