A plaque commemorating the 1916 Rising has been hung inside the Washington Monument on the National Mall in America's capital.
The bronze plaque features the wording of the 1916 Proclamation and is intended to mark the joint centenary of the Rising and foundation of the National Parks Service.
The plaque commemorates Irishman Thomas  Francis Meagher, born in Waterford but who was sentenced to death for his part in the 1848 rebellion, was deported to Tasmania, escaped to New York and later played a leading role in the American Civil War.
The request to hang the plaque was initially made by Fianna Fáil Senator Mark Daly.
It was officially presented today by the Minister of State Seán Canney, on behalf of President Michael D Higgins and the People of Ireland.
The plaque will hang in the stairwell inside the Monument which has 193 commemorative and memorial stones from all 50 States and 16 foreign countries.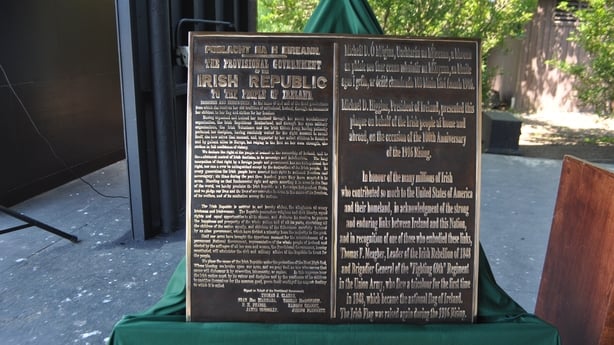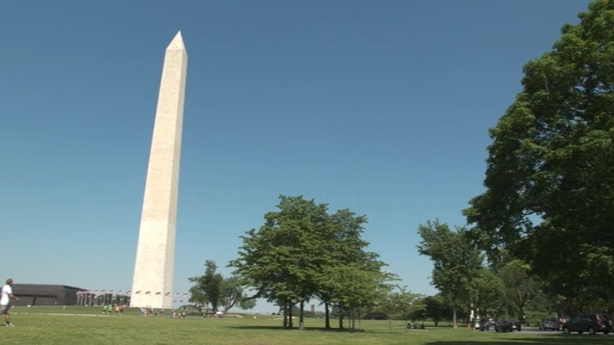 The majority of the memorial stones were received between 1849 and 1855.
The most recent stone to be added was in 1982, in recognition of the State of Alaska.
Alaska was the most recent state to join the union, doing so in 1959.
The plaque was accepted by the Assistant Director of the National Parks Service, Jeff Reinbold.
The Director of the Office of Management and Budget in the Trump adminstration Mick Mulvaney was also present - he is a proud Irish-American.
Along with Democratic Congressman Brendan Boyle, Republican Mick Mulvaney planted an oak tree on the grounds of the US Capitol Building last May to commemorate 1916.
The plaque is hanging near the stone that represents New York to mark the connection between Ireland's patriots and that state.
A plaque from the people of Ireland to mark centenary of 1916 & @NatlParkService has just been hung inside the Washington Monument @rtenews pic.twitter.com/JQnb71fFe3

— Caitriona Perry (@CaitrionaPerry) May 18, 2017