It's a Tuesday evening, and at Windsor Park in Belfast, Linfield is taking on Cliftonville in a league match.
The fans of these two teams come from opposite sides of the community.
Cliftonville supporters are predominately nationalist, Linfield mostly unionist.
The tie is always keenly contested.
Just inside the ground, Paul Doherty has parked his van and set up his stall.
He runs a foodbank, supporting 400 families across the city, and for the first time he is collecting at a game.
The initiative has been well promoted on social media and there is a steady stream of fans arriving with bags of food or dropping cash into collection buckets.
Mr Doherty is delighted with the response. It far outweighed his expectations.
He says where politicians have failed with the collapse of Stormont, people are stepping in to help one another.
Children are going to bed hungry and waking up in the morning to a cold home. That's the reality of the cost of living crisis
"We need to come together as one community to try and get people through this winter and that's what we're seeing here, an incredible response.
"Many people don't have it to give and yet they're turning up tonight, they're donating and they're looking out for others and I think that's a fantastic thing."
He is at the sharp end of a cost of living crisis, driven by rising food and fuel prices, rent and mortgage bills.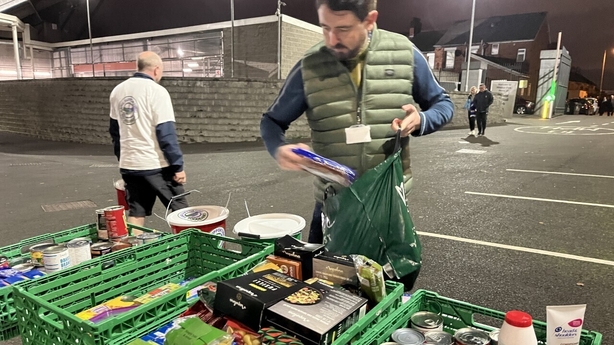 We need your consent to load this rte-player contentWe use rte-player to manage extra content that can set cookies on your device and collect data about your activity. Please review their details and accept them to load the content.Manage Preferences
He is getting as many referrals in a day now as he used to in a week.
"People are coming to us in real distress at their wits end. They've dropped their kids off to school on an empty stomach and people are phoning in to say they don't have anything for the children coming home as well.
"Children are going to bed hungry and waking up in the morning to a cold home. That's the reality of the cost of living crisis."
Political turmoil
There has been no functioning Executive at Stormont since February. Power-sharing has not been restored after May's assembly election.
The DUP is refusing to go back in until its concerns about the Northern Ireland Protocol are addressed.
There were caretaker ministers in charge of departments until the end of October, but they are now gone too, and there is no certainty about when they will be back.
When Westminster announces cash to address cost-of-living issues, Northern Ireland gets a share under a funding formula called the Barnett Consequentials.
But Executive approval is neededto spend that cash - so some £270m (€309.2m) is locked up and cannot be distributed.
It doe not have to be used to address the cost-of-living pressures, but experts say it should be, and to do otherwise would be unconscionable.
Dr Ciara Fitzpatrick is a lecturer at Ulster University's School of Law, specialising in the social security system.
People on benefits have been given £650 (€744.41) across two payments.
A energy price cap has taken effect but a £400 (€458.10) electricity credit promised to all has been delayed by the absence of Stormont institutions.
Dr Fitzpatrick said a functioning Stormont could really shape how people in Northern Ireland are helped.
"It could make a huge difference. We just have to look at our neighbours over the border in the Republic of Ireland to see the sort of social security supports they've put in place for people.
"They've put in place an extra €12 a week for everyone who's on social welfare.
"Something that myself and other campaigners have been calling for here in Northern Ireland is the reinstating of the £20 (€22.90) a month uplift to Universal Credit for six months to help people get over the winter.
"That would cost about £192 million (€219.9m). We have that money in a devolved setting ready to go. We could get it out to people immediately because we already have the baseline legislation in place.
"So this idea that a Northern Ireland devolved executive would be powerless to do anything is absolute nonsense."
There is a huge & growing chasm between social welfare support provided in ROI compared with what is delivered through the social security system in NI. I was pleased to discuss this with @TVconormac @ArinsProject @MikeTQUB. https://t.co/LTAUwbo9CR

— Dr Ciara Fitzpatrick (@C_Fitz_) November 15, 2022
She said working families on modest incomes are getting caught in the poverty trap as wages fail to keep up with inflation.
People aren't living at the moment, they're existing, she said.
That is how Caroline Rice feels. A working mum with a young daughter, she is struggling on the modest and fluctuating income from her job as a classroom assistant and a benefits top up.
Everything has gone up in price: electricity, diesel, food and the only thing that has not increased is her wages.
Her daughter had gone away for the weekend when we meet.
Caroline said she will not put the central heating on or light the fire until her daughter returns.
It is a big thing for her, trying to protect her child from the worst of the impact.
She has had to borrow money to tide her over, but tries everything to avoid it.
"I'm proud, I'm very stubborn too. I would try and stretch everything before I get to that stage.
"I have gone to the food bank on occasions...it's trying to do stuff without my child seeing it. But she does see it, she knows it's there, she knows that money is tight.
"But it's also trying to ensure that she has a wee sense of normality because I remember what it was like growing up on a low income and I want to break the cycle with her.
"But it's bleak."