The law is to be changed to defer an Assembly election in Northern Ireland by six weeks, with an option to extend by a further six weeks.
The new deadlines are now 8 December with the potential for a further six week extension to 19 January if necessary.
That would mean an election would need to be held by either 2 March or 13 April next year if an Assembly is not formed.
Minister for Foreign Affairs Simon Coveney has welcomed the announcement by Northern Ireland Secretary Chris Heaton-Harris, saying that the people of Northern Ireland need functioning institutions.
"The Secretary of State's announcement provides further space for early substantive progress in discussions between the EU and UK on the issues of most concern to people and business in NI.
"I urge the UK authorities to make use of this renewed opportunity to engage positively, and with real urgency, in the knowledge that the European Commission has listened carefully to the concerns of people across Northern Ireland, including and especially Unionists," Mr Coveney said.
Mr Heaton-Harris said the legislation will allow Northern Ireland's departments to support public services, and that extra powers are to be given to Stormont civil servants to enable them to run public services.
The move will require legislation to be passed at Westminster.
Mr Heaton-Harris added that the UK will not consider a joint authority government in Northern Ireland.
He said: "I must take limited but necessary steps to protect Northern Ireland's public finances and the delivery of public services.
"The legislation I introduce will also enable Northern Ireland departments to support public service delivery, make a small number of vital public appointments, like to the Northern Ireland policing board, and address the serious budgetary concerns.
"There are some who have called for joint authority of Northern Ireland in recent days and let me just say this will not be considered.
"The UK government is absolutely clear that the consent principle governs the constitutional position of Northern Ireland, under which Northern Ireland is an integral part of the UK. We will not support any arrangements that are inconsistent with that principle."
Mr Heaton-Harris has said he will introduce legislation to "provide a short straightforward extension to the period for executive formation".
"This aims to create the time and space needed for talks between the UK government and the European Commission to develop, and for the Northern Ireland parties to work together to restore the devolved institutions as soon as possible."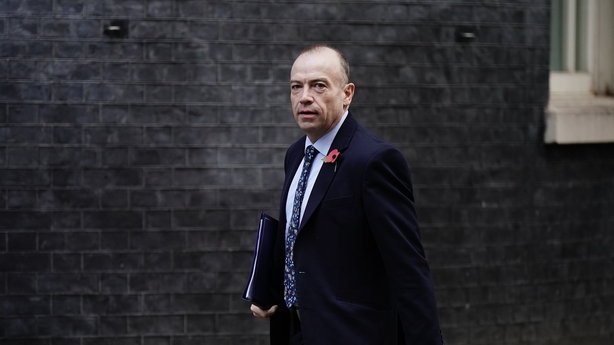 Mr Heaton-Harris also announced plans to cut the pay of Assembly members.
Assembly members currently get a basic salary of £51,000 (€58,119), and the expectation is that that this will be cut by around a third with plans to have the reduction in place in time for Christmas.
"When so many are concerned about the cost of living in Northern Ireland, I know the public there will welcome a further measure I intend to address," Mr Heaton-Harris said.
"People across Northern Ireland are frustrated that the members of the legislative assembly (MLA) continue to draw a full salary whilst not performing all of the duties they were elected to do".
The intention may be to put pressure on DUP MLAs to accept a compromise on the protocol and return to power-sharing.
The DUP is refusing to re-enter government over its objection to the terms of the protocol requiring checks on goods moving from Great Britain to Northern Ireland.
DUP leader Jeffrey Donaldson said that people who say that no one party should have a veto should read the Belfast Agreement again.
He told the House of Commons: "Can I just say to the Secretary of State that the Belfast or Good Friday Agreement is based upon the principle of consensus, cross-community support and when I hear some members in this house saying that no one party should have a veto and praising the Good Friday Agreement, maybe they need to read the agreement again and recognise that it's cross-community.
"And the silence from some when Sinn Féin held no government in Northern Ireland for three years, they kept us without a government and nothing was said, nothing was said about removing the Sinn Féin veto."
Mr Donaldson told the Northern Ireland Secretary that courage, understanding, and compromise are "good words" but what the people of Northern Ireland need is "a solution that sees the institutions restored on the basis that Northern Ireland is an integral part of the United Kingdom".
Sinn Féin vice-president Michelle O'Neill said the uncertainty over an election was not good enough.
"What we now have are new deadlines, multiple deadlines, in which he may or may not call an election," she told reporters at Stormont.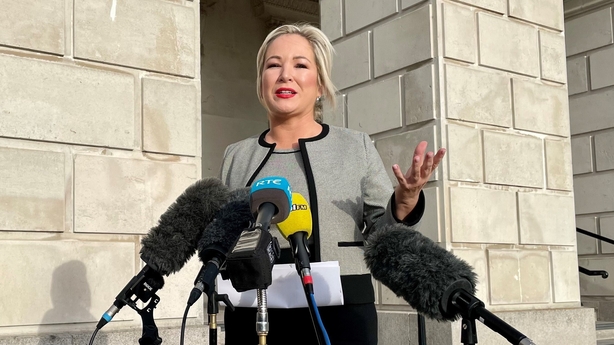 "So this is not a good enough space for people to be in and I think the fundamental question today has to be around what's next? What do the British Government intend to do to find an agreed way forward on the protocol?"
She said tomorrow's meeting involving the Taoiseach and the British prime minister afforded an opportunity to find out.
On the cutting of MLA pay, she suggested that it would have been better to target this measure towards those "failing to turn up and join all the rest" in politics.
Ms O'Neill said Northern Ireland was now facing the prospect of an "unadulterated Tory budget" being imposed which she said was not a good position as it takes away the local minister approach.
"He (Mr Heaton-Harris) has taken powers obviously to set a budget that allows the lights to be kept on but doesn't allow any new decisions, doesn't allow us to actually plan for the future, doesn't allow us to invest and prioritise our health service, doesn't allow us to deal with the issue of public sector pay," she said.
SDLP leader Colum Eastwood said the DUP had "no excuse" not to return to Stormont.
"They have no justifiable reason for hanging about while people's homes get colder and their cupboards get emptier," he said.
"I welcome the move to cut MLAs pay, let me be clear - SDLP MLAs want to be at Stormont every day working to deal with the huge number of issues impacting people in our communities, but while they are prevented from doing a key part of their jobs and so many families here are struggling.
"We understand the frustration the public is feeling."
Under the current law Mr Heaton-Harris was obliged to call a fresh election by mid January after MLAs failed to restore power-sharing after the May 2022 poll.
Mr Heaton-Harris had been adamant that he would call an immediate assembly election if power-sharing was not restored by the end of October.
That was the deadline for forming an Executive after last May's election. But last week he announced a U-turn, saying that would not happen.
It is thought the change has been driven by the British government, which hopes to use the additional time to try to secure a deal with the EU on the Northern Ireland Protocol.
Meanwhile, Northern Ireland minister Steve Baker has said that talks with the European Union to resolve issues over the Northern Ireland Protocol are "constructive".
Asked to detail the progress in fixing issues with the protocol, Mr Baker told the House of Commons: "The government is engaging in constructive dialogue with the European Union to find solutions to the problems the protocol is causing.
"We are, of course, also proceeding with the legislation before the House which aims to fix these problems in the event we cannot reach a negotiated solution, but it is the Government's preference to reach a negotiated outcome."
Additional reporting PA and Reuters