People in parts of Northern Ireland have begun paying their own tributes to Queen Elizabeth II in advance of the official programme of commemoration.
On Belfast's Shankill Road - sometimes referred to as the "Heart of the Empire" - floral tributes were piling up at a huge mural marking Queen's Elizabeth's 70 years on the British throne.
Among those gathering to lay flowers and take photographs was Stacey Graham, a local loyalist activist.
She was close to tears as she spoke about how she was feeling.
"I'm devastated, I think I'm going to cry again," Ms Graham said.
"I think she just epitomised what being British was all about, just that sense of love and kindness and community and that warmth that she had.
"She was everyone's grandmother and I think everybody will be just so devastated now that she's gone."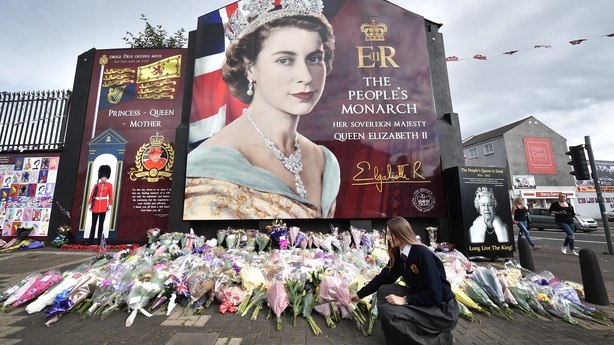 The three local daily newspapers were dominated by coverage of the queen's death.
Electronic street signage in Belfast city centre carried a picture of her and the duration of her reign.
Books of condolence have been opened in Derry and in Belfast City Hall as crowds gathered.
Sinn Féin vice president Michelle O'Neill was among those signing the book in Belfast and she appealed for people to be respectful following the death of Queen Elizabeth.
She made her comments after being asked about reports of footage on social media which appeared to show a cavalcade of cars and fireworks being lit in apparent celebration following the royal death.
Some graffiti had also appeared on walls in Derry mocking the news.
Ms O'Neill said: "This is a time for everybody to be respectful. Queen Elizabeth has died, there is a family that is mourning her loss.
"At the end of the day, she may have been the Queen of England but she was also a mother, a grandmother, I think people should be very respectful."
She added: "I don't think its appropriate for anybody to be engaged in any kind of jokey-type behaviour, someone has died and I think it's important that we are all respectful."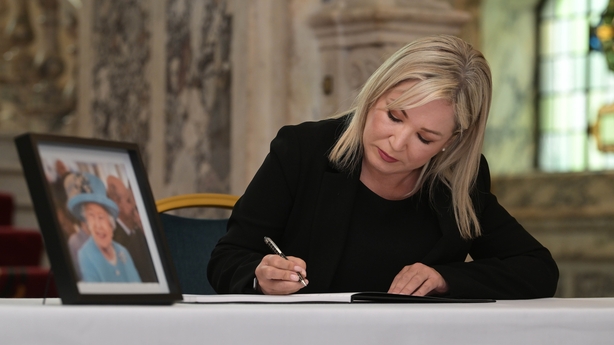 At the queen's official residence in Northern Ireland, Hillsborough Castle, a 96 gun salute at midday was the starting point for 10 days of official mourning.
Floral tributes were being left at the imposing gates of the castle, which will be the location for ceremonial activities in the region.
It will remain closed to the public for the duration of the royal mourning period.
The picturesque Co Down village was renamed Royal Hillsborough last year to mark its close affiliation with the royal family.
The queen had been due to visit to mark the name change last year but was unable to travel on the advice of her doctors.
In nationalist areas people are getting on with life, with only one eye on the news.
When we approached people in Anderstonstown in west Belfast – just a couple of miles from the Shankill where people were in tears – there was a quiet acknowledgment that this was a moment in history.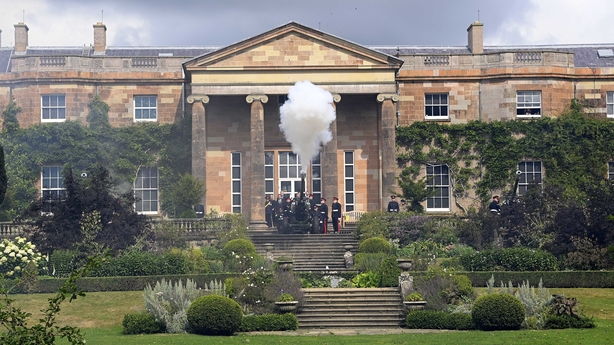 One man we stopped said he would offer respect to any person who had lived a long life and died.
"But there's a lot of history too," he added.
An elderly lady said she was sorry to hear of the queen's passing and felt that she had "reigned well".
A young woman said with her passing it was time to abolish the monarchy.
"You look at her and she's just like a wee granny, but I'm completely opposed to the royal family," she said.
What is accepted though, is that the queen played a pivotal role in the peace process.
Her state visit to Ireland in 2011 and her public handshake with republican leader Martin McGuinness helped bed-in the peace and normalise relationships.
DUP leader Jeffrey Donaldson told the UK House of Commons today that the queen's death should inspire the island of Ireland to "complete the journey" that will deliver "true healing and reconciliation".
He said her visit to the Republic of Ireland in 2011 was "groundbreaking" and she reminded people that "forgiveness lies at the heart of her faith and that it can reconcile divided communities".
"The MP for Lagan Valley told the Commons: "During the most traumatic days of our troubled past in Northern Ireland, Her Majesty visited with us many times to show solidarity with her people in their darkest of hours."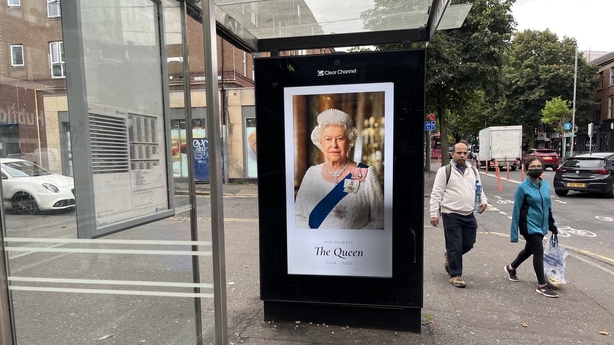 The Church of Ireland Primate Archbishop John McDowell said she had shifted mindsets on both sides of the border with her approach.
"People had political standpoints and with that came a fixed view of the monarchy either very strongly for or very strongly against," Archbishop McDowell said.
"But I think her personality over the years and the very clear fact that in a non-political way but also in an incontrovertible way she was behind the peace process, meant that people from all backgrounds, north and south, were able to identify with what she was trying to do."
Among those at Hillsborough Castle this morning was local man Robin Campbell, who brought along his children James and Anna.
He said: "We have come as a mark of respect for the queen's passing.
"It has been very sad, I just wanted to show the kids."
One tribute left on a white card read: "Rest in peace our kind and beautiful Queen. Our hearts are broken. Long live the King xxx."
The message on another floral tribute said: "Hard to imagine a United Kingdom without you."
Additional reporting: PA news