Rossmore Castle in Co Monaghan has been brought back to life through the virtual world of Minecraft.
The castle, which is located just outside Monaghan Town, was demolished in 1974.
This new innovative project has rebuilt the castle through the Microsoft Minecraft game and allows students to walk through its regal halls again.
The programme gives students a tour of a full 3D replica of Rossmore Castle.
Outside, they can plant a pollinator garden in the Walled Gardens or combine chemicals in the Gas House.
The project, between Monaghan County Museum and Armagh-based digital specialist AmmA, was funded by Creative Ireland.
As an educational resource, those behind the project say its applications are limitless.
"As part of developing this game and this world, we loaded it with educational resources because there's so much to learn", said Daniel O'Reilly, from digital creative learning company AmmA.
"You're seeing a castle, you're seeing a little bit of history, but once you delve into it, it opens up so many opportunities for learning."
It's hoped the project will give a whole new generation of Monaghan people a greater understanding of an important part of the region's recent history that has been largely forgotten.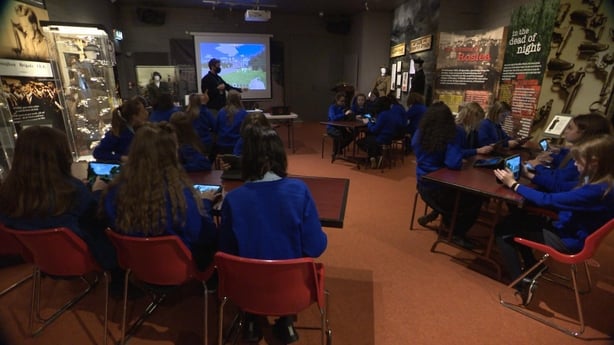 Historians say having this very accessible resource available, will empower the whole community to find out more about their local history and heritage.
"It's about bringing history to life and the idea of finding ways of making it interesting and relevant", said Liam Bradley, Monaghan County Museum Curator.
"By using a virtual reality programme like this we are allowing people to interact in a world that they know from walking around, but through Minecraft they can look at it in a very different way and enjoy and learn more about it."
Though it is being used as an educational resource now, there is a wider, public roll-out on the cards.
It is hoped that this will enable a larger, international audience to explore the history and heritage of the region.
It will also be a catalyst for similar heritage sites elsewhere in Ireland.
The Westenra family, who once lived in the castle, have given the project their seal of approval.