Northern Ireland's Deputy First Minister Michelle O'Neill has said she would like to see the Stormont Executive publish its plans for emerging from Covid-19 related restrictions on Thursday.
The power-sharing body started its discussions yesterday about how it might ease some of the emergency provisions.
Ms O'Neill said the virus should be tackled on an all-island basis and she wanted to see alignment with measures published by the Irish Government last week.
The disease, the Sinn Fein deputy leader added, is moving across Ireland in the same way.
She was speaking at the Bloc Blinds factory in Magherafelt, Co Derry, where staff are manufacturing personal protective equipment for health workers.
But, at the daily coronavirus briefing in Belfast, Northern Ireland's Health Minister Robin Swann warned against complacency and said any change in restrictions would be gradual.
"I am becoming increasingly concerned. I am concerned that the debate on the future of the lockdown is getting ahead of itself.
"It is getting ahead of the reality people are still facing.
"It would pile tragedy upon tragedy if Northern Ireland lost its way at this stage.
"We need to stick to what we are doing to keep saving lives."
Meanwhile, the chief medical officer has said it will be several weeks before it is safe to ease Northern Ireland's coronavirus lockdown.
Dr Michael McBride said: "We just need to ensure that we don't give mixed messages at this time.
"I would be reluctant to put in place an artificial time frame for those decisions prematurely."
Northern Ireland's death toll from Covid-19 has climbed by 17 to 404, latest figures show.
A total of 3,881 cases of the virus have been confirmed.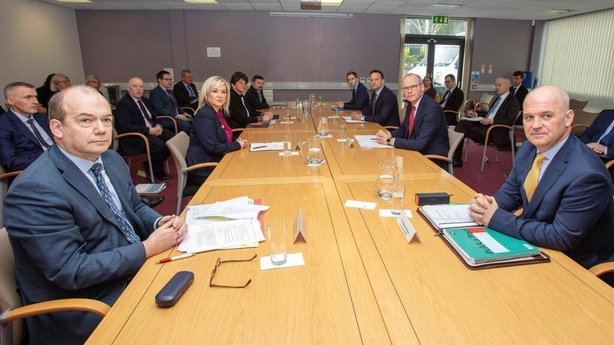 Dr McBride said: "People are tired and we have a number of weeks to go yet before we are in a position where I believe the evidence suggests that it would be safe to step down any of these measures without seeing that R number (the number of people each person with the virus infects) increase and us getting back to that situation where we had an exponential growth."
"It is about sequencing of these steps and assessing the impact that that is then having on the R number," he said.
"To put dates on that at this time would be very challenging, some might say it is speculative as we just don't know the impact that easing of the current measures would have on how the virus is spreading."
Dr McBride added: "Now is not the time to confuse the public with discussion about easing the measures."
He said it was not yet safe to ease up on the movement restrictions, adding: "We have work to do in terms of planning."
Additional reporting PA
---
Read more:
How a Derry blinds company struck up the perfect match
Latest coronavirus stories
---