The Meadowbank Sports Arena outside Magherafelt in Co Derry is the largest indoor facility of its kind in Europe.
Last year it was also used as a Count Centre for European and Westminster elections. These days it is churning out up to two million face masks every week.
They are used north and south of the border, on the neighbouring island and beyond.
Over 300 people are working there. With shift work and the use of specialised equipment, production could if necessary be upped to an incredible six million masks per week.
How the sports centre became a busy factory is another extraordinary story.
It's a very vivid example of the instant business match-making that can sometimes take place on social media.
In late March, Roger McMorrow, the Clinical Director and a Consultant Anaesthetist at the National Maternity Hospital in Dublin, tweeted out an SOS. He was desperately seeking PPE Equipment.
A sharp member of the marketing team at Bloc Blinds, a company in Magherafelt, spotted Roger's message.
And an opportunity.
Samples were exchanged and very quickly, the magic happened.
Bloc Blinds normally does as the name suggests – its day job involves manufacturing and selling blinds.
But in these unusual times an ability to switch to other areas of activity is one way for a business to survive.
Bloc Blinds quickly struck up a partnership with a Belfast-based, Finnish-owned company called Huhtamaki.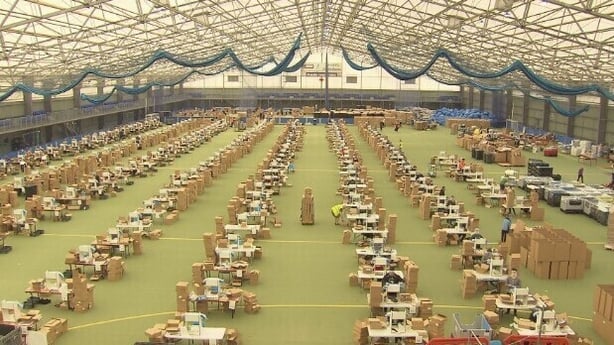 Normally it makes packaging material for the international fast food chain McDonalds and had equipment and expertise to spare.
The partners needed a base where social distancing measures could operate smoothly for their face masks project. The Mid Ulster Council was delighted to make available its vast facility outside Magherafelt.
Suddenly it was all systems go and business has been booming since.
Normally Bloc Blinds employs 80 to 100 people. The 300-plus workers at the Magherafelt Centre include many students. As well as getting the basic minimum wage, they can also earn a bonus of £15 per day, provided they reach production targets.
They aim to produce a minimum of 56 boxes per day - reaching that target triggers the bonus, plus an extra 25 pence for ever box made after that.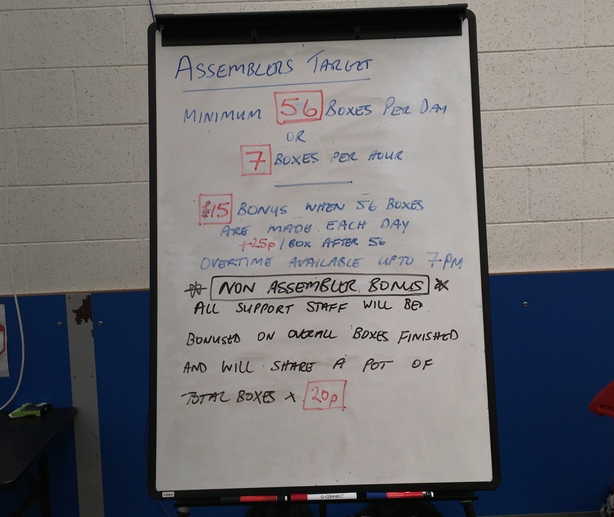 The Stormont Executive's First and Deputy First ministers, Arlene Foster and Michelle O'Neill, have thanked all involved in the initiative.
Sinn Fein's leader in Northern Ireland visited the site earlier today and was given a tour of the venue.
In the past, heating the huge arena was often a challenge. Politicians and their supporters arriving for long counts often came equipped with heavy coats. The unusually warm weather of recent weeks is proving an unexpected bonus.
It is impossible to predict how long the get-together will last. But for the moment the mask business is booming.