The many who loved her would not want it to be this way but Lyra McKee had a greater impact on British-Irish, north-south and internal Northern Ireland political relationships than Nancy Pelosi.
On Friday morning, 19 April, the third most powerful politician in the United States, the Speaker in the House of Representatives, was in Stormont, the home of Northern Ireland's power-sharing Assembly when confirmation was emerging about the circumstances of Lyra McKee's murder by dissident republicans.
Ms Pelosi and a clutch of fellow US Democrats were winding up a four-day visit to Ireland, north and south.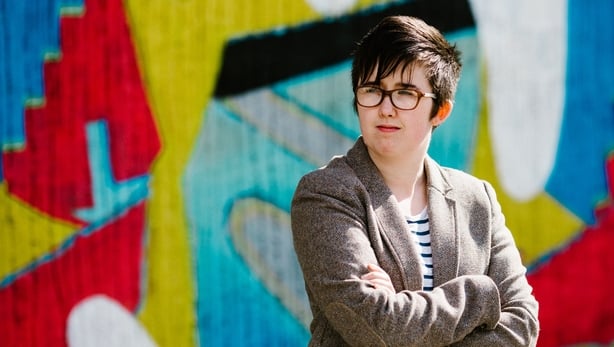 On Thursday 18 April, they had been in Derry, the scene of Lyra McKee's murder just hours before a gunman, targeting PSNI officers, had instead killed the journalist.
The US visitors had been feted in Dáil Éireann and Áras An Uachtaráin. Ms Pelosi had made a series of high-profile pronouncements about Brexit, supportive of Ireland's challenges.
They had travelled to a Derry-Donegal crossing at Bridgend to acquaint themselves with the current porous nature of the frontier.
Their Friday morning event at Stormont had elements of fatigue and disappointment. Jet lag was still lingering and they were about to set out on the return journey across the Atlantic.
They saw for themselves the demoralising reality of a "closed for business" Assembly building where DUP-Sinn Féin led administrations had functioned from May 2007 until power-sharing hit the buffers in 2017.
None of the visitors was more troubled by that rupture in Northern Ireland politics than Congressman Richie Neal.
The previous day at Derry's Magee College he had received a University of Ulster Honorary Doctorate for his contribution to reconciliation and the peace process. His reputation for even-handedness is justified.
Over breakfast in their hotel, the Americans had received some details about Lyra McKee's murder. Nancy Pelosi added a reference to it during her final remarks to journalists in Stormont's Great Hall.
Billy Tranghese, Richie Neal's respected "right arm", was on the edge of the huddle. "Is there any chance your boss would be involved in chairing political talks at Stormont, as Senator George Mitchell did in the past?" I asked him.
Billy, like his boss, knows and cares about Northern Ireland and recognises the hole it is in. "He has an important job at home. He is Chairman of the House Ways and Means Committee."
From Billy's steer it was clear that much as Richie Neal cares about the peace process, he and a powerful cohort of US politicians can't see a way to address Northern Ireland's political paralysis.
The US delegation headed for their plane. Then came the reaction to Lyra McKee's brutal murder that nobody anticipated.
The domino factor
Twenty-five months after the passing of Martin McGuinness, the void created by his illness and death has not been filled.
The Brexit referendum result (June 2016) had happened six months before his illness was diagnosed in December 2016.
He and his partner in government, the DUP leader, Arlene Foster, had an understanding of how they might try to address the Brexit challenge and keep Northern Ireland's power-sharing administration together and functioning.
But then the blows kept coming. The Renewable Heat Incentive controversy erupted; medical treatment struggled to arrest the illness of Martin McGuinness and he stepped aside.
The government collapsed. Martin McGuinness died. Theresa May called a snap general election that left her dependent on the DUP to form a government.
Influence in the DUP shifted from the sidelined Assembly 28 to the cock-a-hoop Westminster 10.
Brexit took off as an issue. North-south, British-Irish and internal Northern Ireland relationships became strained with the DUP in cahoots with right-wing Tories whose understanding of Ireland lands somewhere between Father Ted and Mrs Brown's Boys.
The absence of power-sharing at Stormont - a unique, untested experiment in democracy - was deeply depressing. But if the political process was frozen, the peace process was managing, miraculously, to survive.
The killing of a young woman during rioting in Creggan shattered that equation.
A new generation finds its voice
Lyra McKee's family are private people. It is testimony to their generosity that at a time when they were numb with grief caused by murder, they allowed television cameras inside St Anne's Cathedral to record the funeral service there last Wednesday afternoon. A video of the ceremony should be retained so that that in dark times we can remind ourselves of our shared humanity.
With discreet professionalism, Peter Cheney and Janet Maxwell of the Church of Ireland Press Office put in place the media arrangements. But there was a spirit of Hufflepuff factor at play too because this was a celebration like no other. Every aspect of the service was tender.
The music, the readings, the hospitality of the Dean of St Anne's, Stephen Forde. We learned of the range of Lyra's talents and the depths of her kindness when her friend Stephen Lusty spoke.
How Nichola Corner managed to keep her emotions in check as she spoke for almost 20 minutes about her baby sister was remarkable.
An expert in protocol later commented about seating arrangements in the Cathedral. Usually the representative of Queen Elizabeth, the Lord Lieutenant of Belfast, Fionnuala Jay-O'Boyle and President Higgins would be in the front row and the British prime minister and Taoiseach in the seat behind. But at Lyra's service they were in the same pew.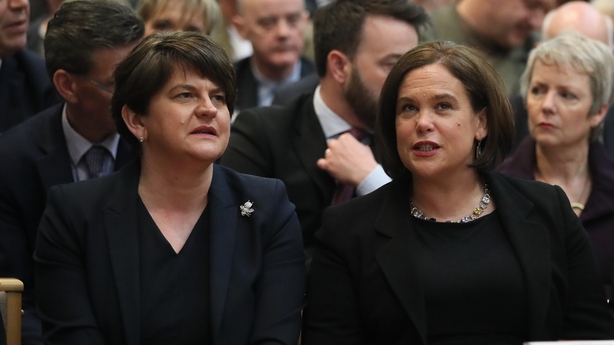 A case might be made for not having the leaders of the DUP and Sinn Féin side-by-side but again, the spirit of Hufflepuff was at play and Arlene Foster and Mary Lou McDonald sat together.
On the morning of the service, there was an issue affecting the departure time of the plane bringing British Prime Minister Theresa May from Northolt Airport.
The resultant half-hour delay meant the DUP leader and the Sinn Féin president were in one another's company for longer than anticipated.
Suggestions that their body language in very public circumstances reflected the absence of a relationship between them fail to take account of some important truths.
Arlene Foster is a regular churchgoer and she is used to behaving in a consciously respectful way. Mary Lou McDonald shed genuine tears of sadness during the service.
If they were mostly silent, they had a shared dignity and decency.
After Father Martin Magill's "Why in God's name does it take the death of a 29-year-old woman to get us to this point?" question, the unexpected happened.
With commendable skill the BBC Northern Ireland team providing pool coverage of the ceremonies captured the spontaneous applause, then the crowds rising to their feet at the back of the church and the wave working its way to the dignitaries in the front pews.
In keeping with the McKee family's request for privacy, the main camera stayed focused on the politicians. It would be wrong and unfair to say they were shamed. This was not a concert or a football match. There was a shared recognition that a wonderful person had died far too young. And the most authentic human response in such circumstances includes elements of regret, sadness and culpability.
The unorthodox character of the occasion continued outside. The British Prime Minister and the Taoiseach stood together, off centre on the steps.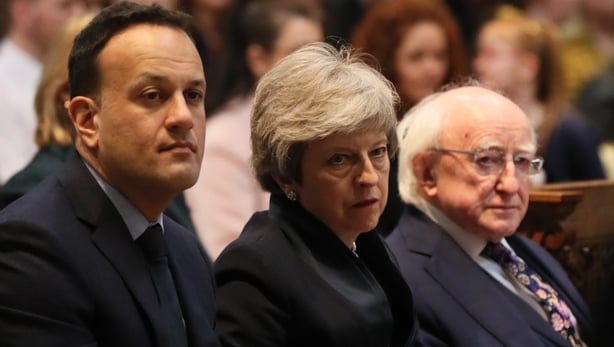 Theresa May seems frail and tired. She is a vicar's daughter but it is doubtful that she or the politicians who came from Westminster would have ever attended a funeral service like this.
Even by Irish standards, there was an extraordinary outpouring of emotion. Alongside Mrs May, Leo Varadkar, with his very private, bordering on socially awkward side, was content in his silence.
Strikingly it was President Michael D Higgins who went forward to sympathise with Sara Canning, Lyra McKee's partner and with members of the McKee family. He more than any of the other public figures present was able to interact in this milieu.
I once heard Lyra McKee on Stephen Nolan's BBC Northern Ireland radio programme. I regret not knowing her. The day of her funeral service was the third anniversary of the sudden death of my sister. If there is a world after this world, they will surely meet and become friends because they were mavericks.
Her death and what has emerged about her since reveal a phenomenon we have not noticed or understood. This is a different cohort. A new generation. Our children. As close and yet as detached from us as we were from our parents. Fearless. Principled. With an acute sense of fairness sharpened by exposure to the modern expressions of injustice and the imperfect world we've given them.
It's striking how many if not all of Lyra's friends and mentors in journalism and writing were women.
The likes of Alison Millar, Suzanne Breen, Susan McKay and Anna Burns. Maybe they saw in her shades of their younger selves. In some of the darkest times of the Troubles, often at personal risk, in a world where men usually had the political power and did most of the killing. Journalists like Mary Holland, Fionnuala O Connor, Olivia O'Leary, Kate Adie, Maggie O'Kane, Mary Kelly, Nell McCafferty and Poilin Ni Chiarain never flinched.
There was only a handful of them on Easter Monday afternoon. They were Lyra McKee's friends, mainly gay women who gathered in Derry, close to the William Street of Bloody Sunday and put blood red hand prints on the wall of an office used by Saoradh. A group of men, some wearing Republic of Ireland football shirts, glared at them.
The conviction that undermined the simple act of defiance was non-negotiable. All was done during a few minutes in broad daylight.
I was wrong in my interpretation of Mary Lou McDonald's contribution during the public gathering in Derry the day after Lyra McKee was killed. The presence of the DUP's Arlene Foster and Gregory Campbell alongside an Ulster Unionist representative and the leaders of the SDLP and Alliance was unprecedented.
By carrying a rainbow flag to the platform it seemed the Sinn Féin president was revisiting her New York use of a prop. But such a judgement is entirely unfair because Ms McDonald had been handed the flag by someone close to the Lyra McKee family immediately before she walked onto the makeshift stage.
Talks that couldn't be prevented
Optimism about the prospect of all-party talks sparked by the reaction to Lyra McKee's murder is in short supply.
This development was not in the planning schedule of the British and Irish governments. It seemed impossible that Northern Ireland's unique experiment in power-sharing could be restored and would survive in advance of a resolution of the Brexit puzzle.
It is true that a deal was almost reached in February of last year. With major input from Gerry Adams in the final days of his role as party president, Sinn Féin had compromised in an effort to reach agreement with the DUP.
Arlene Foster, with significant support from the likes of Assembly member Edwin Poots, had stretched to find a successful formula. Close to the finishing line the details were leaked and "it all kicked off" over the airwaves.
East Londonderry MP Gregory Campbell was one of Arlene Foster's steadfast backers as the pushback began. Others in the DUP's Westminster contingent were among the first to take fright and the negotiations collapsed in acrimony.
In a statement released by their solicitor last week, Lyra McKee's family said of her:
"A friend to all, a gentle innocent soul who wouldn't wish ill on anyone. Such a warm and innocent heart, she was the greatest listener and had time for everyone. She was a smart, strong-minded woman who believed passionately in inclusivity, justice and truth.
"Lyra spoke to and made friends with anybody and everybody, no matter what their background, those of all political views and those with none. This openness, and her desire to bring people together made her totally apolitical."
Today, British and Irish government officials will begin the preparations for talks that will formally commence on Tuesday 7 May.
Karen Bradley and Simon Coveney will seek to exercise the London/Dublin role as co-guarantors of the Good Friday Agreement.
The key players will be the leaders of Northern Ireland's five main political parties, the DUP, Sinn Féin, the SDLP, the Ulster Unionists and Alliance.
The pessimists can draw from a bulging locker. Leaks and speculation can quickly halt courage in its tracks.
The once influential republican backroom team of Belfast's Connolly House are, like many of us, at bus pass and hip replacement stage. But old truths about their malign influence have a habit of resurfacing.
There is no obvious replacement for Arlene Foster or no credible DUP push to oust her but the concept fills space. The almost inevitable next bout of Tory instability over Brexit will surely surface soon and that could be a very real complication.
But in Lyra McKee's memory and in her name we should acknowledge that Arlene Foster, Michelle O'Neill, Colum Eastwood, Robin Swann and Naomi Long have made their choice between her guiding principles and the values of those who murdered her.
Since the signing of the Good Friday Agreement, for all its flaws, Stormont has not wavered in its desire to end the spilling of innocent blood on Northern Ireland's streets.
This may or may not be a turning point, an end to the falling of dominos. Regardless of whether circumstances made inaction difficult, the decision to try rather than accept failure deserves acknowledgement.