US Speaker of the House of Representatives Nancy Pelosi has said she is saddened to hear of the death of Lyra McKee in Derry and expressed her condolences to her family.
"Sadly, we join you, on the sadness, the tragedy that happened last night, we extend our condolences to the family, coming on Good Friday, it is especially poignant," she said. 
Mrs Pelosi and her delegation were at Stormont today where they were greeted by Northern Assembly speaker Robin Newton.
She opened her speech by paying tribute to all who had gathered and thanked two schoolgirls who had spoken about their hopes for the future, adding that she enjoyed listening to young people when she travelled across the world.
"Weren't they wonderful," she said to applause. "They give voice to the sentiment of so many young people."
She said their message will be taken across the US by the congressmen and women in her delegation.
"All of our members are here for a purpose, and you are fulfilling that purpose because you are telling us that the Good Friday accords are alive and well," she told the young people.
"We are pleased to be at this historic estate, this is a historic place, but our work is about the future. Respect history, but it is about the future.
"This place has been witness to so much of Northern Ireland's proud history ... but also the rough and tumble of the accords." 
Congressman Richard Neal, who is part of the delegation, has warned the European Union that any Brexit arrangement that undermined the Good Friday Agreement, could endanger a proposed EU-US trade deal.
"If America wants a trade agreement with the European Union, which I think is very desirable - I want it - at the same time you are back to the same issue on the border if you do anything that dampens or softens the Good Friday Agreement," Mr Neal was quoted as saying in today's Irish Times.
Mr Neal, chairman of the Congressional committee overseeing trade, said that any Brexit deal must maintain the sanctity of the peace agreement
The US delegation will attend an event at the Long Gallery in Stormont entitled The Post Good Friday/Belfast Agreement Generation: the future potential of Northern Ireland.
Yesterday, the delegation visited the border and walked across a "peace bridge" over the River Foyle in Derry.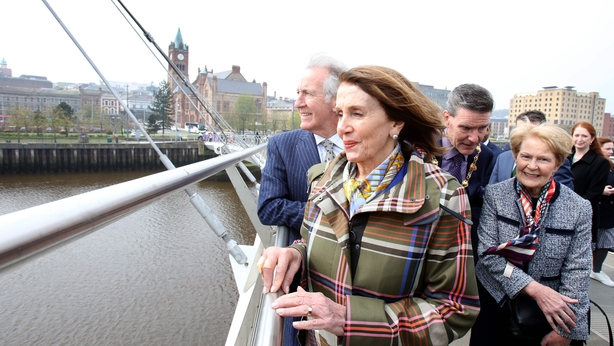 Mrs Pelosi said her border visit was made out of respect for the courage of those who participated in the Good Friday accord.
Her delegation finished off the day by attending an event at the Belfast Metropolitan College in Titanic Quarter, a short distance from where the ill-fated liner departed the city.
DUP leader Arlene Foster and Sinn Féin leader in Northern Ireland, Michelle O'Neill, were among the guests who attended.
Earlier in the week, the delegation visited Dublin, where Ms Pelosi addressed the Dáil.
Additional Reporting Reuters