A 29-year-old journalist has died after shots were fired in Derry overnight, with police treating her death as a "terrorist incident" and blaming dissident republicans.
Lyra McKee, who turned freelance after leaving the Belfast Telegraph, has been described as a "bright, intelligent reporter".
National Union of Journalists General Secretary Michelle Stanistreet said her death is a major loss to journalism.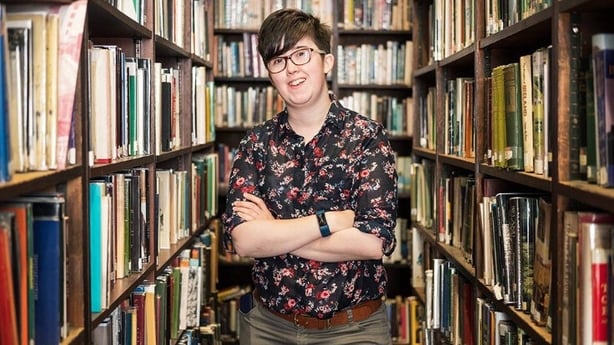 During the unrest a gunman fired a number of shots at police, Assistant Chief Constable Mark Hamilton said.
He said: "Lyra McKee, 29-years-old, was wounded. She was taken away in a police Land Rover to Altnagelvin Hospital but unfortunately she has died there.
"We have now launched a murder inquiry here in the city.
"We believe this to be a terrorist act, we believe it has been carried out by violent dissident republicans, our assessment at this time is that the New IRA are most likely to be the ones behind this and that forms our primary line of inquiry.
"This is a horrendous act, it is unnecessary, it is uncalled for, it is totally unjustified." 
Ms McKee had tweeted about the "absolute madness" in Derry in the hours before she was shot.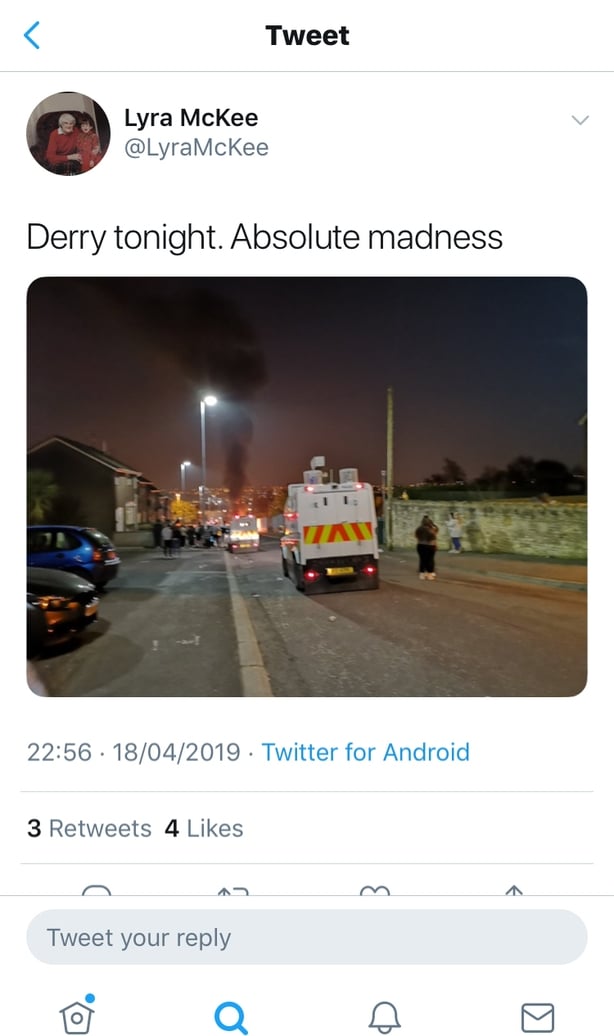 The NUJ has paid tribute to Ms McKee, who in 2016 was named one of Forbes 30 under 30 in media in Europe.
Mobile phone footage obtained by RTÉ News shows there were at least two gunshots heard during the disturbances.
The footage also shows two masked men appearing to pick up empty bullet casings.
A male voice can be heard saying "they've shot somebody".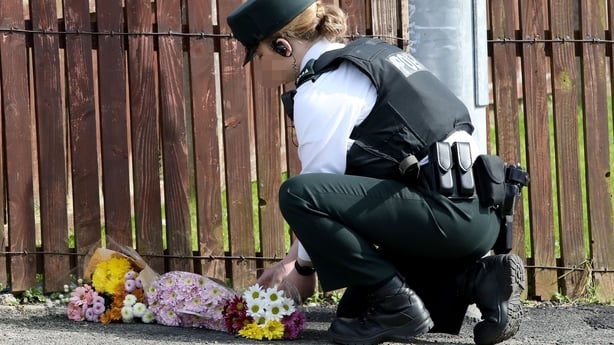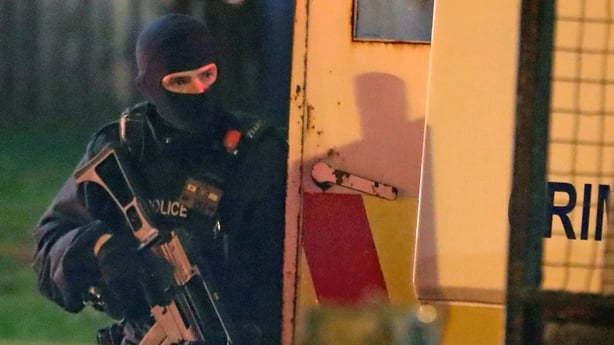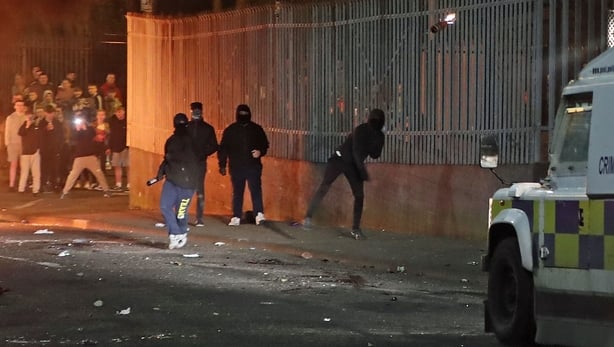 Mr Hamilton continued: "Can I say also, I want to pass my deepest sympathies to the family of Ms McKee.
"But not only is it a murder of a young woman, it is an attack again on the people of this city.
"I stood here in January and we talked about the bomb and the act of violence against this city, and yet again we see another act of violence in this city which has had horrendous consequences and which will affect people for many, many years.
"I would appeal to people, particularly this Easter weekend, to stay calm, I would appeal to people who are intent on violence to draw back, I would appeal to people with influence to use your influence and make sure this is peaceful weekend. Not only this weekend but going forward in this city.
ACC Mark Hamilton says 'our thoughts are very much with the family & friends of Lyra McKee'. He says her murder 'demonstrates all too starkly when terrorists bring violence & guns into the community members of the public are placed in severe danger'. pic.twitter.com/26TJZMkLGD

— PSNI (@PoliceServiceNI) April 19, 2019
"These acts of violence are bringing nothing to this city, all they are doing is bringing misery to one family, but also particularly to this city and also to our broader province." 
Mr Hamilton said: "We need people who saw this happen to come forward. We also will be putting out a portal for people to upload videos they may have taken, I know a lot of this is already circulating on social media.
"I would ask people to be sensitive to the family, someone has lost their life and the last thing that family needs is to see that played over and over again.
"I would have people who have videos show sensitivity, either not show them or share them with police so we can use them in our murder inquiry to try and track down the people who have committed this horrendous crime."
---
Read More:
President leads tributes to murdered journalist Lyra McKee
PSNI probe dissident republican link to Derry shooting 
'Bright light has been quenched' - tributes pour in for Lyra McKee
---
Responding to a question about the current level of threat from dissident republican terrorists and whether the incident was orchestrated, Mr Hamilton said he believes the incident was orchestrated but "clearly reckless".
"It was orchestrated to the point where they just want to have violence and want to primarily, on this occasion, to attack police. But the bringing of a firearm out and firing it down a street in a residential area where they knew lots of people were standing about is a calculated and callous act." 
'This is their Good Friday and we have to stand beside them'
Fr Joseph Gormley has been comforting MsKee's family and said they and her partner are in complete shock.
"Her family and her elderly mother had to come down from Belfast to see that scene. I would love if those people who fired those shots came and saw what they did in Altnagalvin last night.
"If they came over and saw that scene, of a young woman and her family. This is their Good Friday, and we have to stand beside them."
National Union of Journalists Assistant General Secretary Seamus Dooley said the union was "shocked by (the) killing of a journalist of courage, style and integrity".
Shocked  by  news that woman shot dead in Derry last night has been named locally as @NUJofficial Lyra McKee.  We are shocked by killing of a journalist of courage, style and integrity.  Sympathy to her partner, family and  many friends.  @kathrynjohnston

— Séamus Dooley (@Seamusdo) April 19, 2019
Journalist Leona O'Neill said she was at the scene of the killing.
"I have been a journalist for 20-odd years and I know the distinguishable sound of the 'pop-pop-pop' of a gun and when I heard that I took cover behind a wall," she told BBC Radio 4's Today programme.
"But, directly in my line of sight, I saw there was a police Land Rover right in front of me and I saw a woman lying on the ground beside the police Land Rover just at one of the back wheels at the side of it.
"Her friends had realised what had happened - obviously they put two and two together, the pop of the gunfire and she was lying down on the ground - they started screaming that she had been shot.
"The gunfire was still going on, they tried to pull her over to safety to kind of where I was, where there was a bit of shelter.
We need your consent to load this rte-player contentWe use rte-player to manage extra content that can set cookies on your device and collect data about your activity. Please review their details and accept them to load the content.Manage Preferences
"The police officers got out of their Land Rover and saw the extent of the injuries of this woman and put her into the back of their vehicle - I had in the meantime also phoned an ambulance and I was telling the ambulance people where we were located and for them to get here quickly - and the police put her in the back of the Land Rover and drove her at speed with sirens going and the lights going through the burning barricade to the hospital." 
Ms O'Neill said although she did not know Ms McKee personally, a lot of her colleagues did.
"Obviously our thoughts and condolences are with her family," Ms O'Neill said.
"This is a tragic loss of a young woman who had her whole life in front of her, a journalism career in front of her, her whole life to lead.
"29 years of age, her life has been lost needlessly." 
She added: "What we need now is calm, what we need is solidarity for the people of Derry, and for us to stand firm as political, religious and civic leaders.
"We must all stand firm in the fact that these people should disband and desist.
"They have no role to play in our community." 
Additional Reporting PA