The PSNI has released CCTV footage of the events leading up to the fatal shooting of journalist Lyra McKee in Derry last night in a bid to help catch those responsible for her death.
PSNI officers were carrying out a search operation in the Creggan area of Derry last night aimed at disrupting dissident republicans ahead of this weekend's commemoration of the 1916 Easter Rising, when a situation developed during which more than 50 petrol bombs were thrown at officers and two cars were hijacked and set on fire.
A number of shots were fired at police, during which Lyra McKee was shot and killed.
The senior detective leading the investigation called on the community to assist police in identifying those behind the attack.
Detective Superintendent Jason Murphy said: "Lyra's death is senseless and appalling beyond belief. It represents the tragic loss of promise and the loss of potential, however it should not be the loss of hope.
"We know that the people of Creggan do not support what happened and they stand with us today in outrage and disgust at the mayhem that took place on their streets last night."
He said the CCTV footage shows Lyra in the crowd, as well as the gunman at the corner (below), and an individual picking up something from the ground on the same corner.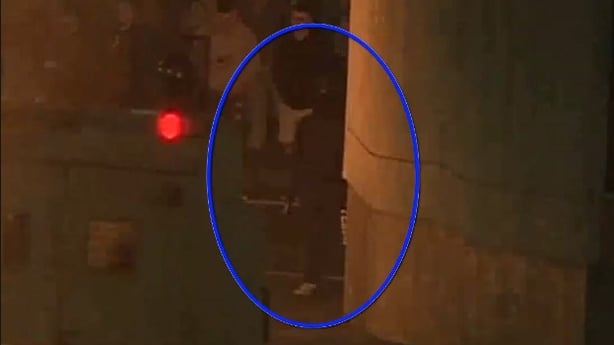 The senior detective said they have already received a large number of calls and information from the public and thanked people for their support.
He appealed to people who were in the area of the fatal shooting last night and who recorded video and took photos to share the footage and pictures with them.
Det Supt Murphy said: "The answers to what happened last night lie within the community. I am asking people to do the right thing for Lyra McKee, for her family and for the city of Derry/Londonderry and help us stop this madness."
Detectives investigating the murder of Lyra McKee release CCTV footage and ask people to come forward with information. Call us on 101. https://t.co/Z1GP93HLLl

— PSNI DC&S District (@PSNIDCSDistrict) April 19, 2019
Police believe the New IRA was behind the murder of Ms McKee.
PSNI Deputy Chief Constable Stephen Martin said police believe more than one person was involved in the shooting.
Speaking at a press conference at the Guildhall in Derry, he said: "We certainly believe there was more than one person who was involved in this last night. Obviously only one person pulled the trigger but there was more than one person.
He said it was "too early" in the investigation to confirm the ages of the suspects.
DCC Martin said the attack had left many in the city of Derry "heartbroken" before he addressed the suspects directly.
He said: "I care about this city deeply and I know that the callous and cruel murder that occurred on its streets last night will be condemned, and the majority of people in this city today will be heartbroken and repulsed. The actions will not have been carried out in their name.
"And it's because I know of the heart of this city, having spent such time here, I wanted to come along today to stand with the leaders and to say to the people who carried this out: 'this was not done to further any cause'.
"This will have achieved nothing other than to plunge a family into grief and to condemn the city we all love to the worst possible headlines, global headlines today, on Good Friday, 21 years to the day after our peace agreement was signed.
---
Read More:
'Bright light has been quenched' - tributes pour in for Lyra McKee  
Journalist shot dead during rioting in Derry
President leads tributes to murdered journalist Lyra McKee
---
Responding to questions about the police search activity that came before the unrest, said it had been intended to disrupt a plot to attack officers.
He said that young people had been "goaded" into causing disorder by those behind the shooting, which police believe was the responsibility of the New IRA.
He said: "We carried out that search activity last night because we believed that there were people in this city who over this weekend were going to mount murderous attacks on the police and perhaps even other events, such as we witnessed here in January with the bomb explosion in Bishop Street.
"Before I came here today, I read the intelligence that led to that search activity. I wanted to come and talk to the people of this city and say I read it myself.
"I convinced myself of the urgency and the need to carry out that search activity. And I am convinced. When we engage in that activity we don't do it lightly.
"We understand the impact that it can have on the community. But we have to balance that against the risk of not carrying out that search activity and then perhaps people carrying out other murderous attacks over the weekend.
We need your consent to load this rte-player contentWe use rte-player to manage extra content that can set cookies on your device and collect data about your activity. Please review their details and accept them to load the content.Manage Preferences
"Regretfully, people such as I described earlier who are completely out of step, goaded and orchestrated young people to engage in disorder.
"The police didn't react to that disorder. We didn't respond with any use of force, we absorbed it. We were there to do search activity. We did not want in any way to make the situation worse." 
The New IRA is the biggest of the dissident republican groups operating in Northern Ireland.
It has now been linked with four murders including that of Lyra McKee last night.
The other murders include Constable Ronan Kerr, who was killed by an under-car bomb in Omagh in 2011.
The group is also linked to the deaths of prison officers David Black, who was shot as he drove to work at Maghaberry Prison in 2012, and Adrian Ismay, who died in 2016 after a bomb exploded under his van outside his home in east Belfast.
The New IRA is believed to have been formed between 2011 and 2012 following the merger of a number of smaller groups, including the Real IRA - the group behind the 1998 Omagh bomb.
It is strongest in Derry, north and west Belfast, pockets of Co Tyrone, including Strabane, and also in Co Armagh.
This year the group claimed responsibility for a car bomb outside the courthouse on Bishop Street, Derry.
The explosives-laden car was left on the city centre street on a Saturday night in January, and scores of people, including a group of teenagers, had walked past before it detonated.
The New IRA also claimed a number package bombs posted to targets in London and Glasgow in March.